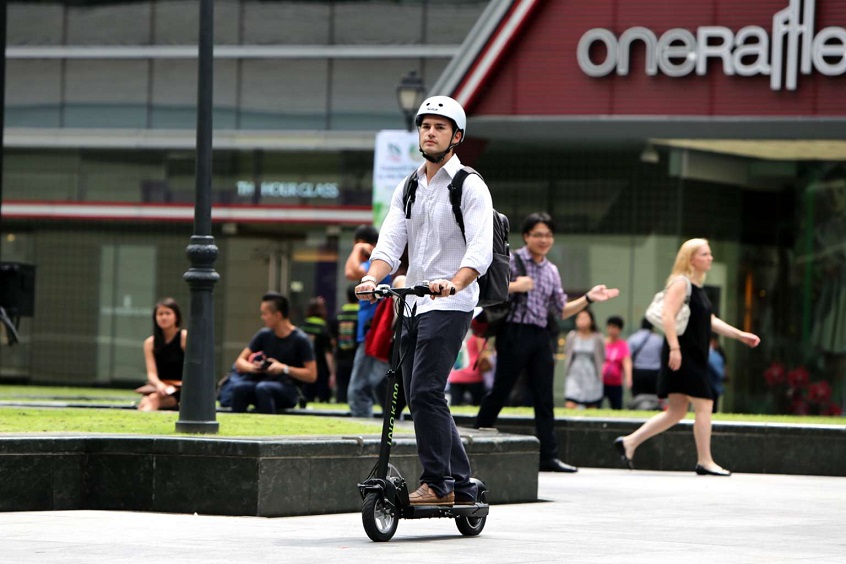 5 Scooter Safety Gear Must-Haves
Whether you're a novice or a seasoned pro scooter rider, you should always wear safety gear. Even though scooters are a bit more of a relaxed ride than a motorcycle, that doesn't mean that you don't have to be properly protected while riding them.
Wearing safety gear reduces the risk of getting injured. It will also make you feel safer. You will be more likely to have the confidence to try out some more advanced tricks because you know that if you fall you are well-protected. In this article, we are going to guide you through the must-have protective gear for any scooter rider.
Helmet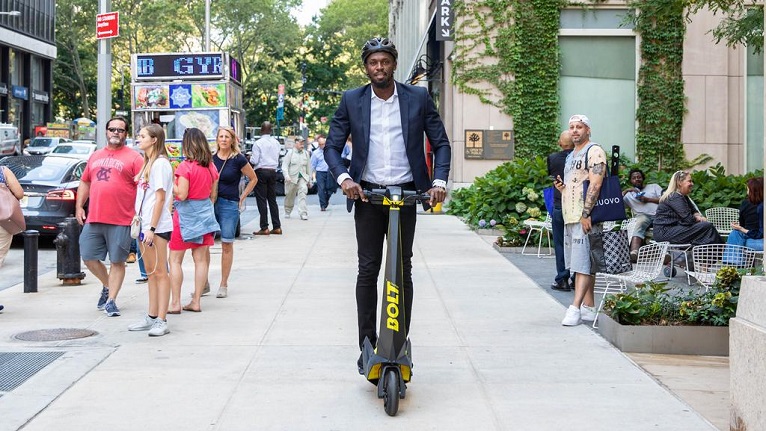 The first and most important piece of safety gear you should wear while riding is a helmet. Wearing a good helmet reduces the chance of a head injury. Injuries sustained from a fall without a helmet can not only lead to downtime from riding but will also negatively impact your day-to-day life and even be life-threatening.
Wearing the correct helmet is key to achieve safety, comfort, and the right look. Therefore, make sure that the helmet you wear is appropriate for your size and age, and that it fits you well. The right helmet should be level on top of the head, about two finger-widths above your eyebrow. Make sure that it doesn't rock back and forth or side to side. The strap has to be buckled and snug under the chin.
Wondering What are the types of helmets available? There are two major types of helmets – full-face ones and half-helmets. The first ones offer better protection as they protect your entire head and face, while the second ones are usually bought for more comfort and only protect the head. If you are riding a scooter in an urban area, it's advisable to go for a full-face helmet type.

Safety Pads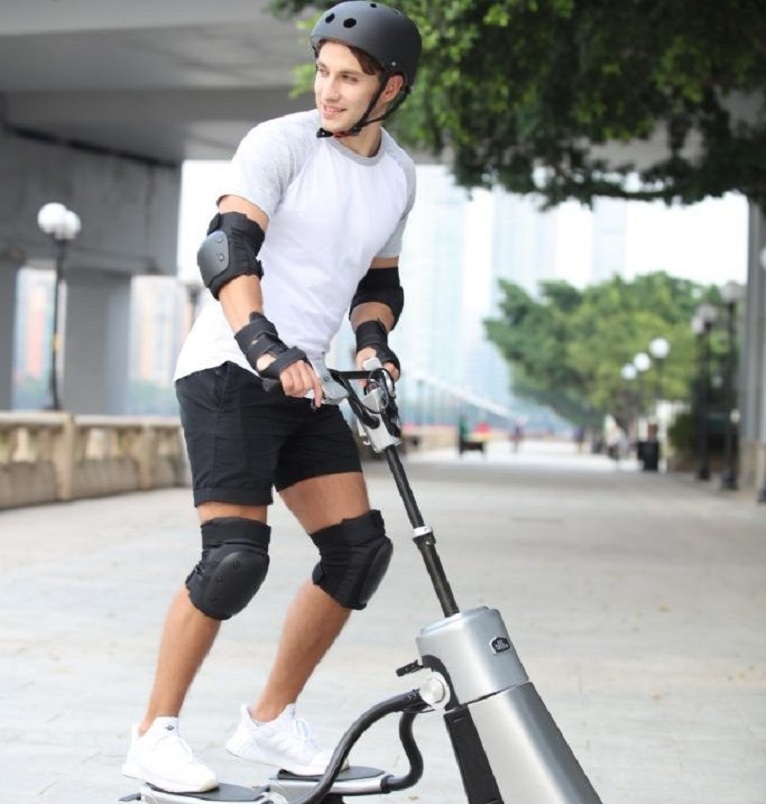 The next most important safety gear for scooter riders after the helmet is some comfortable and shock-absorbent scooter knee pads. Knee pads for scooter riders will inspire confidence in you as the bailing mid-tricks will become a safer option. This, in addition, is perfect for progressing your riding.
There are two main types of scooter knee pads – stealth and shield knee pads. The first ones are soft pads that offer a slimmer design which is ideal to be worn under jeans. These are slim, high-end pads usually manufactured from semi-perforated neoprene material. This material has a soft lining that prevents rashes and skin irritation and provides sweat transmission and maximum breathability. These knee pads feature a foam insert with a memory effect and excellent shock-absorbent properties. Of course, after an impact, the foam quickly returns to its original shape.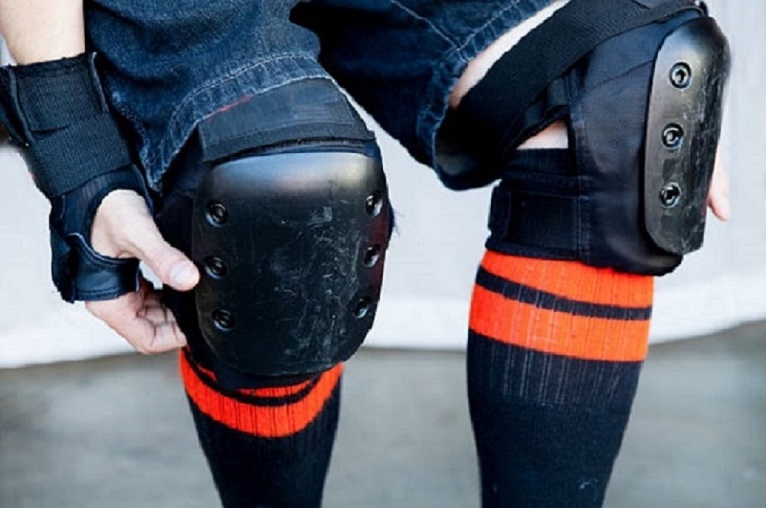 The second type of knee pads are designed specifically for scooter riders and they're hard pads that really save your knees if you need to land on them. These knee pads feature slimmer padding for optional shock absorption and utmost wearing comfort. More precisely, they feature a fabric lower panel for outstanding abrasion resistance, and a uniquely shaped and replaceable plastic shell that covers your knee cap. The base is the same as the stealth knee pads.
There are also elbow pads, which are ideal for some extra protection for beginners or when you want to push your boundaries. A set of quality elbow pads will help save your skin, i.e. will protect you against rashes and friction burns when bailing and gliding down an obstacle.
When choosing knee and elbow pads it best to go for ones that offer great adjustability. In other words, ensure that the safety pads you choose will always sit in place and will offer a comfortable fit.
Eye Protection
Regardless of your helmet type, you can always add additional eyewear to protect your eyes from different situations. Standard sunglasses don't provide impact protection and they don't protect your eyes from something coming behind the lens and into your eyes. However, if you want something with a fit similar to sunglasses, there are some eyewear options rated for impact protection, plus they have padding that protects from debris intrusion without impairing your peripheral vision. Moreover, if you want something even more protective, go for a set of motorcycling goggle.
Gloves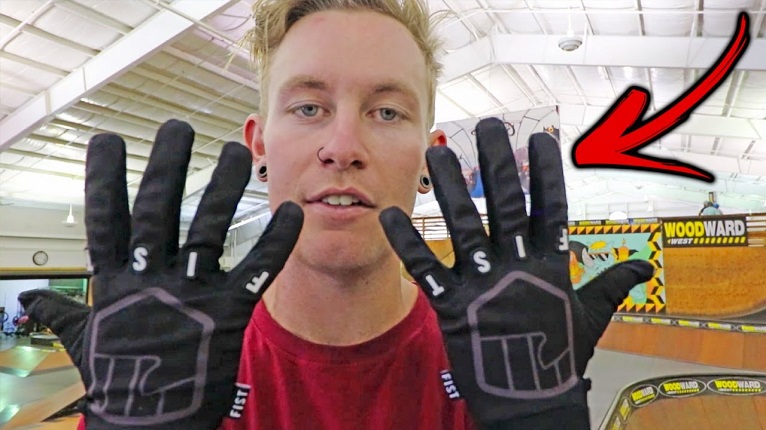 Having a good set of protective gloves ensures that your grip remains steady on the brakes. Also, exposing your hand to too much wind may cause them to go numb. This would be both a hazard and pretty uncomfortable. In addition, gloves will also protect you from minor cuts and bruises, as well as from injured hands, wrists, and shoulders. What do I mean by hand injuries? Well, you know that based on our instinct, we try and use our hand to shield our fall. If your hands are not protected, you will hurt your wrist bones, especially if it's somewhere like concrete.
Lock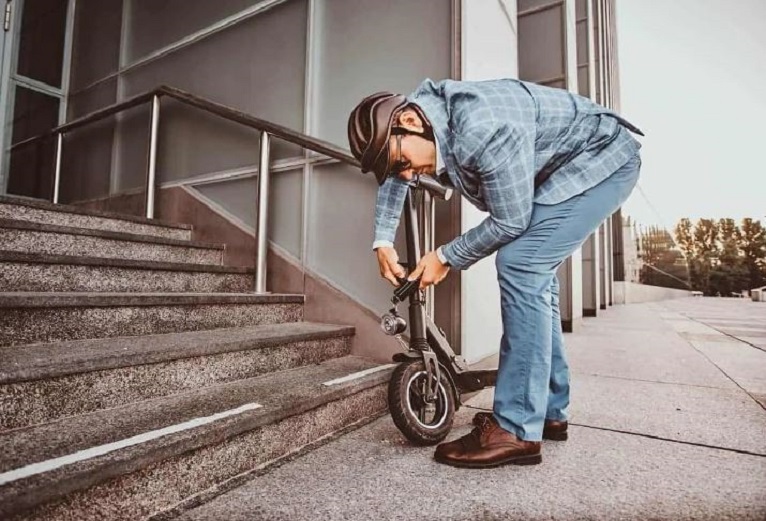 In order to keep your scooter safe when you park it in a public place for any length of time, it's essential to have a proper lock. You will find various locks at different prices. Some common options offered on the market are chain locks, cable locks and U-locks. As the most secure ones are considered to be the U-locks. In fact, these are big padlocks. You can wrap this lock around the wheel and secure your scooter to some heavy object.