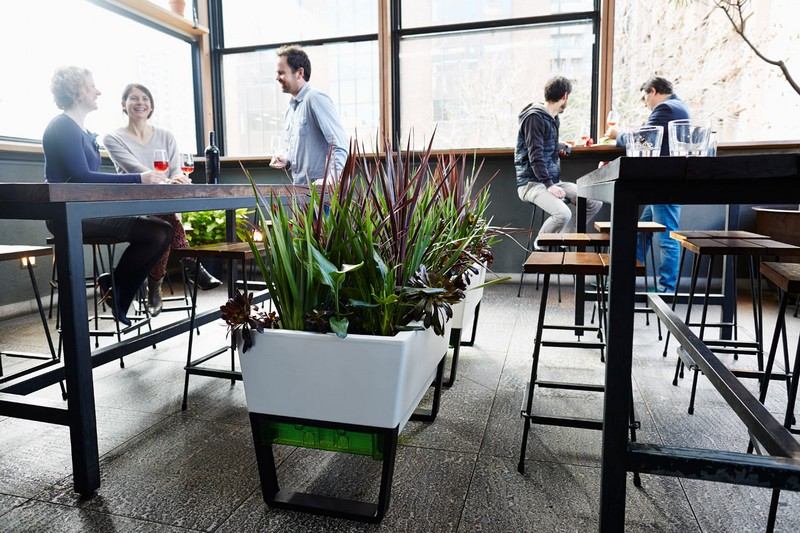 Cafe Planter Boxes: Create an Inviting Atmosphere with the Help of Plants
When it comes to pavement cafes or cafes with terraces, presentation is everything. After all, there are going to be people passing by your business, and your success depends on whether or not you'll be able to lure their attention. Many people who frequent these places are primarily after a comfortable atmosphere to relax, drink, and socialize out in the fresh air. Which means, you should pay attention on all the ways you can make your cafe more inviting and something like out of a Van Gogh painting.
As a cafe owner, you might not be an artist but you have the same ability to use colour to your advantage and make the space more vibrant and appealing. And what better way to do so than include plenty of fresh, luscious greenery. In the busy city, being able to stop on your way to work, in order to enjoy a cup of coffee while being surrounded with a piece of nature helps people calm their minds and replenish their energy. Of course, anyone would pick a lovely place decorated with cafe planter boxes overflowing with vibrant plants, over a terrace that lacks greenery.
However, between running your cafe and dealing with important financial errands, taking good care of your plants might not be the first thing on your mind. This might even discourage you from including a nice amount of plants because: Who has time for them, anyway?. But before you dismiss plants all together, consider finding a smart solution, like for instance self-watering cafe planter boxes. With self-watering planters, taking care of your small garden can be easy and efficient. Here's the thing, with self-watering planters you won't need to water your plants that often (once a week would be enough). Their design includes a water reservoir at the bottom which provides water directly to the roots.
This way, self-watering planters can regulate the amount of water the roots get which also prevents overwatering. Furthermore, with these planters, the soil always receives moisture, just like the soil in nature does. Because of the constantly moist environment, the plants grow higher and stronger. However, it's important to note that this is not the case for all plants. For instance cacti, begonias, spider plants and rubber plants actually tend to wither from being constantly exposed to water.
On the other hand, there are also plenty of plants that are great candidates for a cafe terrace and which can thrive wonderfully in self-watering planters. Like for example, succulents, yukkas, aloe, and ornamental grasses which are low maintenance and able to withstand all kinds of outdoor conditions making them a good option if you're not able to bring your planters indoors. However, if you'd want to shelter your plant collection when there's bad weather or during winter, consider rolling cafe planter boxes which will be easier to move.