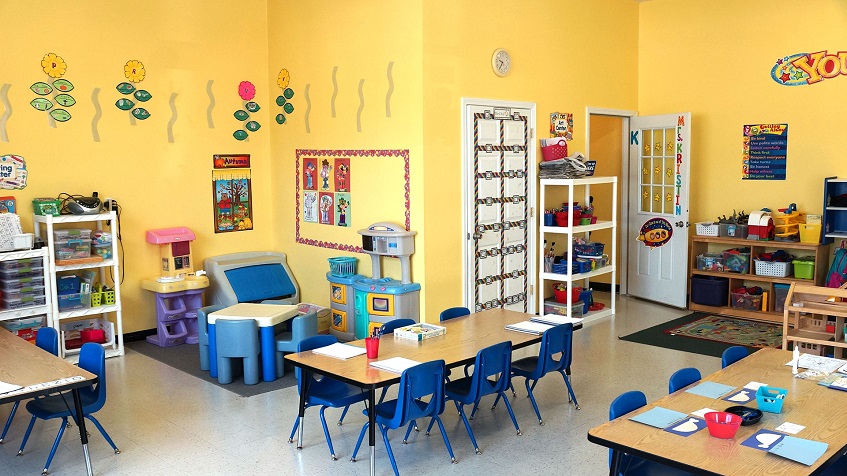 Classroom Organisation Ideas: Tame the Mess & Whip Your Classroom into Shape
A nice and organised classroom is important for the students because they'll be much more focused during the classes and productive as well. No one functions well in chaos, that's why you need to make sure that your classroom doesn't turn into one with time. There are countless ways to organise the classroom and keep it that way. You just need to be fully committed to the task.
Start Using Book Boxes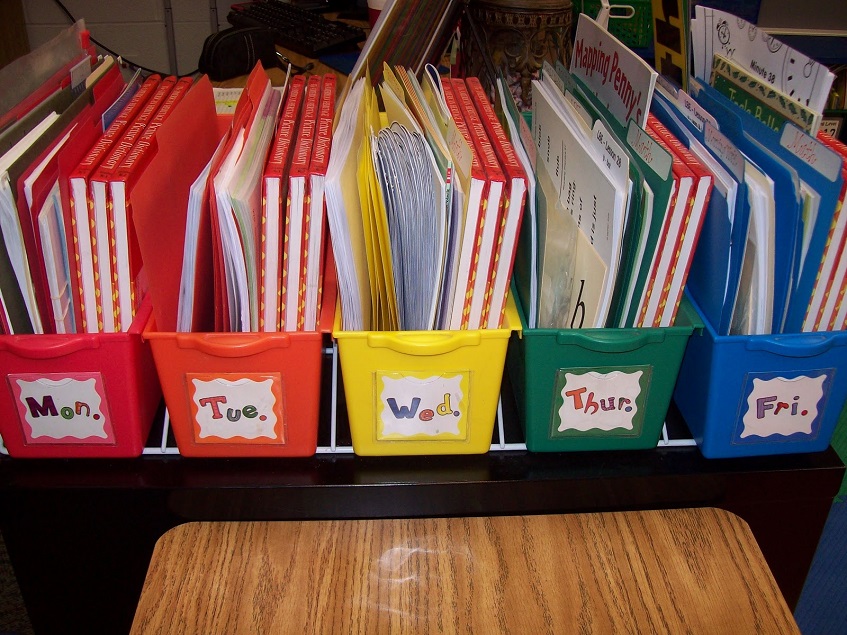 Classrooms are naturally overflowed with books. Kids need books to read and learn and they need them for every class. Now, that huge amount of books is certainly going to make a mess in the classroom sooner or later, unless you find a way to organize them. One of the options when it comes to book organising and cataloguing is getting book boxes.
Book boxes come in a wide range of colours (which makes organizing a lot easier) and can be made from all sorts of materials. You can come across cardboard book boxes, book storage boxes made of plastic and even metal ones. Cardboard boxes are easy to work with, extremely lightweight and with a big capacity. You can pick the colours according to the rest of the decor in the classroom so that they can match, you can pick one colour only and then write a category on each book box or you can pick book boxes in diverse colours to make things more interesting. That's up to you.
Once you have the book boxes at hand, you should find a place in the classroom where you can arrange them and then you can sort out the books. Even the kids can help you with that. It would be a nice group activity.
Thanks to the book boxes you're never going to have to face classroom mess and crowdedness again. All the books kids use regularly will be in one place. Plus, they'll be catalogued so that you can find the book you're looking for with ease. The book boxes will save you up a lot of space that you can repurpose and you're going to have space for more books now too. The whole classroom will seem more spacious and sorted out just by getting this one thing done properly.
Sort the Classroom Supplies into Clear Containers
Aside from having many books, classrooms also have a ton of supplies that kids use on a daily basis in order to complete different tasks. You have pens, markers, scissors, rulers, watercolours, acrylic paint, paintbrushes, glue etc. And since every kid needs to have a set, you can only imagine the number of supplies needed.
If the supplies are not properly stored, they can make quite a mess out of the classroom. But you have a way to solve that problem as well. You can start using transparent containers to categorize the supplies and keep everything neat. Transparent containers are made from durable plastic and have a lid meaning that you can sort out the supplies, close the containers and stack them up. That way you'll have everything arranged and easily accessible when you need it. And you won't have to spend an awful lot of time searching because you'll be able to see in which container are the supplies you need. It's a really convenient solution when you think about it.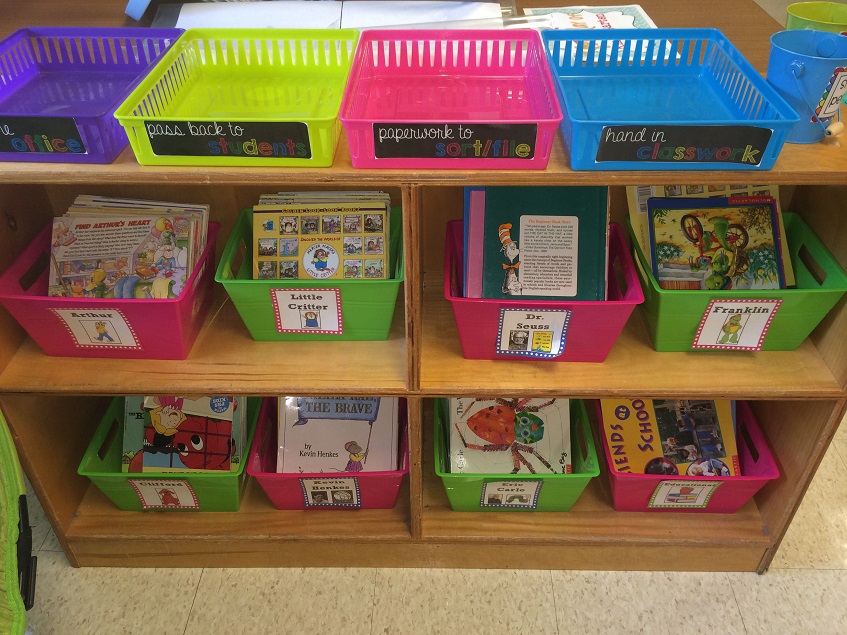 Take Care of the Mess with Classroom Paper Bins
Now, is there a solution for the big amount of paper used every day during classes? Of course, there is. You can get paper bins and make the problem with paper sheets lying around disappear. Same as the book boxes, paper bins come in diverse colours and can be made both from plastic and metal. You can stack them up and divide the paper sheets onto used ones, blank ones for writing and paper sheets for drawing. If you have extra space, you can get a paper bin for every kid and put there everything they have drawn/written so far. Paper bins have a simple, space-saving design so it won't be a problem for you to find space for a couple of them and sort all the extra sheets of paper.
Get Storage Boxes for Every Kid
Kids should have their own private storage boxes where they can place their belongings – classic wooden toys, notepads, spare clothes, water bottles etc. Again, this will contribute to the classroom looking tidy all the time and the kids will have everything privately stored. You can add a name tag on each box so that the kids don't mix them up and arrange them somewhere where they can be easily accessed.
Kids benefit a lot from having their own storage boxes. They learn the importance of having every sorted out and put away. They get a sense of independence because they have something of their own. And they become more responsible with how they treat and store their belongings as well as the belongings of their peers.
Start Using Flexible Furniture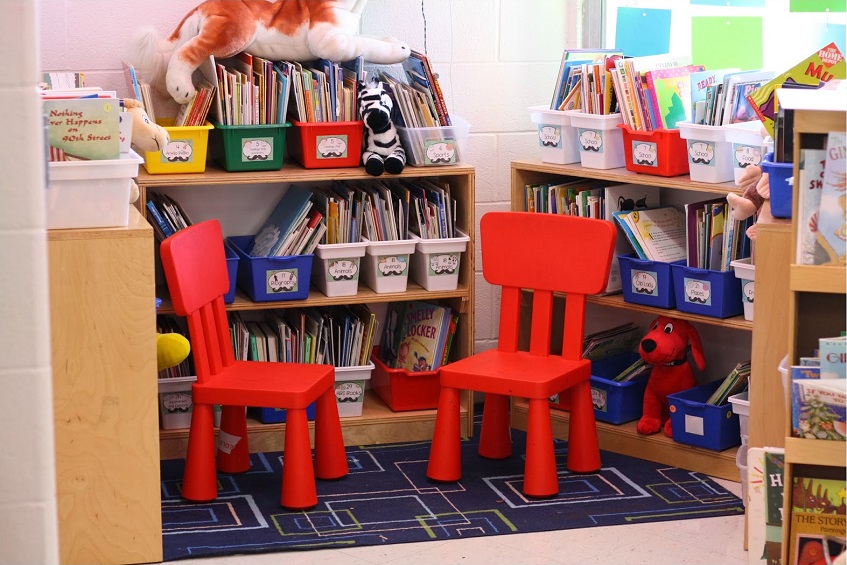 Flexible classroom furniture is a very popular alternative to the classic one. First, because it saves a lot of space and allows you to arrange the classroom according to your needs. And second, because it aids the physical health of kids.
Flexible furniture is lightweight, versatile and with it, you can make groups of students that will work together or you can put everything away and use the empty space to introduce the kids to a new game, read them a story etc. Flexible furniture allows you to use the classroom space any way you think suitable and utilize it to the maximum. Something that isn't quite possible with all the heavy and bulky classic tables and chairs.
On the other hand, flexible furniture is designed to offer students nothing but pure comfort. Flexible chairs allow for active sitting (wobbling, rocking) which improves the circulation and the oxygen flow therefore kids are more alert, focused and have better performance and better overall health.