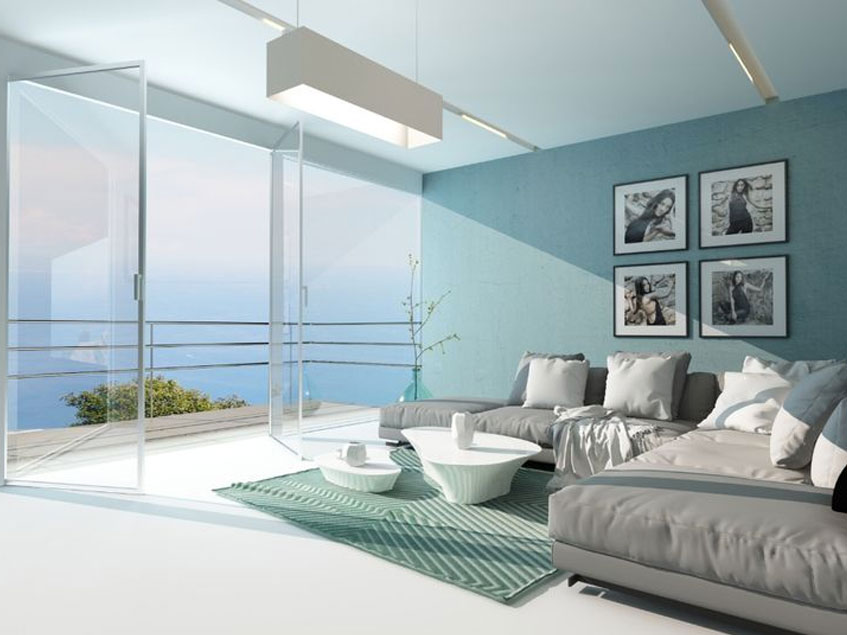 Coastal Décor Guide: Bring the Beach Vibes Into Your Home
Imagine feeling like you're on vacation every time you return home after a long day at work, no matter what time of year or where you live. That's exactly the carefree and peaceful vibe you can get with the right coastal décor!
What Is Coastal Decorating Style?
Since it is a beach-inspired type of interior, to create the popular coastal home décor, you will need natural light, a gentle palette that includes blue and light-blue, an airy ambience, natural textures, and some beach-related accessories. In other words, the coastal décor is all about a laid-back and breezy summer all year!
Types of Coastal Décor
Besides the traditional and most popular coastal type, you can also choose a more specific theme or mix your maritime inspiration with pieces from another style that are known to complement it well.
The tropical island coastal décor incorporates more genuine palms or palm patterns, brighter highlights, natural teak, and tropical symbols such as pineapples and flamingos.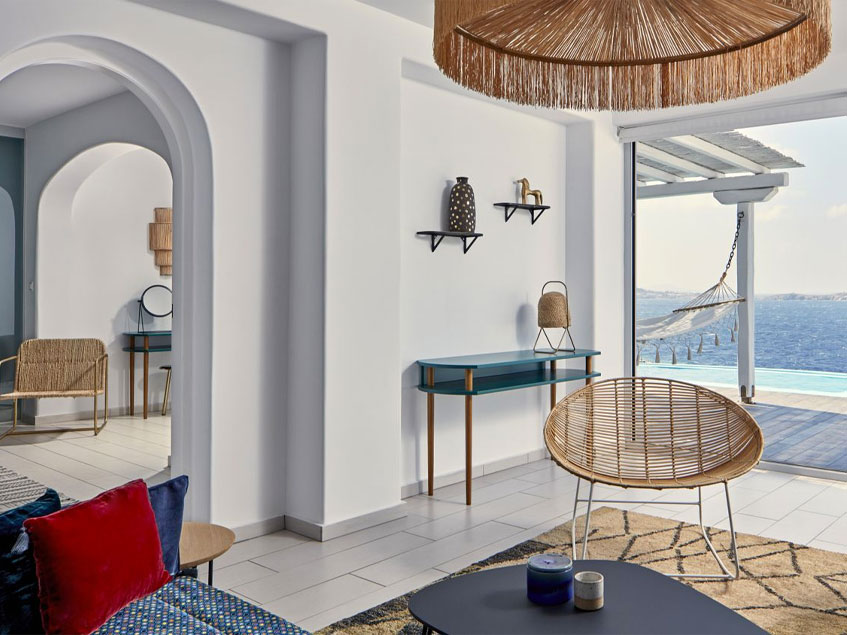 Mediterranean seaside décor features Greek, Italian, and Spanish beach motifs with more sun-kissed colours, a few black irons or metal elements, and terracotta ornamental objects.
Coastal cottage décor mixes nautical themes with a rustic touch, which you may emphasize by using distressed materials and an abundance of warm textures.
How to Decorate Your Coastal Home
There are various ways to make your home a visual statement for this maritime-inspired style. To avoid an overpowering and cluttered feeling, consider integrating only a few of these concepts choosing the ones that resonate the most with you and symbolize what a connection to the sea genuinely means to you.
A Sea-Inspired Palette
A true coastal home's colour palette should make you feel as if you're standing on a tropical beach: the sun-bleached white of tropical sand, the blue and light-blue tones of the sea, sandy beige, beach-pebble grey, and the yellow, orange, or red of a sunset by the sea.
The secret is to combine the coastal décor colours harmoniously. White, a neutral hue like beige, or a very faint light blue should be your dominant colours. Use blue, pale blue and aquamarine as excellent secondary hues and accent with brighter and warmer colours, from yellow to red.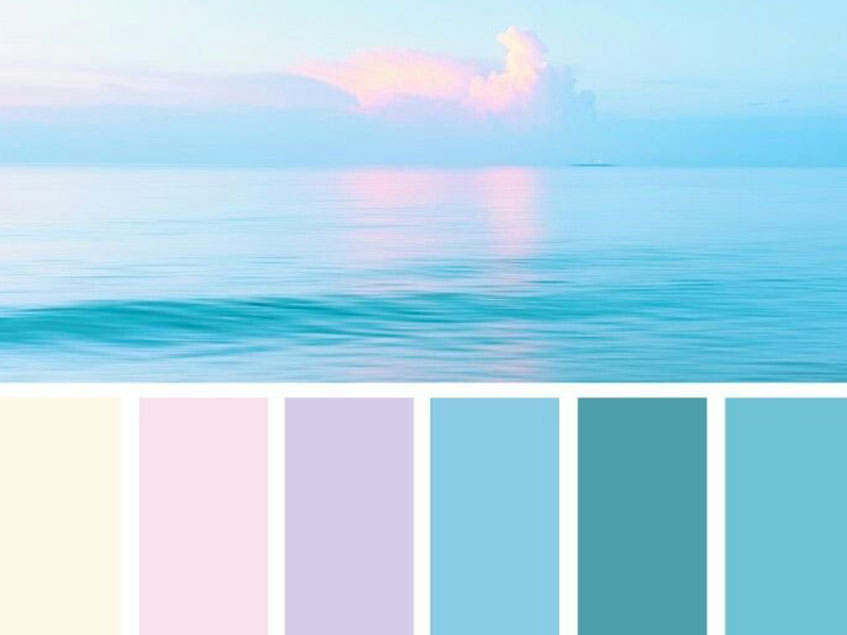 Natural Fibres, Materials & Textures
Natural textures are the best way to recreate the lightness of beach towels and summer days by the sea.
Cotton and linen are the greatest textiles for seaside décor, and the former can also be used for seating slipcovers- a favourite element in this style!
Wooden furniture is necessary, especially in lighter finishes or painted in a colour from your palette, but don't be afraid to experiment with a distressed look.
One of the two simplest methods to emphasize the coastal home décor is by adding sheer curtains. The other main curtain option is to choose a sea-related or nautical print. Consider including some wicker and rattan furniture to achieve the spontaneous 'let's go to the beach and sit outside' vibe. Jute and sisal are other popular choices, particularly for carpets, because they are among the most rope-style textiles. You can also include a few seagrass baskets to incorporate the coastal vibe into your home.
Calm and Relaxing Vibes
A coastal décor should be all about the calm and informal simplicity that you get from a spontaneous vacation to the beach or hanging out in a real beach house. While white walls and elements will help you create an airy impression of brightness, aim to let in as much natural light as possible; once again, sheer curtains are a big plus.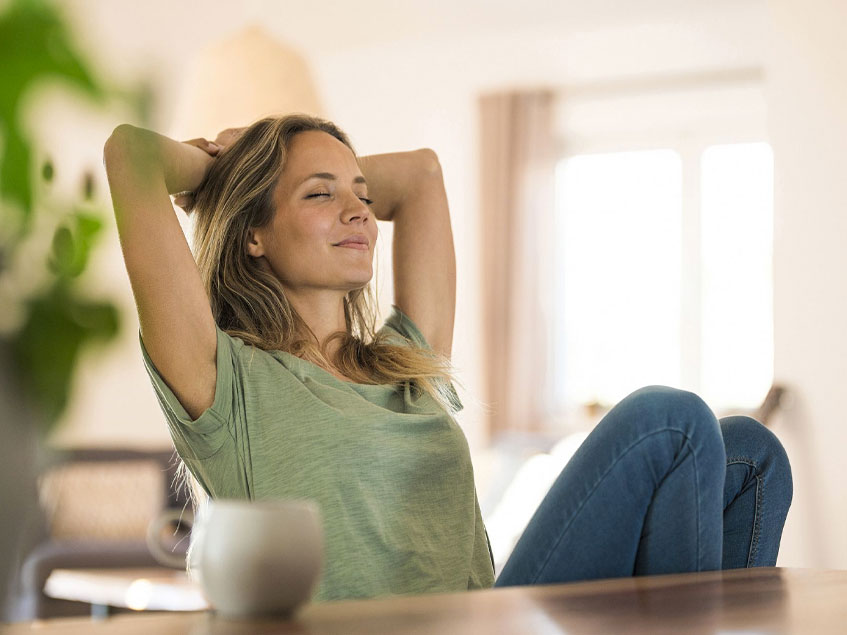 Avoid a cluttered look by focusing on fewer decorative items and pieces of furniture rather than a variety of them. It also helps to adopt simpler and more streamlined shapes for the latter.
More Natural & Expressive Accessories
With such a strong emphasis on the sea, it's no surprise that coastal home décor encourages you to incorporate nature into your house. But not just any natural elements, primarily those associated with the beach and the sea!
Select coastal decor accessories that speak to you. Consider all of the aspects of the beach experience that you enjoy. For example, if you are a fan of beach birds and other wildlife, bring your favourite animal or animals into your home in the form of statues and figurines. If you enjoy diving and snorkelling, look for attractive home items that bring the aquatic environment into your homes, such as coral and fish figurines. Or, if you're in love with a beach landscape, the dunes and seagrass swaying in the wind, grab a vase and some dried grasses and make a lovely arrangement, or opt for grassy sea accents like woven storage baskets.
Sea Motifs and Nautical Elements
Aside from decorative natural items, you can also add a sea-inspired twist to more practical things. For example, look for octopus hooks, cabinets with seahorse knobs, or fish-shaped bookends. When choosing your bed sheets, curtains, and cushions, don't forget to include a few sea-inspired prints.
It is critical to emphasize the distinction between coastal and nautical décor. However, a few hints of the latter will not go amiss. If you prefer striped patterns, the timeless blue and white, or red and white, and instantly recognizable motifs such as anchors, compasses, steering wheels, and ropes are some clever maritime tricks.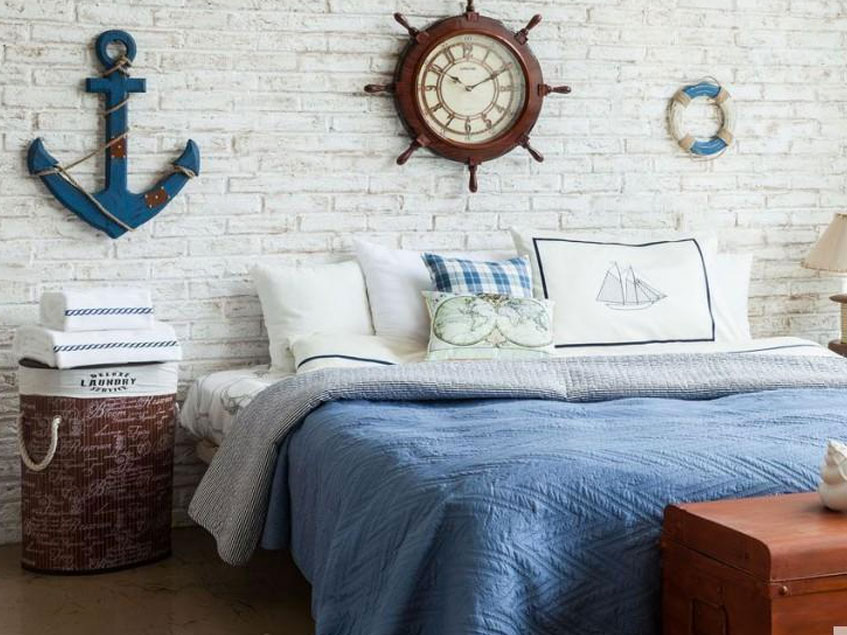 Another nautical concept is to select a few items that involve rope. You'd be surprised at how many options you have- towel holders, knobs, mirror frames, lamp bases, and doorsteps, just to name a few. Still, you don't want your home to become a cliché, so be cautious when adding nautical and ship-related items.
Create a Seaside Scene
No worries if you can't see the sea from your window. With coastal art, anyone can enjoy a view of the ocean. Display a stunning coastal beach painting or photograph in a prominent location. Above the fireplace, TV, sofa, bed, or buffet table; anywhere your coastal art catches the eye and imagination. Consider coastal art on wood for a rustic beach look. Allow a beautiful piece of coastal art to inspire your colour scheme and room design.