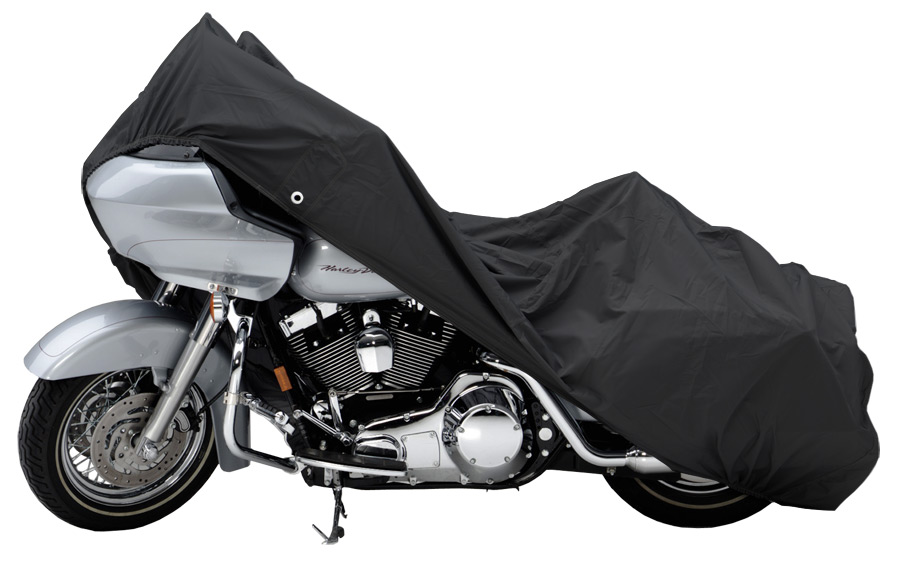 Come Rain or Come Dust, a Motorcycle Cover is a Must
In order for your motorcycle to last for years to come, proper care and maintenance are essential and this involves keeping it away from harsh outdoor conditions. If you are like many riders who don't have a garage for storing your bike, a motorcycle cover can be just the solution you need to keep your bike protected from wear and tear caused by sun, wind, dust and rain.
Depending on where your motorcycle is stored, it may need protection from rain, failing mulberries, tree sap, bird droppings, sun fading, or the corrosive effects of pollution in the atmosphere. Here is a list of the features to look for in a cover.
Water-Resistant or Waterproof
If your bike has to deal with rain, get a waterproof motorcycle cover to keep out the water. It is important that you understand that a water-resistant cover is not the same as a waterproof cover and each is used for different purposes. A water-resistant cover allows you to protect your bike from moisture while retaining some breathability in the membrane, which will allow condensation to evaporate. But if you want a cover to keep your bike dry in a torrential downpour, pick a waterproof motorcycle cover that guarantees 100% protection against water.
Sun/UV Protection
Sunlight is just as damaging as rain. Direct sunlight can cause the paint to fade and after a rainfall, it can create some nasty water spotting as well. A motorcycle cover with UV protection can shield the finish of your bike, keeping it looking just like new.
Weather Protection
If storing your bike out there in the open all year round is the only choice you have, then you will need a cover with all weather protection features you can get. Sun, wind, moisture and dust are very unkind to motorcycles, and having your motorcycle sit out unprotected is something you must avoid.
Heat-Resistant
In the past, riders had to let their bikes cool after riding before covering them as to prevent the hot exhaust from melting a hole into the cover. Nowadays, many manufacturers incorporate heat-resistant panel into their covers to prevent melting, thus allowing riders to just throw the cover on their bike while it's still hot.
Size
When it comes to size, you need to get a cover that is big enough to fit your bike and its accessories but not so big that it will drop down onto the ground, picking up water and dirt and flapping in the wind. Ideally, the cover should be fitted to your bike and should feature elastic material around the bottom edge to keep it secure.