Controlling Sleep Apnea when Camping with the Resmed AirMini Machine
Without a doubt, camping is a lot of fun. The fresh air can help you refresh and relax, filling your mind with positive thoughts, while hiking and exploring can improve your physical condition. Packing for camping requires taking only the essential things, but those who have problems with sleep apnea should think about reducing their loud snoring. The ideal solution for the problem is opting for a travel size CPAP machine.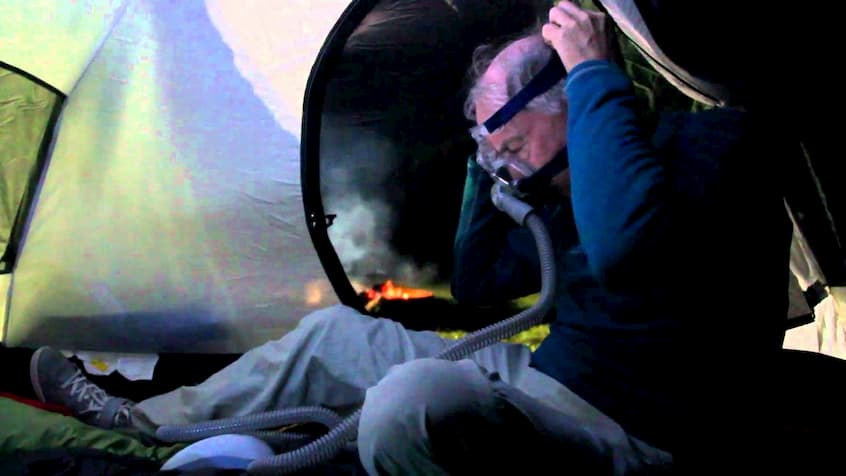 What is a CPAP Machine?
CPAP (Continuous Positive Airway Pressure) machines are designed to ease the breathing process for people with sleep apnea. The purpose of these machines is to increase the air pressure in the throat in order to prevent the airway from collapsing every time you inhale. But the most important aspect of this is decreased snoring. These machines have a filter and a small tank of water that act as a humidifier. They also have a hose that connects the machine to a mask designed to be placed on your face when sleeping.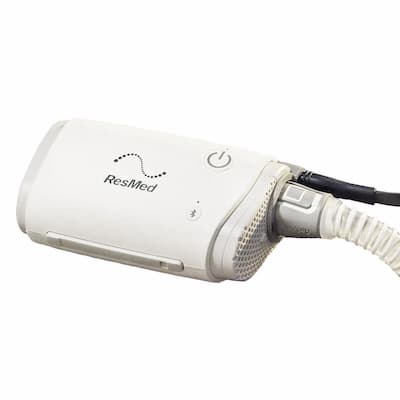 Now, when it comes to travelling, manufacturers have managed to create travel size CPAP machines, out of which the AirMini ResMed Australia has proven to be the most effective one. According to the manufacturer ResMed Australia, this model is the world's smallest, lightest and most impressive type of CPAP machine. This precise model combines intelligent features, advanced options that can provide you with comfort and clinically proven algorithms. These algorithms can provide you with highly efficient therapy that can be expected by all ResMed CPAP supplies. Thanks to its weight, size and shape, this travel-friendly CPAP device can improve your and the camping adventure of your friends. Sleeping next to someone who snores can be a real nightmare, as even the person who doesn't snore won't be able to get a good night's sleep. If you opt for the AirMini and Battery Package set, you'll receive:
1 x ResMed AirMini Autoset Travel CPAP Machine
1 x ResMed AirMini Bedside Caddy
1 x ResMed AirFit N20, F20 or P10 mask setup pack
1 x Medistrom Pilot 24 Lite car Charger
1 x Medistrom Pilot 24 Lite Battery
How Does it Work?
For this mini travel device, ResMed have developed a tube and connector system with a built-in venting. In order to have quality performance and air stabilisation, these connectors are only compatible with the AirFit™ 20 series including N20 (nasal), F20 (full-face) and P10 (nasal pillows) variants. A thing to have in mind is that according to the manufacturer, this CPAP device is the ideal therapy solution for those with obstructive sleep apnea.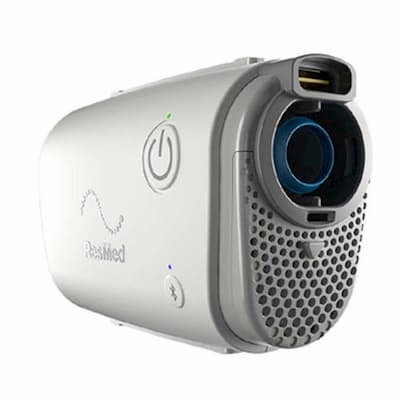 Speaking from another point of view, this device also includes CPAP (fixed pressure), APAP (automatic) and APAP for her mode, allowing you to choose the ideal mode for you. A good thing to know about this AirMini device is that it uses the same clinically proven algorithm that drives the AirSence range of CPAP devices. It also offers features like AutoRamp, Smart/Start/Smart/Stop (automatic airflow on/off), and Expiatory Pressure Relief. Since this device is small and doesn't have a screen, ResMed have developed an AirMini smartphone app to activate the device. Through it, you can also update the settings, monitor your sleep and manage your comfort options. The app works through Bluetooth which is available for all iPhone, iPad and Android devices. For more convenience, you also have the chance to visually see how you can set up your AirMini device.
Ramp Time – This option allows you to see how long it takes for the machine to increase to your prescribed pressure level. You won't be able to change this setting during therapy.
Pressure Relief – By turning it on, the machine will automatically reduce the pressure as you breathe out. This is paramount for making your therapy more comfortable.
Smart Start – When turned on, this option will help the therapy start automatically when you breathe into the mask.
Smart Stop – When turned on, the smart stop option stops your therapy automatically after you remove the mask from your face.
How to Change Pressure on ResMed AirMini?
The AirMini device comes with few default settings like AutoSet 5-20cmH2O and default ramp starting pressure 5cmH2O. The good part is that you can always restore these settings by simply choosing the 'restore to default' option. For the purpose, you will need to choose the setting you want to adjust and then select the needed setting by using the spinner/switches. With the same steps, you can set up as many processes as needed. Once done, you'll have to press 'apply changes" in order to save the settings. The changes will be saved only when the light on the device flashes 3 times.