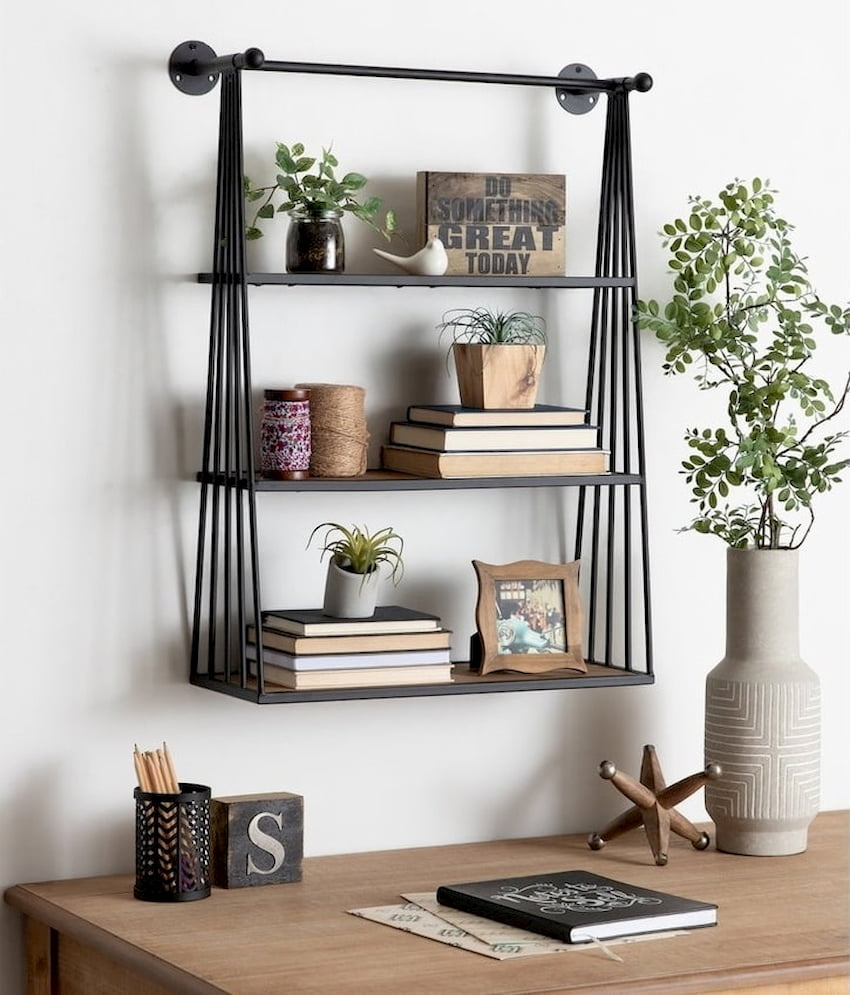 Different Ways to Decorate with Floating Shelves
Sometimes, small things can make a big impact. This is especially true in home interior. Oftentimes, it's the small decorative elements that tie the space together and make it look complete. If you still have a feeling that something is missing but don't have a budget for big changes, you probably still haven't thought of wall shelves. Believe it or not, shelves can instantly turn an unused space into an area enriched with style and design.
They are stylish but also functional pieces, allowing you to display some of your favourite belongings or store certain items. However, with the great variety of wall shelves available on the market, it can easily become overwhelming which ones to choose. So, to narrow down your choices, you can simply consider the colour scheme in the room, the available space and the number of items you want to display or store. A sturdy shelf that is able to withstand plenty of items can be the perfect storing unit, especially in small rooms where there is a lack of space. These units can help you to bring some order to your home and make it clutter-free.
Wall mounted shelves provide function, organization and design to any space. The key to making the most out of them is to determine where they will be placed and how they will be used. Then, the next thing is the installation. If you aren't sure how to hang shelves on wall, do your homework first. You'll find plenty of instructions online that will help you do the job like a pro. Once the shelves are fixed, it's time to put them to good use. If you are lacking ideas, here are a few tips on how to arrange floating shelves on wall.
Over the TV – If you want to use hanging shelves in your living room, then one of the best spots for them is over the TV. From time to time, they will draw your eyes up away from the screen. Adding colour-coded books is another fun trick to attract attention.
Dish Display – Find the perfect spot to display your pretty glasses and dishes. You can also use shelves to keep all your spices on hand or to display your small planters with herbs.
Book Collection – Even if you are not the biggest book lover and reader, there is certainly a small collection of books in your home. If you're constantly moving them from one drawer to another trying to find their ideal place, maybe hanging wall shelves are all you need. You can use them for your books or magazines and they can also be a great solution for displaying family photos or framed artwork.
A Statement Piece – The right choice of shelves can literally take the place of artwork. Using them to showcase accessories, houseplants or other decoration pieces, they can easily act as a large piece of art.
Laundry Room Storage – Another great room for loading shelves is the laundry room. They will help you increase the storage and quickly upgrade the functionality of this room. You can use them to keep your cleaning products and detergents or you can even add some plants to make this space homier.
Kids' Storage – There's always too many toys and always too little storage for them. Adding a shelf or two in your kids' room is more than a good idea. In this room, they can do double-duty as both places to display fun decor or spots to store books and toys. If you don't want your kids to reach them, make sure you hang the shelves higher.
Bath Rack – The bathroom may be the smallest room in the home but it's full of essentials that need to be organized and stored. If you don't have much floor space and you cannot afford to place a big bathroom vanity then wall hanging shelves are your best bet. They will not take any of your available space but will provide you with enough room to manage the overflow of toiletries.
Hallway Update – The hallway is the first part of your home your guests see. So, it's worth to put some effort into styling this area. Although this space doesn't really have any big, specific function, that doesn't mean it should look boring. If there is some dead space at the end of your hallway, it's a good idea to consider adding shelves. They will make the space more decorative and will instantly liven up the area.
Colour Pop – Shelving is the perfect way to add some colour in a room. You can choose shelves in some interesting hue or you can display interesting colourful elements and add some visual interest on the wall.
As you can see, you can use floating shelves anywhere in your house even if your kitchen and laundry. They are sturdy and durable and the installation is a breeze. So, there is no reason why you shouldn't enjoy the benefits of these versatile units. Get your perfect shelves and improve the look and functionality of your home. Wondering where to buy wall shelves? You can find them in your local furniture store or order them online. Online stores have the biggest range of options so you can choose the right one for you without having to leave your home.