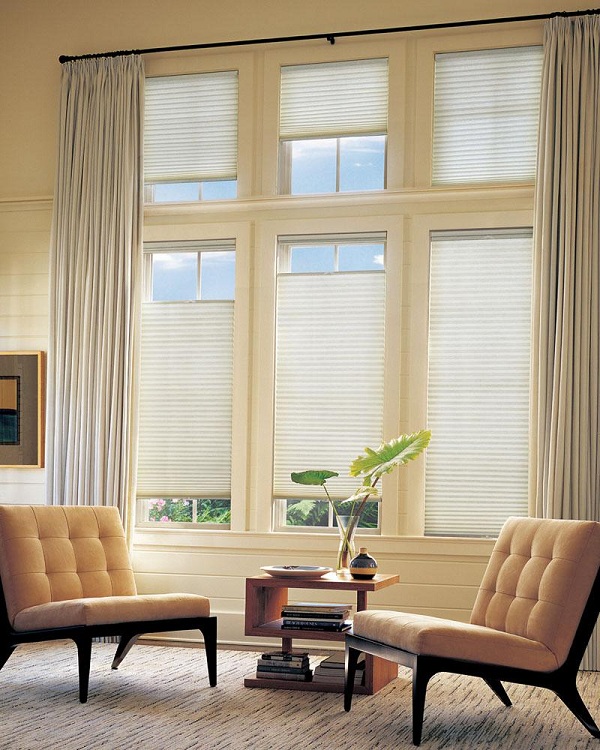 Honeycomb Blinds: A True Queen's Choice Sublime
Moving in a new home is a new beginning on its own. When I walked into the wide, empty space that was about to become my new home, I felt the kind of freedom I have never felt before – the freedom of decorating the interior from a scratch. Frightening, but oh so exciting. First order of business? Keep my privacy and cover the naked windows with honeycombs.
Why honeycombs and not curtains or shutters you ask? Well, in my previous home I had sheer, white curtains which were nice and gave the place an airy, beach like feel. However, they were a pain in the neck to maintain and did nothing in terms of privacy. So for this new chapter of my life I did a little research on the matter. I figured, shutters and the conventional types of blinds like Venetians, are too rigid and do not fit in the Hamptons look that I have set my heart on. So after careful consideration, I found that from all types of blinds honeycombs are the ones that will perfectly complement my interior.
I went with this choice because these blinds give the same airy freshness to the space as my old white curtains, with the added bonus of increased privacy and light control. And since the material and the colour they are made of plays a huge role in setting the tone of a room and the privacy levels, I knew I made the right pick. There are honeycombs made of thick, non-transparent materials in dark colours which are ideal for spaces that need complete darkness, such as photo studios for example. And on the other end, there are light coloured models made out of paper-like materials that look like they're gliding on the window. I chose the classic design you can never go wrong with – white honeycombs made out of semi-opaque fabric material.
Now here's a bit info on these pieces of art. The characteristic cells that honeycombs got their name from act like air pockets, trapping the air inside and reducing the transfer of heat. This ingenious design is great in insulating your home from the cold winter winds or the hot summer air, depending on the season. This in turn means lower electricity bills. Moreover, honeycombs provide UV-protection, which means your furniture and floors won't get damaged by the sun rays penetrating your home.
In addition, honeycombs are the most adjustable window solution you can find. With their versatile top-down feature, you can customize the level of privacy however you want. For instance, you can let down the lower part of the blind while leaving some space between the upper part and the window sill. This way you can enjoy complete privacy at the lower portion of the window while light enters the room from above the blind.
If completely blocking out the rest of the world outside is extremely important for you, then honeycombs are the ideal choice. They are famous for having good noise absorption properties which prevent sounds from getting in or coming out. In other words, there are perfectly suited for houses and apartments located on busy streets. Convenience and cost-effectiveness at its finest!
All of these amazing properties are what made blinds honeycombs my top choice. Not many people know all their features and all the goodness they can reap from them. Luckily, I did my homework and ended up being as satisfied as I could possibly be. Bottom line is, with the right choice of material and style, honeycombs can act as a stunning decor piece that can complement any interior design. These blinds are the bees' knees!