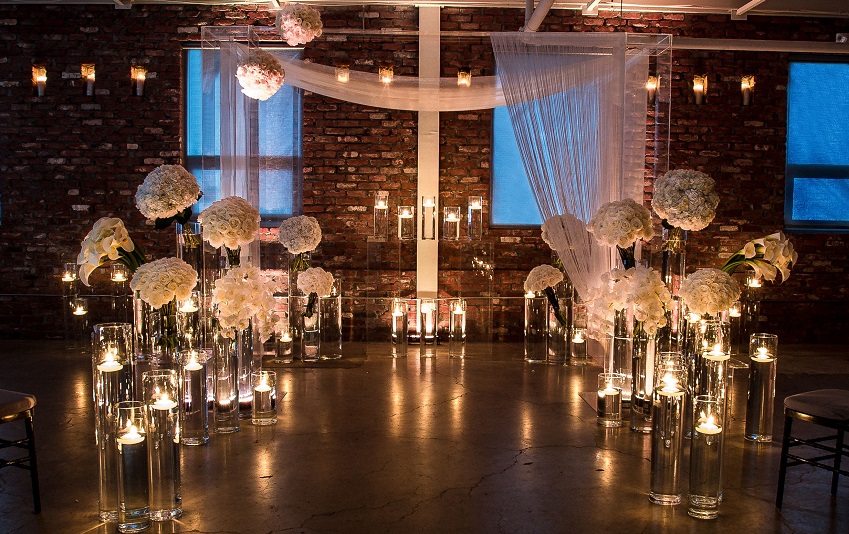 Make Your Wedding Day Extra Special: Lovely Decor Ideas with Candles
Romance and candlelight go hand in hand. That's why candles have always been a common feature of some of the most special moments of our lives – from the first date with our soulmate to the proposal and, of course, the wedding. When planning their wedding ceremony and reception, many couples envision warm, flickering flames that make for a more intimate mood. If you too are considering adding candles as part of your wedding decor, I completely encourage you to do so. You can never have too many candles at a wedding, trust me!
For one, people are more likely to dance spontaneously in a candlelit room as opposed to one where spotlights make you feel super self-conscious. After all, many feel more comfortable being their own selves and breaking into a dance in the dark when they believe that they can't really be seen. This is why there are songs like Dancing in the Dark  (here's an idea for your wedding repertoire) and why you don't see many people moving in a club unless they've drank considerable amounts of alcohol. But you don't want any drunk people spoiling the nice atmosphere, do you? So, put people in a relaxed mood with the help of the soothing effect of candlelight.
Plus, there's also the fact candles project a soft, amber glow which happens to be universally flattering. Instead of a venue lit with LED downlights that make even the tiniest of imperfections stand out, a lighting scheme that includes candles makes everyone look warmer and more pleasant. This means, that you, your partner and all your guest will look even more beautiful on the wedding photos. Consider this an effect similar to Instagram's Valencia filter.
Okay, we definitely agree that you need these babies for your wedding, right? But what are the best ways to use them? If you lack inspiration, here are some lovely ideas to make your special day extra special with candlelight.
Mix Them Up into the Centrepieces
From pillars to tapers, tea lights, or votives, there's no end to the types of candles you can use to bring an extra dose of beauty to your wedding table centrepieces. All of these candle types can be used for all kinds of wedding themes. However, you will need to pick a suitable style of candle holder to match the décor theme you go for. For instance, if you want your wedding with a vintage or traditional vibe, the addition of candelabras will give your centrepieces a beautiful, classic touch. If you want a minimalist centrepiece, you can't go wrong with tealight candles in a glass votive candle holder. On the other hand, a rustic décor scheme will benefit from wooden candle holders.
Surround the Venue with Beautiful Lanterns
Lanterns are also a decor element that can fit in most wedding themes when executed right – from vintage to modern and even industrial. And lanterns look even more special when they're adorned with the soft flickering of candles instead of LED bulbs. However, just like candle holders, you will need to pick the right lanterns for your particular scheme. For instance, for a modern wedding, consider white lanterns decorated with flowers and holding tea light or pillar candles. If you aim to create a unique wedding scheme in an industrial fashion, opt for metal lanterns with a more distressed look. Rustic and vintage décor schemes will look even more delightful adorned with brass or copper lanterns elevated atop of tree stumps.
Give the Aisle a Touch of Light
Candles aren't only reserved as venue decor. They can also be used as part of your ceremony. Adding candles to your aisle can make the whole act of exchanging vows even more intimate. And it will also make sure that all eyes are on you during the wedding ceremony. Consider using tea light candles to create a magical, stunning pathway of light that will lead you to your loved one. The warm light will make you look even more stunning and accentuate all of the bridal accessories that went into your final look.
Create a Luminous Backdrop for Photos
Having a statement backdrop for photos is a big wedding trend. All it takes is to pick a wall at the venue and decorate it with something you like and which will make the photos pop in a lovely way. Many opt for balloons, flowers or some sort of greenery. But an awesome, unique idea is to decorate the wall with candles. For instance, you can hang candle holders from the ceiling for a floating look that resembles fireflies, or place two large candelabras on each side of the wall for a dramatic touch.
Gift Them as Guest Favours
You still have no idea what to give as guest favours? Candles can be such a fun way to tell your guests "Thank you for being part of our special day". You can pick miniature candles in the shape of a heart, bride and groom, wedding carriage and all kinds of other fun shapes. You can also opt for scented candles which everyone will appreciate. These kind of unusual guest favours always make great conversation pieces.