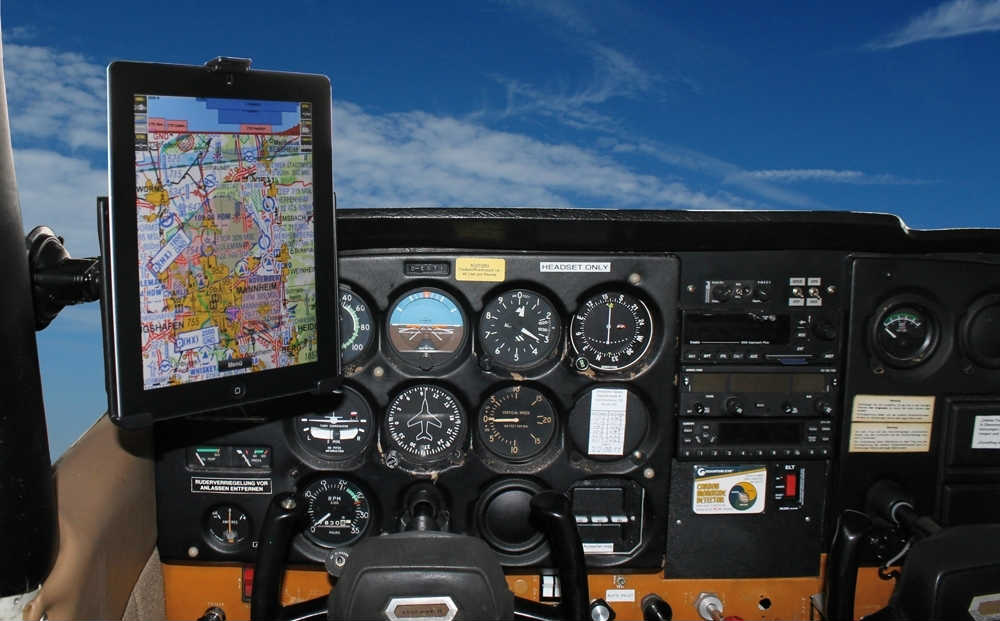 More Than Just a Gadget: the Use of iPads in Aviation
Aviation back in the days of propeller aircraft is definitely not the same as today's turbine engine planes. Not only has the technology that revolves around planes advanced a lot but other gadgets have been added too. The tablet, no matter how finicky it might seem when using it in your hands, is actually quite helpful for today's pilots. But how can one keep control over the aircraft and use a tablet at the same time?
Who says that a tablet must be held in order to use it. By propping one on a secure and practical RAM iPad holder in your cockpit you can use it hands-free. But why should one actually need such a gadget when flying a plane? The iPad has reliable and trusted hardware and software and the ability to use voice commands. Since today's flights are so data-intensive, the use of a tablet is inevitable. These portable computers are capable of providing you with much-needed flight information in real-time. An iPad also makes your flight a lot easier if you know how to utilise one to its maximum.
Which iPad Is Best for Aviation?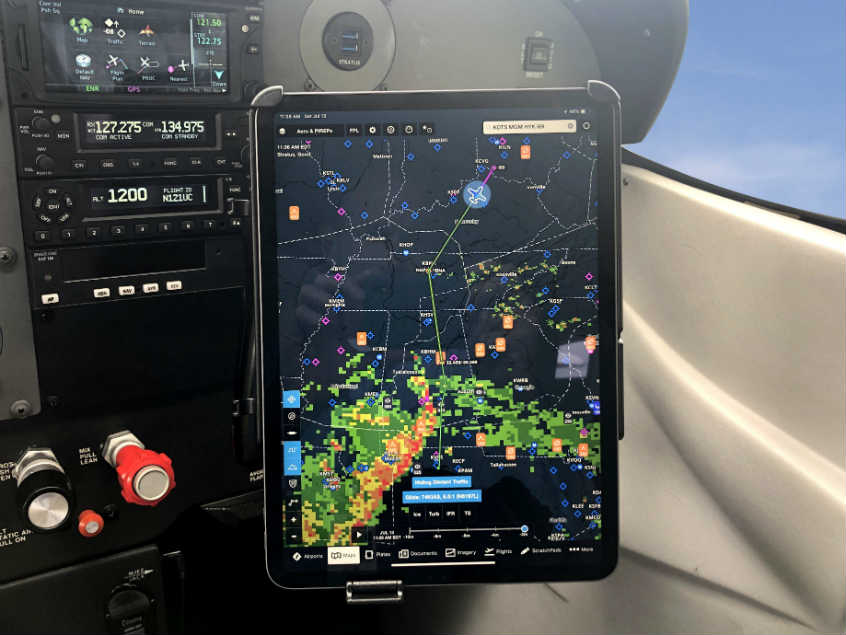 Requirements
To use an app for your flight information you need to ensure first that the iPad comes with the software version that is supported by that app. Also, you need to ensure that your iPad will have a big enough screen to show all the information on the app you want to use at a reasonable scale. It's best that you go with a more up-to-date application so that your new iPad works seamlessly with all its features.
Internal Storage
While the app you use can easily be changed at a low or even no cost at all, the internal storage of your device cannot. When purchasing an iPad for aviation purposes make sure it has enough internal memory so that you're able to store files without having to worry about running out of it. While there are options for a 64 GB, 128 GB, 256 GB, and 512 GB of internal storage, going for the 128 GB option is your best choice. Why? Because this way you won't end up paying more for storage that won't be used as anything above 128 GB is just a waste of money.
Size
The size of the display plays a big role, but also the technology its been made of. A bigger screen will make it easier to see information but a bright and vibrant display will allow you to read the information even if the sun is shining at it. Ideally, you should go for the 12.9 inch iPad Pro with the Retina display. Keep in mind that you might not have a lot of room in your cockpit with this display size. The 11-inch version is a great alternative in this case.
Connectivity
While Wi-Fi connectivity comes standard on the iPad, something you need to consider is getting one with included cellular and GPS features. This will allow you to use a SIM card for internet access since and the internal GPS module for more precise coordinates.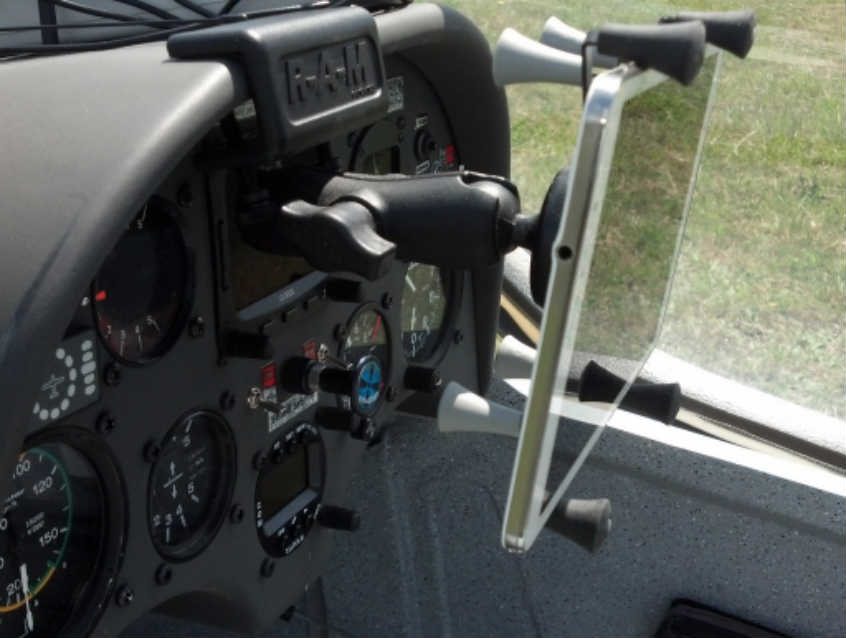 Getting an iPad Mount
When it comes to securing an iPad inside a cockpit, there's no room for mistakes. The last thing you want is for the device to fall flat on the screen and break, becoming useless. That's why you need to get a mount that has industrial strength magnets and a rugged construction, such as the RAM mount.
An AM mount is a system of mounts, holders and extensions made to provide a stable position and a secure grip for your iPad. A RAM iPad holder can be configured exactly how you want it to be placed.
How to Install an RAM Mount?
To install an RAM iPad holder you usually need to connect its ball base or adapter plate to the suction cup plate. This is done by driving the self-tapping screws into their holes. It is recommended that you use a non-powered screwdriver for this and that you avoid over-tightening the screws too.
Next, locate the surface in your cockpit that you wish to have your holder mounted onto. Make sure to clean that surface thoroughly and then align the suction cup to it. Whilst you're holding the lever of the RAM iPad mount to its OFF position, push the base of the mount onto the surface. Ensure that the silicon base is flush with the surface and then switch the lever to its lock (ON) position.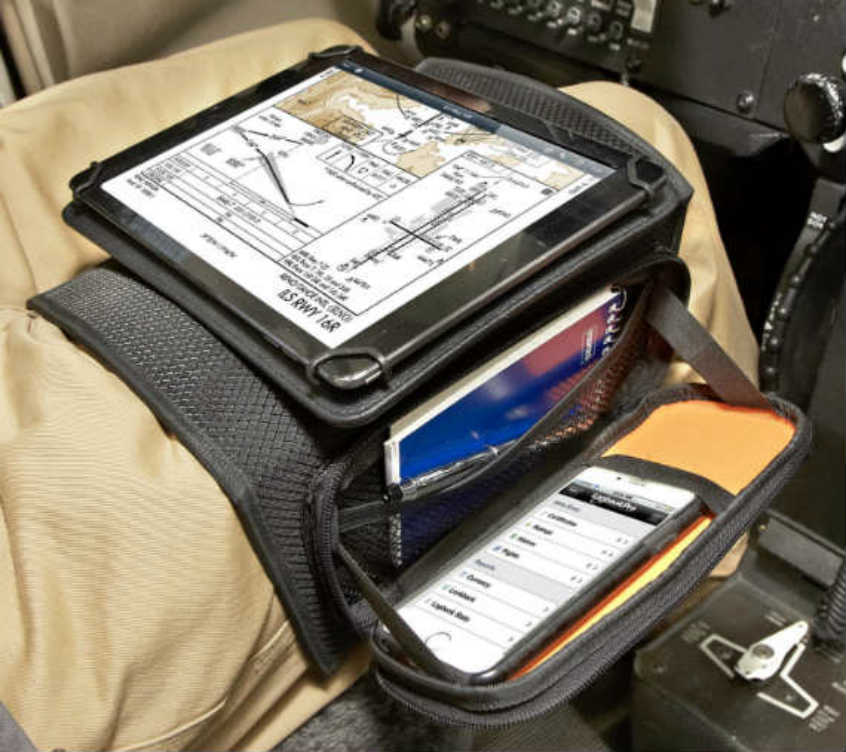 iPad Tips for Pilots
The first thing to do is put all of your aviation apps on the first screen. Put away the other factory-installed apps on another separate screen in a folder. You don't want social media apps or messaging apps on your iPad as they will distract you with notifications and you're probably carrying your phone with you anyways.
To prevent apps from updating in the background turn off automatic updates as this can make an app crash. This is not always the case but if the iOS version and the version of the app are not compatible and you update to that latest version there will be some bugs in the way.
It's best that you turn off the passcode and Face ID features on your iPad to allow you to unlock the device by just pressing the home button. While security-wise this is not ideal, when it comes to convenience, it can be in quite annoying when you need to be looking at it or type in the passcode just to use it. If your iPad keeps dimming and locking the screen you can set the auto-lock feature to indefinite. This means the screen won't ever dim or lock.