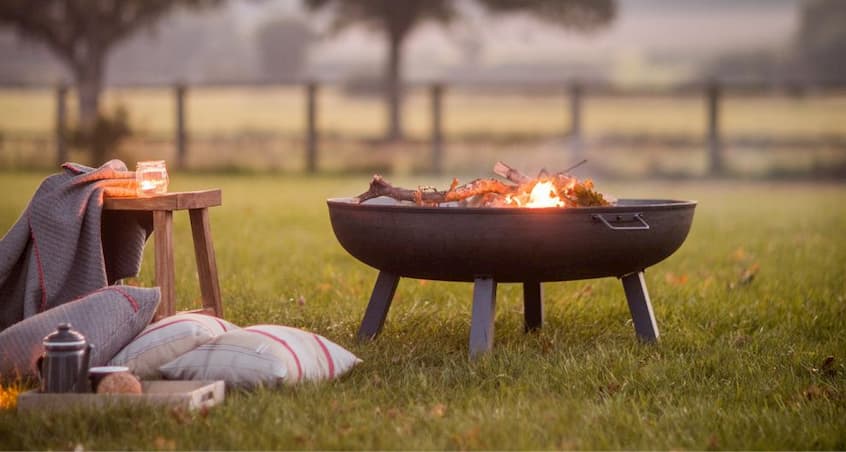 Outdoor Fire Pits: Important Things to Consider When Buying One
Fire pits are a great way for outdoorsy people to get more use out of their backyard during the colder months. They also make for nice gathering spots at other times of the year, where you can roast marshmallows and weenies, talk to friends or just unwind after a long day at work. Sitting in a circle on your patio just doesn't have the same feel to it without a fire. Everyone would just lose interest quickly and walk away.
Outdoor fire pits provide warmth, ambiance, ignite passion, spark discussion and creativity, and can be straight out relaxing as you stare at the flickering flames. And unlike other type of outdoor heaters, a fire pit will provide a 360 degree view of open flames to your entertainment area. That being said, you'll see that fire pits are much more than just a hole in the ground – they can be a focal point in your outdoor space, unless you just want a hole in the ground to roast a pig in for a luau.
Before you start shopping for a fire pit, you need to do some research and figure out where you'll want it located, learn about the best materials fire pits can be made of, how to operate it safely, and how to make it comply with environmental guidelines and laws. Outdoor fire pits are available in a variety of styles, including basic metal fire bowls and multi-functional, multi-level units that are a combination of fire pits and beverage coolers. There are also square models that resemble low tables that come with room to set a plate or drink upon.
But there are also some rules that you should follow for the sake of your safety and the safety of everyone around you. For instance, you shouldn't use wood-burning fire pits on covered porches, in windy areas or under low branches. Check your city or county's restrictions pertaining to fireplaces, outdoor fire pits or burning wood. Some places impose fines for violating these restrictions. Besides safety and property restrictions, some municipalities have fire pit or wood-burning laws for tending fires under the legal age. Environmental agencies and scientists are trying to raise public awareness about the dangers that come from inhaling smoke from fire pits and wood-burning fireplaces.
However, fire pits can be powered by other types of fuel besides wood. While wood provides the sound of crackling fire and the smell that will linger on your body and clothes, it does have some downsides. For instance, you'll need logs that accommodate the size of your fire pit. Propane fire pits, on the other hand, have a tank attached to them, which makes them portable and easy to start and use. They may be more expensive upfront, but their portability, ease of use and ignition makes them a worthwhile investment. Then, there are natural gas fire pits, which are generally built-in and connected to the gas line of your home. Natural gas is inexpensive when compared to other fuel options, but installation costs may make the initial investment more expensive.
Besides the fuel type, you need to consider the type of material the fire pit is made of. Some of the most popular materials include steel, stainless steel, copper, cast iron and aluminium. Steel fire pits can be either clean-lined or embellished, and they're available in a variety of shapes due to steel being an easy-to-mold. Additionally, steel fire pits are commonly finished or stained for to accomplish a variety of looks. However, steel is susceptible to rust, which is why you should look for powder-coated models. As far as stain choices go, you can find brass, copper and burnished brass stained units.
Stainless steel, on the other hand, provides a contemporary or industrial look. Stainless steel pits are durable, rust-, heat- and weather-resistant and available in a variety of finishes, including shiny and brushed. These fire pits come either as above ground or built into the ground models. In order to maintain their finish, they should be cleaned periodically.
Copper fire pits are some of the most popular units, especially bowl-shaped designs that come with a flat lip running around the circumference of the pit. If you don't want your copper pit to look aged and develop a patina over time, there are remedies to maintain its original colour. Copper is durable, available in a wide range of shapes, but can also be more expensive.
Cast iron fire pits provide a look of expensive metal while being affordable. Cast iron pits are available in two common shapes – bucket and bowl. Bucket units feature a deeper fuel source area, whereas bowl shaped designs come with a top metal screen. Regardless, cast iron fire pits are sturdy, rust-resistant, affordable, great heat conductors and lightweight.
Lastly, aluminium fire pits are a durable, affordable and lightweight solution. Additionally, aluminium fire pits require little maintenance, and they don't crack, warp or rust. It's also a heat conductive material that will last for many years.