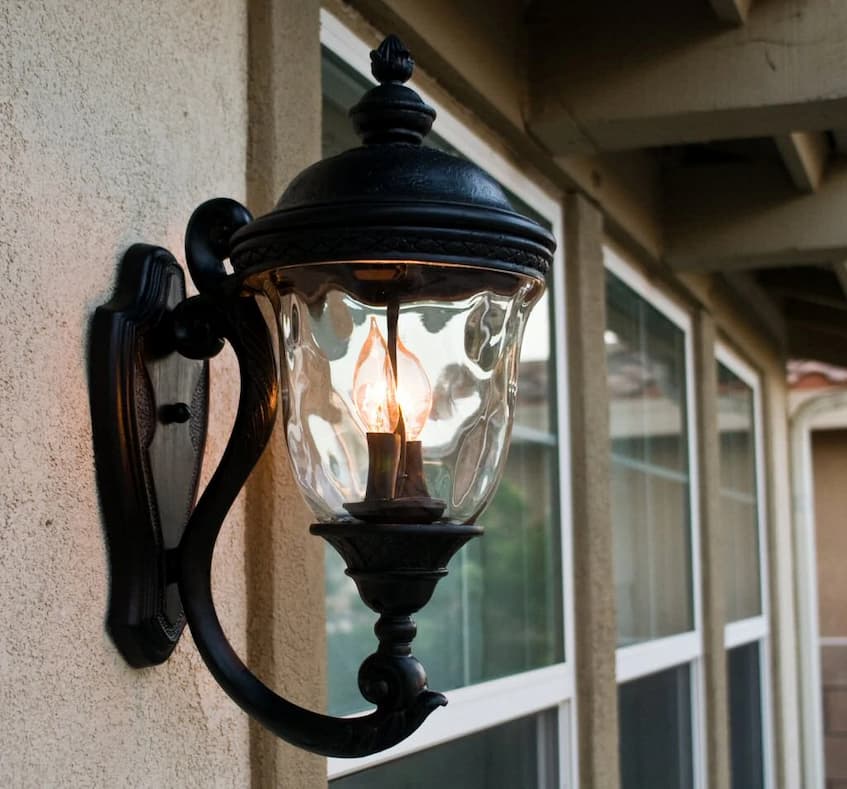 Outdoor Lighting Guide: What to Consider When Illuminating Your Outdoor Space for Ambiance and Safety
Light is an important aspect of the inside and outside of your home. It provides better visibility, which makes you feel safer and more at ease in your surroundings. Just like furniture, it has its important purpose. You can additionally use it to create ambience, making it possible to set the tone for a social gathering or cookout on your patio. But with so many options available, it can be confusing to know which ones are the right choice for your home.
What are The Different Types of Exterior Lighting Options?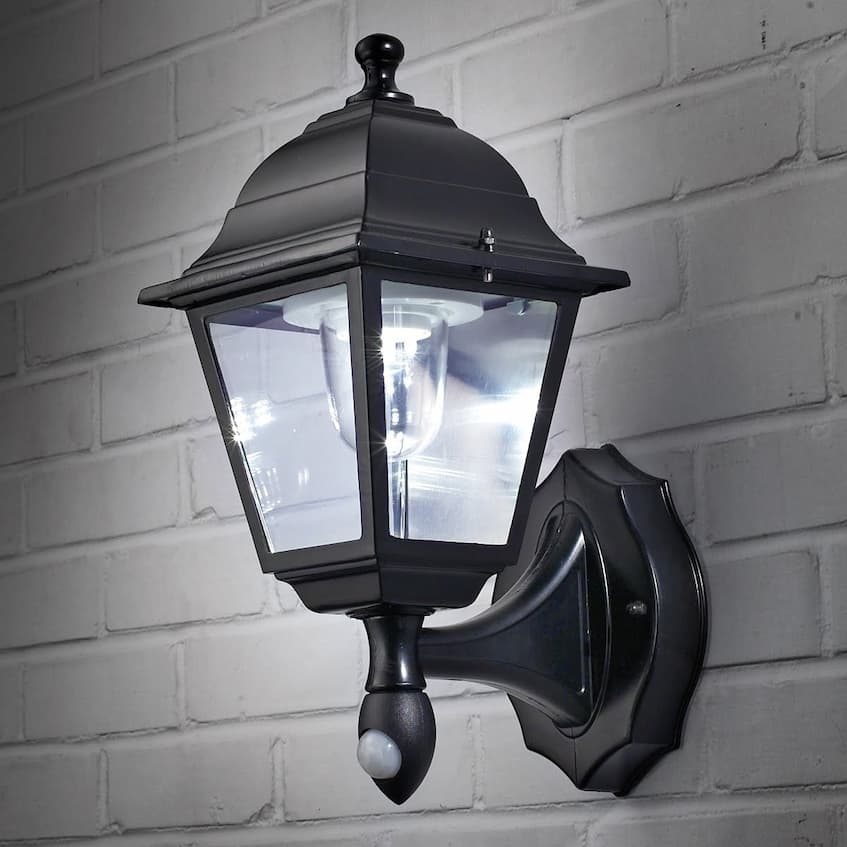 There are many types of exterior lighting options available today. You can choose from wall-mounted lights, ground-mounted lights, free-standing lamps, and pole-mounted lighting to name a few. Your decision will largely depend on what type of look you want to create for your outdoor space as well as how much money you want to spend.
The most popular types of exterior light fittings are wall-mounted styles, which are ideal for entryways or pathways leading up to your home. These units are typically accentuated with decorative features and offer a warm, inviting glow that creates the perfect setting for outdoor entertaining or relaxing with family and friends.
Sturdy and weather-resistant, ground-mounted fixtures are ideal for illuminating areas such as your driveway, walkway or patio area. With these beautiful fixtures, it is possible to highlight plants or garden elements as well as create an aesthetically pleasing ambience by placing them along the edge of a patio or deck.
Units of ground-mounted online lighting stores offer usually consist of a sturdy stand aimed at holding a smaller light source such as a candle or LED element. The typical purpose of these units is to create an intimate setting for dining al fresco during warm summer evenings. Since the fixture is placed in close proximity to the table, you can enjoy the soft glow without compromising your ability to converse with guests.
How do You Choose the Right Types of Lights for Your Needs?
If you are thinking of adding some new and interesting lighting to your outdoor space, you need to decide on the purpose. Do you want it for ambience? Do you want it simply for visibility? Do you want it just to highlight specific areas or objects? Do you want it solely for safety reasons?
These are all very different lighting goals. For example, if you are looking for accent lighting, then maybe elegant chandeliers will work best. If you want something purely for illumination purposes, then halogen lights or LED bulbs may be the most appropriate option. And lastly, in the case of requiring home lighting just for safety reasons, then high-quality floodlights with motion sensors may be best.
Outdoor Lighting for Security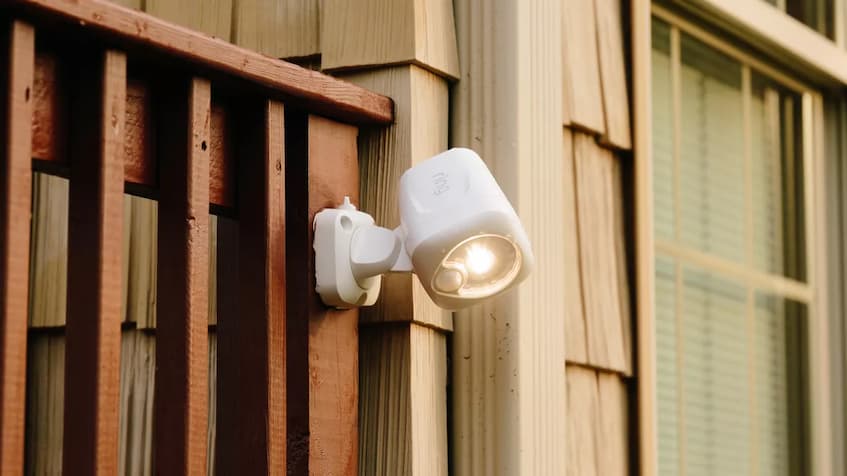 When it comes to outdoor lighting for security, there are a variety of options. By installing it along the rooflines and near the entrances of your home, you could improve the view from the street, making it easier for police or security personnel to spot suspicious activity. And while you may not be able to see details of what is happening, the light will make intruders more visible. If someone is trying to break into your house, more illumination can discourage them from continuing since they will be more likely to be spotted.
Using motion-activated lighting around your yard or on trash cans will help discourage nighttime foraging by animals such as raccoons. Motion-activated light fixtures can also come in handy if you have an area that needs illumination at all times, such as a walkway or driveway. You can use solar-powered lights as well to illuminate walls and fences without having to run any wires to keep them charged up.
Install Exterior Lighting on Your Own or Hire a Professional?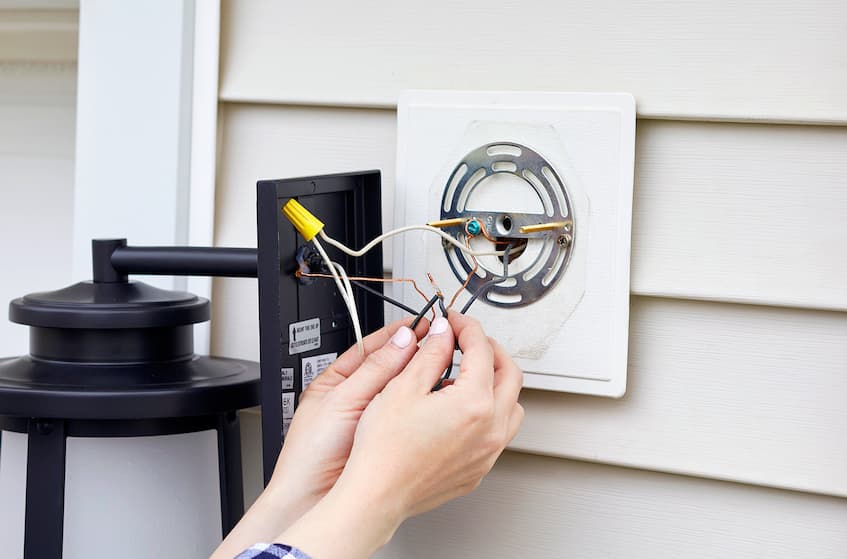 When you're ready to start shopping for outdoor lighting, one of the first factors you should consider is whether you want to install it yourself or hire a professional to do it.
A DIY method is a common approach to homeownership, but there are some things you should know before attempting this complex project on your own.
DIY Outdoor Lighting Advantages
Cost Savings. The biggest advantage of installing your own exterior light fittings is cost savings. Depending on what type you buy, DIY options can be as much as 30% less than hiring a professional. One of the most important things to keep in mind when shopping is wattage.
This will ensure that your bulbs last longer and use less energy. Homeowners who love to tinker with home improvement projects will love this aspect of the job. It's also something that those who choose this option can brag about to friends and family members without a hint of hesitation!
DIY Outdoor Lighting Disadvantages
No Professional Support. If anything goes wrong with the installation process or if you have any kind of questions or concerns, you won't have a professional to lend you a hand.
TIPS
When you decide to install your own lighting system, it's important to follow electrical safety guidelines. While many solar-powered designs are safe for placement directly into the ground, most setups require wiring.
If you're creating a new landscape with new wiring, contact a local electrician about setting up the wiring for your outdoor light fittings before you install them in the ground. If you want to add lighting to an existing landscape, speak with an electrician about adding more or relocating your existing illumination if they're too close together.
When installing outdoor lighting in an area that has underground wires or cables, always dial before you dig to have them marked. By doing so, you can help prevent accidents that could cause injury and damage to property.
To Sum Up
It is a little tricky, but with the right research, planning, and options chosen, your property will end up with lights that make it look lovely at night and make you feel safe going through your front door.