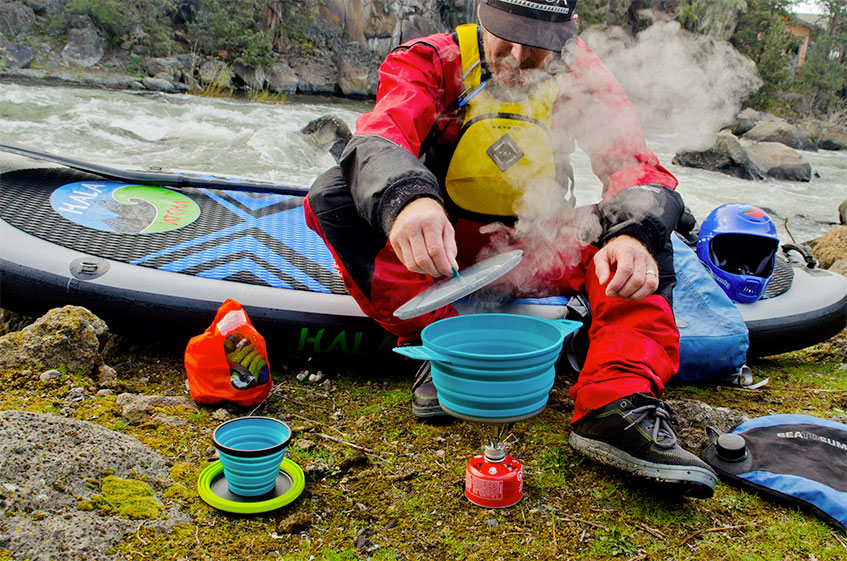 Sea to Summit Camping Gear: Where Protection Meets Convenience
Sea to Summit is a specialised adventure gear company that was founded on the most awe-inspiring outdoor feats. It's the obvious choice when you seek quality in every aspect of your gear, from your tent or sleeping pad to a compact, waterproof stuff sack or a camp towel.
It has a solid reputation for producing high-quality lightweight dry sacks, stuff sacks, packable camp cookery, paddling accessories, and travel gear. Paddlers adore the Sea to Summit lightweight dry sack or the eVent compression dry sack for their waterproof protection.
Backpackers and campers like how easy their compression sacks are to pack, as well as their lightweight delta plate and portable kitchen sink for camp cooking, and their soft sleeping bag liners and camp towels. The brand's neck wallets, money belts, packing cells, and toiletry packs are also popular among travellers for keeping their valuables and vital goods safe and organised.
While the company has developed a dedicated following and a reputation for quality and performance, it continues to grow and offer new outdoor gear. They have recently ventured into ultralight tents, sleeping bags, and sleeping pads, leveraging their lightweight expertise and materials understanding obtained from years of manufacturing and designing outdoor items. The Sea to Summit camp department continues to develop groundbreaking products that offer exceptional quality and dependability while exceeding industry performance benchmarks.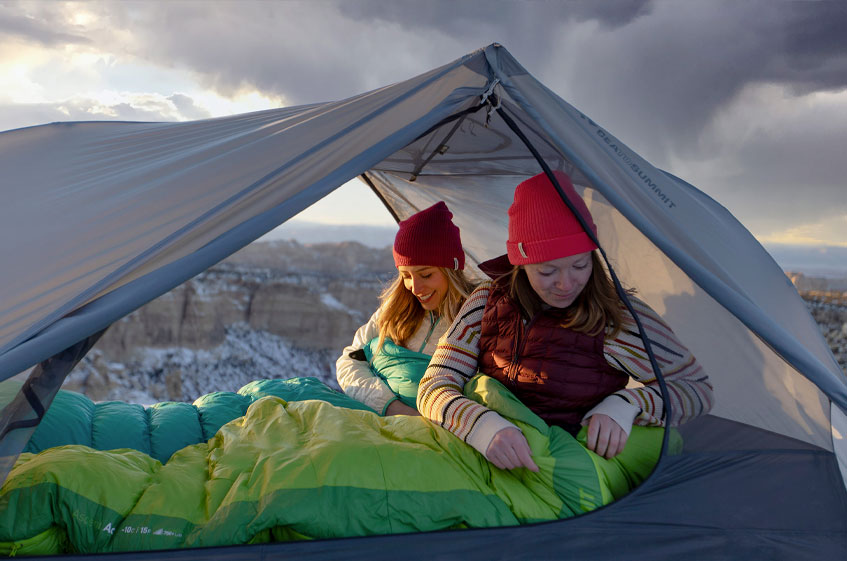 2-Person Tent
The Marmot Catalyst 2-Person Tent is simple to pack, set up, store, and maintain—yet it does so much more. This camping tent is the go-to when you're carrying all the gear because it's roomy as it has two vestibules, and it even comes with its own footprint. Plenty of mesh provides excellent airflow for summer camping, and the tiebacks rollback, making it ideal for stargazing. To get the full grasp of their tents' features and specifications visit the sea to summit camp equipment and accessories store online.
Sleeping Bag
The adaptability of the Ascent down mummy sleeping bag is redefined. When it's freezing outside, the complex construction and high-quality down keep you warm, while the triple-zipper Free-Flow Zip system keeps you cool and vented when the weather warms up. Shaped to allow for a natural resting position for maximum comfort, it's still light and small enough to take with you wherever you go.
Sleeping Pad
For year-round camping, Sea to Summit's extremely thick camp plus self-inflating mat with Delta CoresTM provides plus-sized comfort and warmth. This company was the first to use Horizontal Delta coring. To save weight and mass, the method removes nearly 40% of the foam in delta-shaped 'cores,' yet without sacrificing comfort or durability.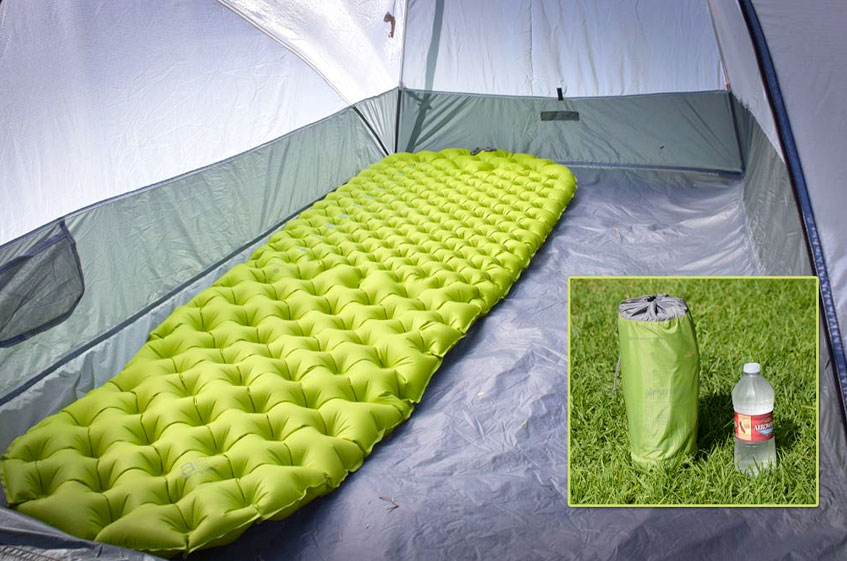 Survival Blanket
By reflecting your own body heat back to you, the adaptable, lightweight Survival Blanket 2.0 provides all-weather protection. It can be used as a lean-to shelter in an emergency, as a ground cloth to offer warmth to sleeping bags, and to wrap cold or frozen food during transportation. It's perfect for keeping in your daypack in case of an emergency, or as part of a car or home emergency kit.
Fireside Folding Chair
When you have some time off from work and wish to relax, enjoy hobbies or sports, or simply sit around a campfire, the Fireside will be a welcoming spot to visit. The durable design will stand the test of time. It is available in mesh to allow for air passage on hot, humid days. The powder-coated steel frame of the chair can support up to 300 pounds. The chair folds up small and slots into the supplied shoulder carry bag, making it simple to transport to any event.
Moonlander Folding Table
Nemo's Moonlander is the ideal new addition to your camp equipment, no matter where you're going. Moonlander may give a secure landing for a set of wine glasses on a picnic blanket, or the ideal elevated side table for your Stargaze and Moonlite recliners, thanks to its dual-height, convertible design. The configuration works perfectly, it's like opening a pop-up book, yet it's small enough to fit in a backpack's laptop sleeve.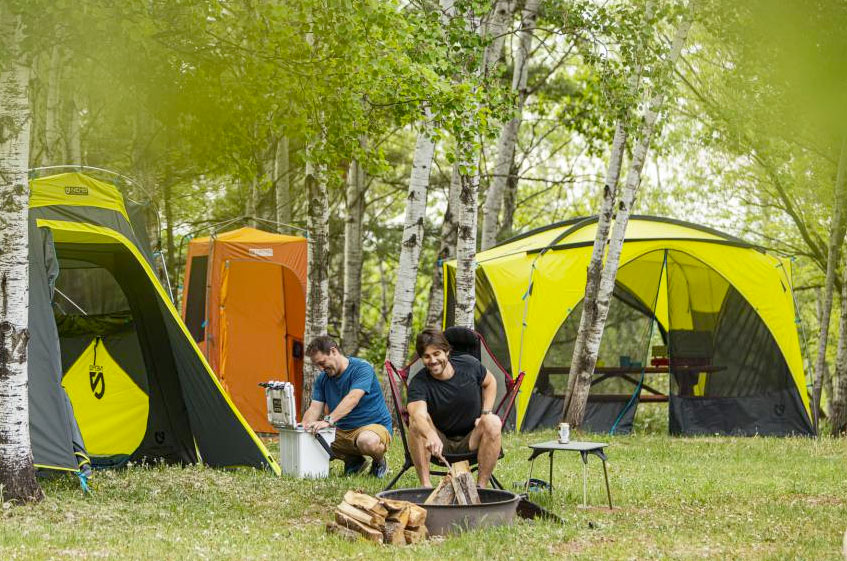 Piranha Knife
Everyone requires a small knife and a method of carrying it. The Piranha is small enough to clip to a key ring or a carabiner and can be carried anywhere you need to go. The blade is made of surgical-grade 440-C stainless steel and has a serrated edge—perfect for removing duct tape off shoes or digging a splinter out of the palm of your hand.
When connected to a regular carabiner, the locking blade can be opened and closed with one hand, but it's nearly impossible to open (Be careful!). Some ultra-light carabiners allow you to twist the blade tip past their low profile. Before using, double-check this. For your convenience, there is also a bottle opener included.
Mega XL GPS
This is a must-have device for serious climbers, designed and manufactured in-house using the latest in cycling GPS technology. It sports a 2.7-inch 240×400 high-resolution screen that may be seen vertically or horizontally. In addition to compatible electronic drivetrains, it can interface with Bluetooth Smart or ANT+TM enabled power metres, heart rate monitors, and speed/cadence sensors at the same time.
The device delivers turn-by-turn navigation and phone notifications when coupled with an iOS or Android mobile via the free Lezyne Ally V2 software (incoming calls, texts and message app notifications). It contains preloaded maps on the screen, turn-by-turn navigation, and off-line navigation, and it can be changed instantaneously. All this and a whole lot more.