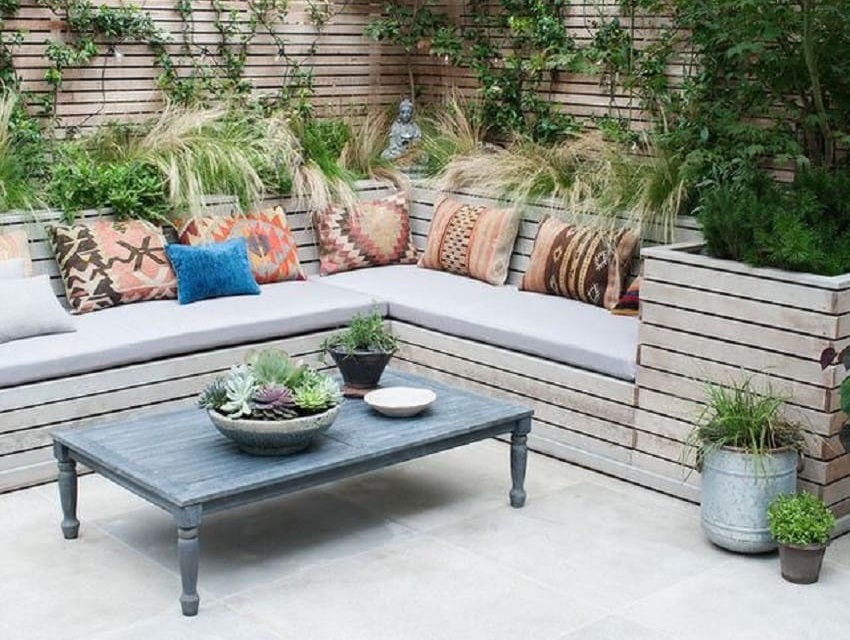 Take a Seat: Tips for Choosing the Perfect Outdoor Bench for Your Garden
While summer is officially over and you might not get to enjoy the comfort and beauty of your outdoor space as often as you used to, you can start planning for next year. In fact, with the dropping prices of outdoor furniture we see every end of summer, now is the perfect time to do some shopping which can benefit the look of your outdoor space in future warm seasons. And what better way to start than with a practical and beautiful bench?
If you lack a bench, now's the time to get one. A nice bench can benefit any garden. It can offer an inviting place to relax and enjoy the lovely sounds, scents and sights of your garden, while also serving as a decorative element of the landscape. But considering how there's a variety of outdoor bench seats on the market, choosing the right piece can be complex for many. To ensure that you end up with a lasting element that will meet your needs and complete the look of your outdoor space, here are some important factors to have in mind.
The Size
To determine what size the bench should be, you need to first consider what purpose you want your bench to serve. Do you need it to provide ample seating for outdoor get-togethers with friends and family? In that case, you may benefit from a three-seater or four-seater. You can also find some very long benches that can provide seating space for up to eight people. Quite convenient if you want to host large garden parties. Or perhaps you only need a place to sit in a secluded corner of your garden where you can read in private? Then, a private two-seater bench can be a perfect choice.
But that's not all. You should also consider the layout of the garden and how much available space you have for fitting a bench. Ideally, you should pick a bench that meets your needs without restricting the freedom of movement in your garden and eating up too much space. But a tiny bench isn't always ideal either. For instance, a small bench in a large open space can end up being swallowed up. And this isn't a very flattering look. Make sure to pick something that will be a good match for your needs and the size and look of the space at the same time.
The Material
Scanning the wide range, you'll find that outdoor bench seats can be made from a variety of materials. If you want your outdoor bench to blend in with the natural beauty of your garden, then you may want to go with wood. With the allure and warmth of natural wood, you can never go wrong. However, not all types of wood are suitable for outdoor use. You will need to pick a material that can withstand the weather conditions such as rain, snow and UV rays, as well as insects.
With that being said, one of the best choices you can make is to purchase a teak bench. Teak is a type of hardwood with natural abilities to withstand rot and damage from outside factors, while also having an attractive honey colour and a rich texture that instantly adds value to your outdoor space. Cedar and pine are also great choices, however, you will need to seal them and repaint them often to maintain their good looks. There are also wicker benches that are weather-resistant and light enough to allow you to easily move them anywhere you like.
But some homeowners will prefer the look of a metal bench. If this is you, make sure to pick something that is long-lasting, weather-resistant and easy to maintain. Cast iron benches are a great choice as they are corrosion-resistant and can add a mysterious Victorian element to your garden. If you want a more modern metal bench, cast aluminium is just as durable.
And if you prefer a garden with a classic style and an ancient Roman vibe to it, a stone bench may be just the thing you need. Depending on your budget, you can find beautiful and intricate stone benches from marble to granite or moulded concrete. A stone bench can transform your garden into something from a storybook. These benches are essentially no-maintenance, which makes them perfect for people who don't have much time for cleaning.
Consider Adding Some Weather-Resistant Cushions
Of course, once you've found an outdoor bench seat with the right size and design for your space, you will want to make sure it's comfortable to use. While benches do not exactly scream comfort like sofas do, you can always upgrade them to achieve the same effect with the help of outdoor cushions. Make sure that the cushions you buy are rated for outdoor use and made of waterproof materials or quick-drying materials. Besides enhancing your comfort, the right set of outdoor cushions can also be a decorative touch for the eye to linger on.