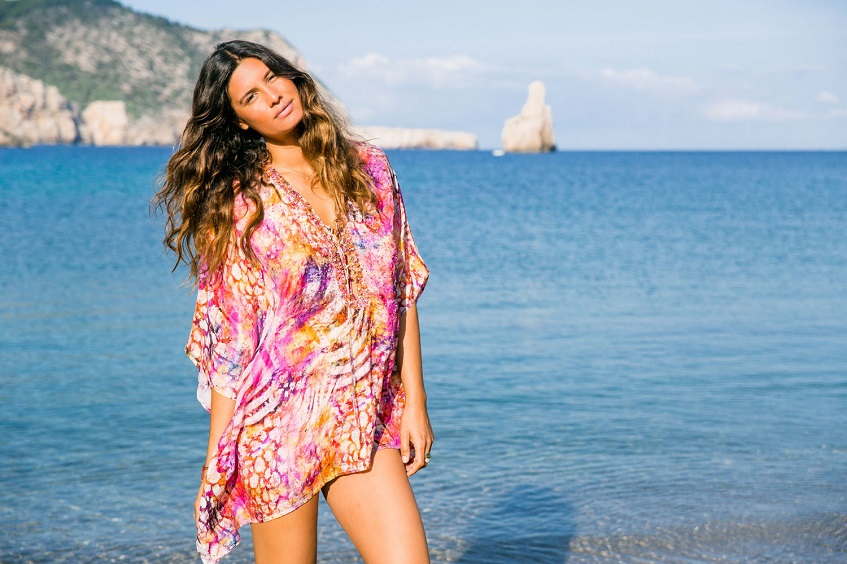 The Kaftan Is the Ultimate Beach Outfit of Choice: Get The "Just Right" Dose of Exotic
It takes more than a well-picked swimsuit to get a stylish beach look. Whether you're planning a beach vacation, beach date or you simply want to enjoy the crashing of the waves on the shore, the right outfit will make heads turn left and right.
Today's modern summer trends offer a variety of fashionable beach clothing, ranging from breezy dresses and kimonos to all kinds of shorts. One popular beach garment that has been trending for quite some time is his majesty – the kaftan.
History of the Kaftan
The kaftan of today is a symbol of exoticism and a bohemian lifestyle. This term describes loose-fitting robes or tunics with a Middle Eastern and North African vibe. Kaftan is a word of Persian origin, while its style originated in Ancient Mesopotamia. In the past, the kaftan was commonly worn by both men and women. Ottoman sultans frequently wore them from the 14th to the 18th century and gave them as rewards to important dignitaries and generals.
The kaftans were popular throughout Africa as well. Their loose silhouette helps proper ventilation, which is ideal for hotter climates. In the modern world, the kaftans were only seen on travellers and eccentrics who would bring them back from their exotic expeditions. It wasn't until the 50s and the early 60s that they started appearing in high fashion.
Designers of the 1960s completely reinvented the bohemian mystique of the well-known traditional kaftan. Ever since this garment is one of the most fashionable and practical pieces of summer clothing. Today's kaftans vary in size, from long and midi to sweet and short beach kaftans. The new and improved styles still contain the distinct oriental charm, making you look like modern Ottoman royalty.
Reasons to Wear a Kaftan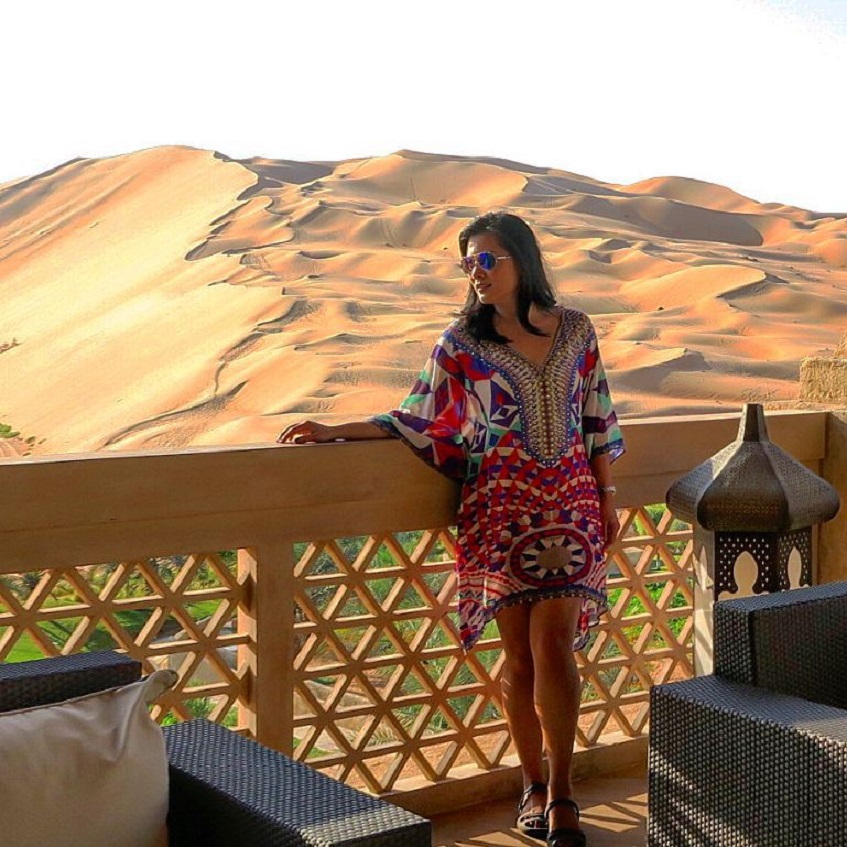 Out of all the beachwear options, the kaftan is the most popular and practical choice. These garments come in versatile styles and colours according to your preferences. The stylish short kaftans come in mesmerizing designs that include animal, tropical prints, as well as intricate oriental prints. They're further enriched by hand-applied crystal embellishments along the neckline. These kaftans suit anyone's style. Whether you're looking for a round, V-neckline, or off-the-shoulder model – they have it all.

Apart from being chic and versatile, kaftans are also incredibly comfortable to wear at the beach. Their loosely-fitting and lightweight structure help you keep cool even in the hottest summer temperatures. Beach clothing can often come in cheap materials that are rough to the skin and fade fast from prolonged sun exposure. However, modern kaftans are made from high-quality viscose silk. This material is soft to the skin and doesn't cause any irritation. Viscose doesn't trap heat and easily wicks away moisture. It can also hold dye without fading, even after numerous washes and long-term use.

Kaftans are a great choice for those of you who are a bit self-conscious about your bodies in swimwear. They allow you to show only as much skin as you're comfortable with. That being said, I still strongly believe that every female body has its own divine beauty, regardless of shape and size. It's best to reject the ideas from the media as to what our bodies should look like. Instead, we should embrace our features as something that makes us beautiful in our own unique way.
How to Style a Kaftan for the Perfect Beach Outfit?
Short kaftans are the newest superstars in beachwear. They help you instantly take your beach outfit to another level. A modern kaftan has a lot of stylish details that can act as accessories. However, if you want to spice up your look even further, there are plenty of ways to do that. To counteract the loose fit, you can add a simple belt that will accentuate your waistline. Placing the belt in the right spot will help you flaunt those beautiful curves.

Many women think that they can only wear a kaftan by itself. However, contrary to popular belief, a kaftan works great over a pair of shorts, jeans, leggings or a skirt. On chilly summer nights, you can pair it with a denim jacket or a cardigan.

You can style your kaftan with any type of shoes, ranging from plain white sneakers to luxurious high heels. However, when it comes to your ventures to the beach, it's best to choose plain slip-on or lace-up sandals. Make sure to counteract the colourful short kaftan with more neutral shoes, such as nude-coloured sandals.

When talking about beach outfits, I can't leave out the beach bag. When choosing a beach bag, don't forget to think about its practicality. The ideal bag should be roomy enough for all your beach essentials, but not appear too bulky and ruin your look. When it comes to materials, it's best to choose a bag that's durable, tear-resistant and waterproof, to ensure the safety of all its contents.
Don't Forget Your Hat!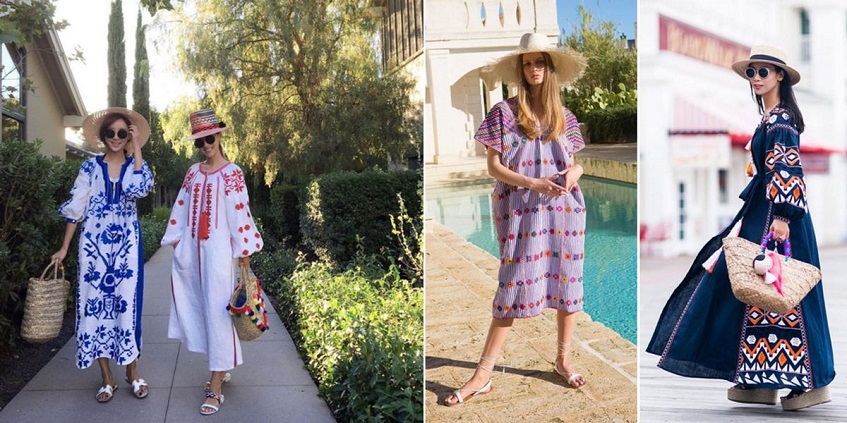 Beach hats are more versatile than people think. Before choosing a hat to go with your beach outfit, you need to take into consideration the style and material of the hat. Today's market is flooded with different styles of summer hats; however, not all of them provide you with the needed protection.It's important that you're well-protected from the harmful UV rays every time you visit the beach, as they can cause serious skin damage and even skin cancer.

While applying sunscreen and wearing UV-protective sunglasses are popular ways of protection, choosing the proper beach hat is equally important for your safety. The ideal choices for a beach hat are either a large-brimmed straw hat or one made with a UPF 50+ rated fabric. If you're opting for a straw hat, make sure it doesn't have a loose weave or any features through which the UV rays could penetrate.
Bottom Line
Beach outfits can be quite fashionable and comfortable if you include the right clothing pieces. From olden times to the modern high fashion runways, women's kaftans are a staple of luxury and class. Choose one of the gorgeous short kaftans for sale and create a practical and breathtaking summer beach outfit.