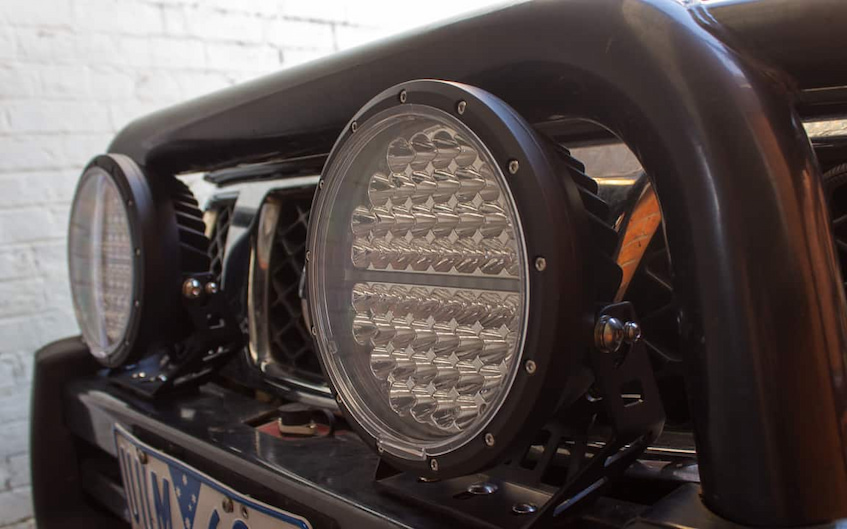 Things to Consider When Buying Spotlights
One of the main issues 4WD owners have with their vehicles is that straight out the of the dealership there's one important omission – a decent light setup. Even for cars designed to be used primarily off-road, the only lights provided are standard headlights, and if you spec up, fog lights.
This is fine around town or on highways, but what happens when what you face is the pitch darkness of the bush. Here you'll want the best possible lighting. Not only during dusk or night, and to avoid a ton of critters coming your way, but good lighting also helps in low visibility during the day.
To stay safe at all times, and avoid possible accidents and unwanted damage to your car, you'll want driving spotlights. These are the aftermarket additions that let you see and make your way through the darkness. They provide a more intense spread of light at further distances and wider angles. Something your standard high or low beams and fog light combo can only dream of.
Types of Driving Lights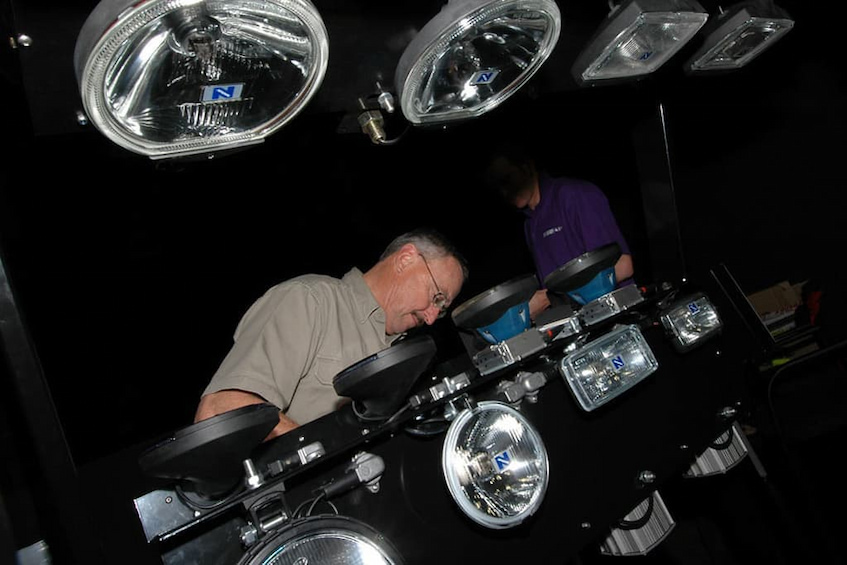 Driving lights can be divided into two groups, depending on the type of beam they project. Lights that allow you to see further in the distance, but not so much to the sides of the vehicle, are known as spotlights. If you need more visibility to the sides, then flood lights have a wider spread, but closer to the car. Usually, you'll want a combination of both. More visibility further down the road, and to the side. This helps in avoiding any obstacles in the road itself, or any surprises coming from left or right.
Where you place lights will ultimately affect how much you can see. The convenient driving spotlights are often mounted at the height of the headlights on mounting points on bull bars or aftermarket grilles. Alternatively, you can use globes or light bars mounted on the roof rack. Positioned at the right angles, the combination of spot and flood lights should give you all the visibility you need, no matter where or when you're driving.
Lighting Tech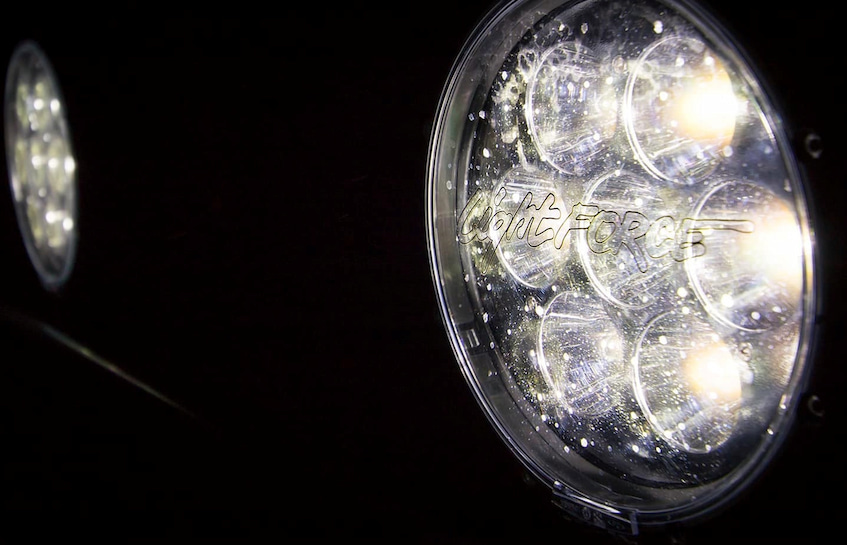 Do you go for halogens, HIDs or LEDs? Halogens are only a good choice if you're really stuck for cash, as they are inferior to HIDs and LEDs in every way. They shine the least amount of light, at shorter distances, in a yellowish hue that soon strains the eyes, and do that by drawing the most power. That's why they're the cheapest here.
For outstanding driving spotlights you want the furthest beams possible. HIDs are still the best in this respect. Though they're older tech than LEDs, a good HID spotlight can easily illuminate everything more than 1000 metres down the road. They'll use more power than LEDs, but not so much that you're straining the battery as with comparable halogens. The only downside of HIDs is possibly the size, but for the distances we're talking about, that's a minor gripe.
The benefit of LEDs is that when distance is concerned, they come close to HIDs, but their light output is more uniform and consistent. They don't have the typical heat issues of halogens (or HIDs to a lesser extent) so less can go wrong. And LEDs come in as more efficient, so you'll be using less power from the battery.
In short, they're dependable in every way and will outlast any halogen or HID bulb. If you want the best of both worlds, newer options include globes with centrally-positioned HIDs for longer spot beams, and surrounded by smaller LEDs to shine a flood beam to the sides of the car. This saves space, so you can use more lights at once.
What to Look for in Spotlights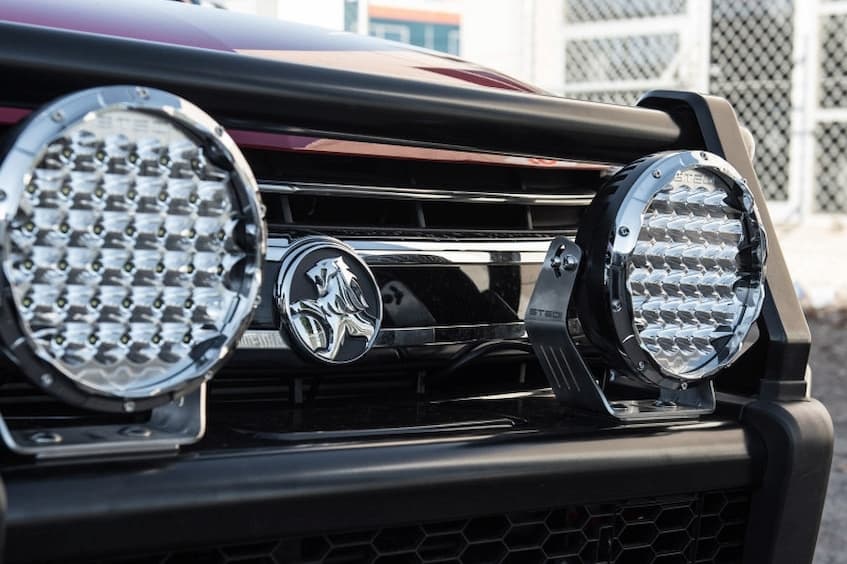 Choosing your first set of drive lighting boils down to your lighting needs. You'll want light projected at a further distance, at higher brightness levels and in colour temperature than won't strain vision in the long term. You'll also need quality build to stand up against unfavorable road conditions.
Brightness
Brightness levels are in lumens, and the higher the number the better. Lights that draw more power from the battery will offer more brightness, that is, if they're HIDs or LEDS. Another thing to go by is effective lumens, or the light that you actually see when things like optical setup, construction and heat levels are taken into account. Effective lumens will be slightly lower, and is the brightness level that you see after your lights have been on for 30 minutes or more. LEDs (in the same power output) show more efficacy than HIDs here.
LUX ratings
This basically is the distance at which that light is projected. It will be dependent on the beam type, and naturally spot beams will shine further into the distance because the light is projected at narrower angles. HIDs fair only slightly better in this category, but LEDs are not far behind. Anything around 1000m at 1LUX is more than adequate for off-roading.
Colour Temperatures
This refers to how warm or cold the light is. Lights that verge on the warm side shine a yellow/orange hue, and is something you'll want in fog lights or flood lights for better vision up close, and in bad weather. But in spotlights, light that is closer to natural daylight will be easier on the eyes. Here LEDs have the advantage, as they can be tuned to 5000 Kelvin, or the colour of natural sunlight at midday.
Build
You'll want quality build in harsher conditions. Metal outings, sealed wiring, and quality lens arrays for better light dispersal. Look for lights with IP67 ratings that stand up in heavy rain, and IP69K for impact protection. The polycarbonate covers are tough and can also take various filters and covers to widen the beam if you need more side vision.
Other Considerations
Quality connectors, mounting brackets and wiring harnesses ensure that you lights will stay where they are and operate no matter the conditions outside. A good idea is to calculate the overall power draw for the lighting setup, as you might need a secondary battery.