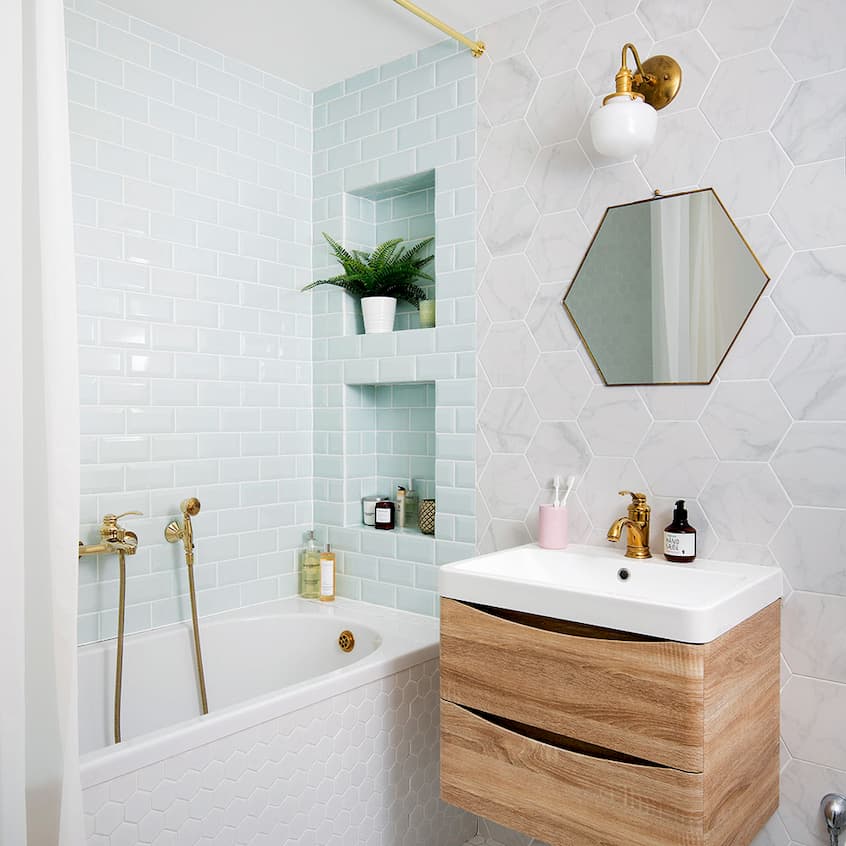 Tips for Decorating a Small Bathroom
The bathroom is a very important part of one's home. It is a safe space where you can refresh after a long day at work, relax and enjoy peaceful moments of solitude after stressful times or embrace your singing talent. Having a large, spacious bathroom is on the wish list of many home owners, but there are ways in which even a small bathroom can become a lovely, enjoyable and practical place. Follow these simple tips to get the most out of your small bathroom.
Let There Be Light
Illumination plays an important role in adding dimension to your bathroom. The lighter it is, the more spacious it will look. However, the trick here is not to overpower the room with lightning because this can cause your bathroom to look even smaller. The goal is to use lightning arrangements which will contribute to the overall design of your bathroom, but also provide a well lit and open space. Avoid large chandeliers and ceiling lights and choose a flush mount ceiling light which will blend in without taking too much space or attract too much attention. You can add dimension and save space with waterproof led strip lights as well. A lighted mirror or cabinet is a perfect way to add some depth. If you are feeling romantic, you can install small LED lights that mimic candle light.
If These Walls Could Speak
Apart from lightning, wall decor can seriously change the look and the mood of your bathroom. Let your walls tell your story with creative wallpaper design. There are tons of modern bathroom wallpaper designs to choose from and they can create an optical illusion of a bigger space. For instance, vertical stripes can make your bathroom look taller whereas horizontal stripes will make it wider. Patterns can also fool the eye and make it look bigger than it actually is. Choose bold bathroom wallpaper designs with vivid colors or patterns to make a statement or stick with pastel colors and simple designs for a gentler outcome. It all depends on your personal taste and you can get creative beyond limits. Be careful though, it is not only the design of the wallpaper that is important. Having the fact that bathrooms are high-humidity areas in mind, you should choose wallpaper for bathroom which is highly resistant to moisture and humidity in order to avoid adhesion and mold. It should also withstand cleaning and scrubbing.
Mirror Mirror on the Wall
A strategically placed mirror can do wonders for a small space. Place it in front of a tape light, below a ceiling light or across the window to naturally reflect lightning thus creating a spacious area. Adding a tall mirror will draw your eyes upward and create an illusion of a bigger bathroom. Choosing a big mirror will add a bit of glamour to your bathroom. A vanity mirror or a lighted mirror is also an excellent choice for small bathrooms. Still, be careful not to overdo it because having a lot of mirrors in a small space will look awkward.
Make Some Room for the Star
Keeping an area tidy and clutter-free is crucial to get the most out of any small space. After all, you need a beautiful scene for your bathroom concerts, am I right? Get an organizer for your shampoos, conditioners and other bath products and keep them in the shower. Put up some shelves for your beauty products and toiletry. You can use the counter top for your most used items. Install a cabinet below the sink and above the toilet tank to maximize the space. Decorative boxes, bins and baskets are a very convenient storage solution and can double as decoration as well
So Fresh, So Clean
If your bathroom is dirty, then all your hard work was for nothing. This is why it is really important to clean your bathroom regularly for sanitary purposes and to ensure it looks pleasant. Keep your cleaning products in a decorative box along with some protective cleaning equipment. Fresh smell is another thing you want in your small bathroom. Keep scented sachets in your cabinets and drawers. Buy some bath salts and ethereal oils and turn your bathroom into a aromatherapy spa. Use natural air fresheners because aggressive smells are not only off putting, they can even make you ill.
Accessories Are a Bathroom's Best Friend
Bathrooms are usually underrated, but with the right decorations, they can become one of the most amazing spots in the home. Get your creative juices flowing and express your style and personality with fun and practical accessories. From a tooth brush to a storage box, no item should be boring. Choose styles, patterns and colors of your liking. Use storage, linens, and toiletry as accessories. Even everyday items can beautify the space if carefully displayed. Having a focal point in a small bathroom is a good idea to draw away attention from the small space; a lush plant should do the trick. There are some beautiful house plants that thrive in humid environments. A plant in your bathroom will brighten the place and improve your mood any time you look at it. If you are bad at taking care of plants, you can choose a decorative bowl, a stylish toilet paper holder or a candle holder as a centerpiece, it is up to you to decide.
Gadgets, Gadgets, Gadgets
Use gadgets to take your small bathroom to the next level. You can install a waterproof notepad to write your ideas while taking a shower, or get a bathroom glass holder to sip on your favorite drink. Instead using your phone for music, you can get a waterproof radio and speakers and enjoy some quality "me time". There are also some very good automatic bathroom cleaners to make your life easier.
Follow these tips to give your small bathroom a makeover and enjoy your new favorite place at home.