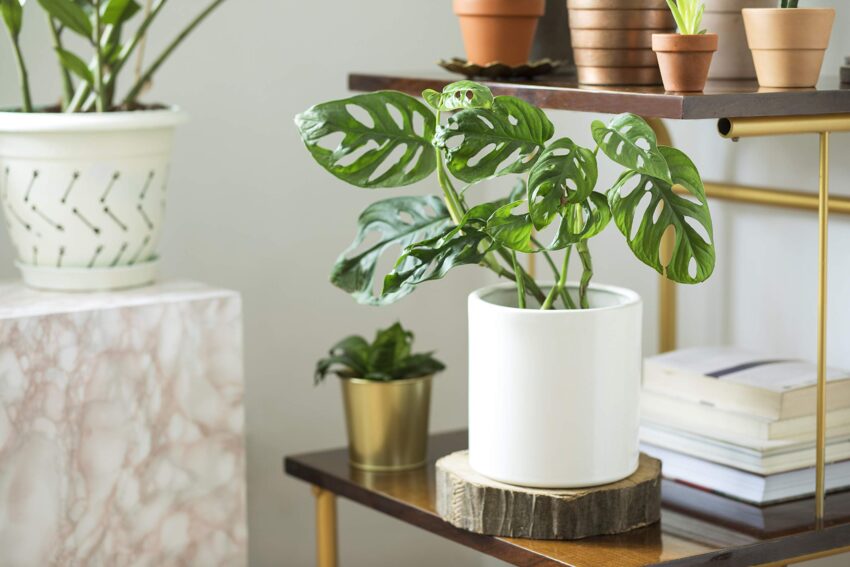 Unique Plant Pots: A Lovely Way to Add Greenery & Decor
When it comes to decor, few items add texture and warmth into space as plants do. Besides the fact that they purify the air, improve productivity and reduce stress, plants also bring life into any corner of your household. In addition, they're very versatile décor elements. They can be an opulent addition like a Peace Lily or an Orchid, a dramatic statement like a Palm Tree, or a cute little touch such as a collection of succulents.
But it's not just the plants themselves that can enhance the décor – the pots they live in can add a stylish twist too. While there are many beautiful options, it's worth to take some time and consider which pot will work best with your plants and space as a whole. You'll need a combination of plants and pots that will complement each other. Are you all set to repot your beloved greenery or bring plants into your home for the first time? This list of unique pots is sure to offer some ideas.
Concrete Handmade Pots
If you want to add something one-of-a-kind to your space, then you should check out the range of unique plant pots that are handmade using concrete. Concrete handmade pots not only look chic but are sustainable as well as they're made of a 100% natural material. They are an excellent touch of natural aesthetics, able to add visual warmth to any setting.
You may opt to add a mix of different heights, sizes, colours and textures these pots are available in. To bring a modern feel, you can pair a monochromatic concrete pot with an ultra-modern stand. Stylish, and slightly sci-fi, these metal frames are thin and come in different geometrical shapes to give any plant all of the modern styles it deserves.
Because they are handmade, you can create a statement collection with these unique plant pots that no-one else will have. The black, grey and white range of concrete while very much classic, will bring a Scandinavian breeze to your home décor. If you love succulents, these solid concrete pots also come in mini sizes ideal to hold your precious succulent set.
Embers Hanging Pots
Embrace your ceiling and introduce hanging pots to display captivating plants next to a window or a glass door. Hanging pots are a versatile choice. And thanks to this vertical garden trend even tiny apartments and small backyards can offer a chance to accommodate fresh herbs, healing plants and different types of flowers.
If you choose pots made of embers, you'll definitely get something unique. These pots are carefully handcrafted using a reactive glaze process, and each one has a different finish from the rest according to its position in the kiln. They usually come in two natural colours: charred and ash which look especially great in a home with luxury themes.
Mid-Century Modern Pots
Mid-century modern pots are usually over-sized and come in vibrant colours that perfectly fit a mid-century theme. Because of this, you can be sure they will command attention even if sitting next to some of the larger furniture pieces. They are also a great option when you want to have a stand-alone plant as a focal point in your hallway.
The size of this pot is extra-large, meaning you'll have to water more frequently. However, this can be a good thing, allowing the plant to develop a better root system due to having more space to grow. The typical material for mid-century pots is ceramic, and the most common colours are teal, lime, burgundy and mustard, but you can also find more neutral options such as black, grey or white.
Rustic Pots
Besides aiming for a sleek, modern style, another big trend in interiors is the rustic look. You can achieve the rustic aesthetic by using metal or terra cotta pots, in earth tones and finishes that look aged and antiqued. Such pots are usually made from ironstone or dark chocolate clay. You may get cooper pots to add a vintage touch or use them to plant ornamental grasses.
Glass Terrarium
Just because plants are one of the most traditional options for decor, that doesn't mean your plants should be strictly presented in a traditional way. In fact, you can go further, and think out of the box. A really unique idea is to choose a glass terrarium as a pot. You can experiment with its shape and have fun while choosing adequate plants or this beautiful miniature garden.
Variety Wins
In the end, variety wins. You can try to mix and match these unique plant pots rather than opting for a uniform collection. The whole reason of plants and pots is to add a lively touch, so feel free to a bit more eclectic in your choices.