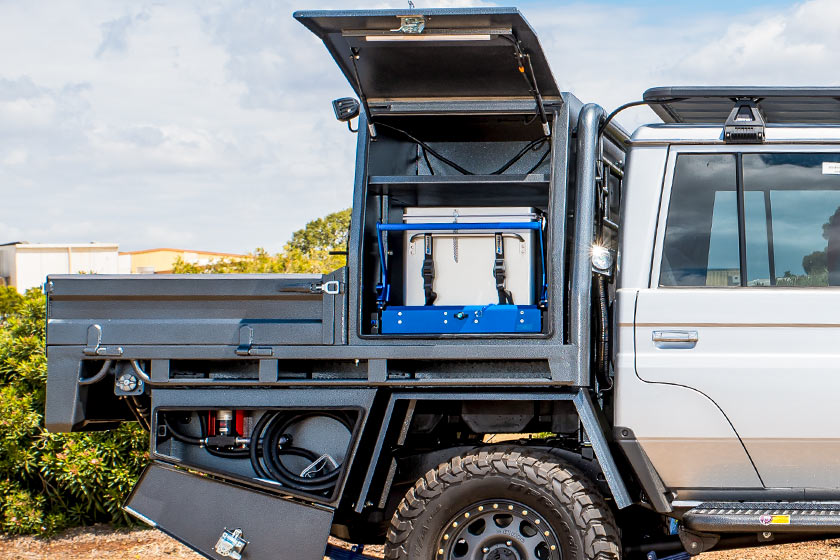 Ute Tray Boxes – Add Function and Style to Your Ute
Utes are one of the most popular types of vehicles in Australia, and for good reason. They come as either single or double cab variants, with space for up to four adults, and with rear trays that serve to store any items of any size you need to transport. They can be accessorised to meet all buyers' needs, from families to tradies. Canopies and toolboxes of varying sizes can be added at the back, and they come in handy for both recreational and business purposes.
Types of Canopies and Toolboxes
Ute tray boxes are canopies and toolboxes, fitted onto trays of single and double cab utes. Most tradies will go for single cab tool boxes, considering the extra length for larger toolboxes, while families will opt for the extra cabin space on dual cabs with enough space to fit all the goodies at the back.
Sizing and features will vary accordingly. There are smaller undertray toolboxes that fit on either side of the wheels, and boxes in varying shapes to better suit your vehicle. There are low-profile rectangular toolboxes or higher square variants that can be fitted with more of everything.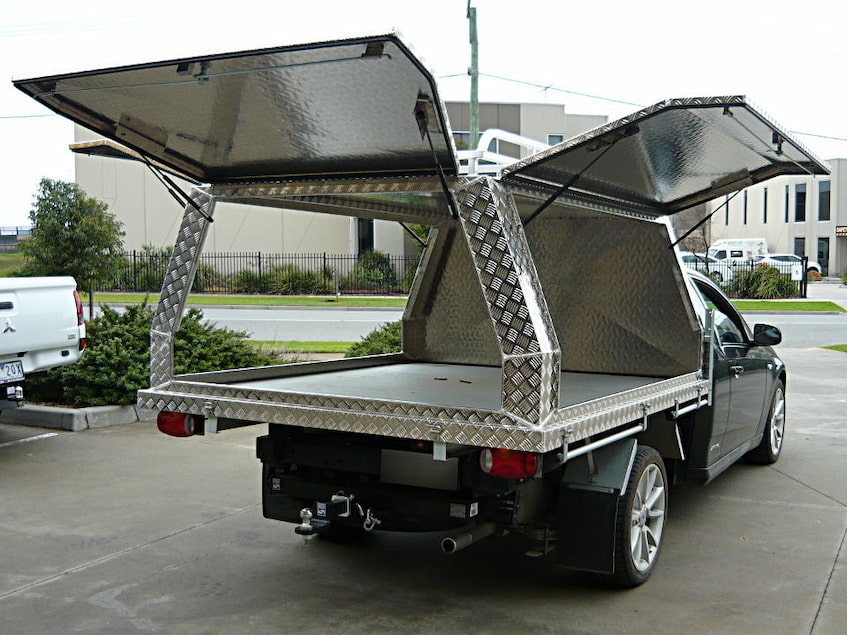 Rectangular boxes come in a lower profile with lengths ranging from 1200 to 1800mm, heights of 350, 450 and 500mm and widths of 400, 500 and 600mm. Square toolboxes come in the same or slightly shorter lengths, but are considerably taller. They can be decked out with multiple shelves and drawers and can fit larger items.
Canopies will be suited across the deck of flat trays. They are considerably larger almost in every dimension than toolboxes, with more internal storage space. Cross deck canopies extend the entire width of the tray at 1800mm. They come in heights of 850mm and fit just above the roofline. This makes for a compact yet purposeful look. Like toolboxes, lengths vary. From shorter variants at 800m all the way up the entire length of the tray at 1800mm.
Build and Materials
Toolboxes and canopies are built to last. Since they're exposed to the elements, metals and coatings with anti-corrosive and heat resistant properties are chosen. This includes various grades of aluminium. Powder coatings offer scratch resistance and can be optioned in a range of colours to suit your vehicle. All individual parts are solidly welded with no visible seams. Internal and external bases consist of either flat or non-skid checker plates. Rubber seals are used for water resistance and no nasty spills.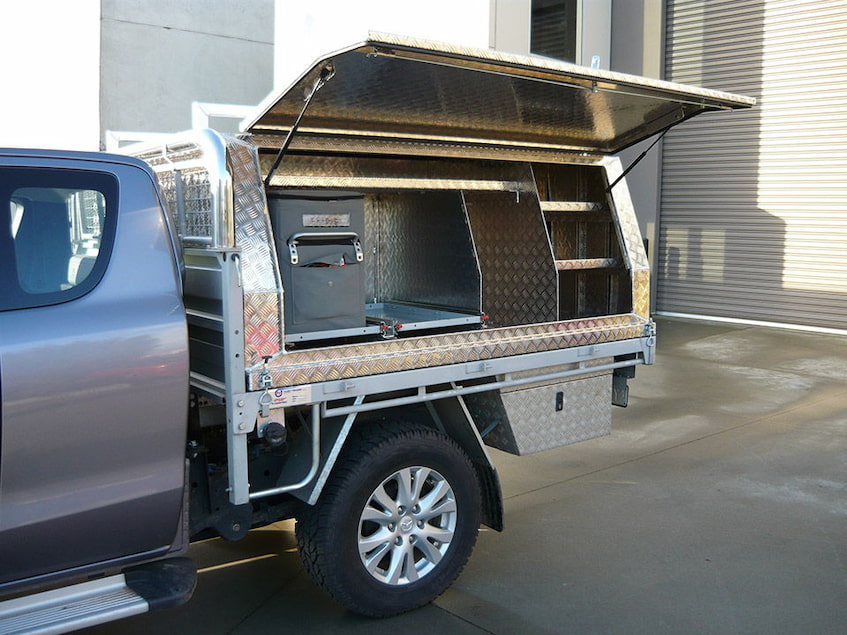 External and Internal Features
With utility in mind, you can choose a range of toolboxes to better organise your tools. Internal drawers are handy for smaller items like screws, bolts and smaller hand tools. Shelves can fit larger powered tools, cabling and anything you need at the worksite. Separate open or enclosed compartments are good for the biggest items. Internal locks will keep things safe when working, and the whole unit is locked externally when you're parked.
Ute canopies can also be fitted with internal organisation, like drawers or shelves, with the benefit of easy removal when the need arises. Since the internal space is much larger, this will prove a good option for longer off-roading and camping trips. Safety recovery gear and a range of camping necessities can be easily and safely arranged. For easier access to taller canopies, you can fit ladder racks. If you need to lift the canopy off the tray, steel legs are provided as options. The number of doors can be specified according to your needs. Also, they can be placed on any side of the toolboxes or canopies, or both. Niceties like gas struts provide for smooth opening and closing. Recessed metal locks safeguard everything inside.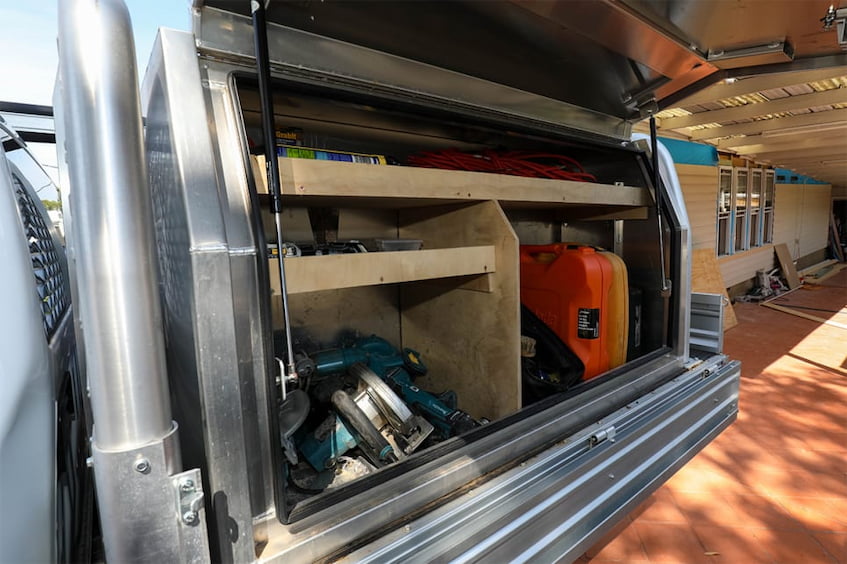 Buying Considerations
Depending on what you need and how you use your ute, you can go for either a toolbox or ute canopy. Toolboxes tend to be smaller, are usually fitted along the length of the tray, and have the tradie in mind when it comes to internal organisation. Smaller toolboxes will understandably have less internal space, but most feature at least two drawers, two shelves and a locking compartment. If you drive a single or extra cab, then larger toolboxes and canopies will provide for a better overall look. Trays in double cabs fit smaller toolboxes.
Canopies of different sizes can all be fitted to different cab styles. Though, unlike toolboxes, most cover the entire width of the tray. Base spec canopies are sold with galvanised steel exteriors, while custom options allow for powder coating in black, white or silver, or basically the most sought-out colours most buyers choose when buying their ute. Being a tradie doesn't mean you can't colour match.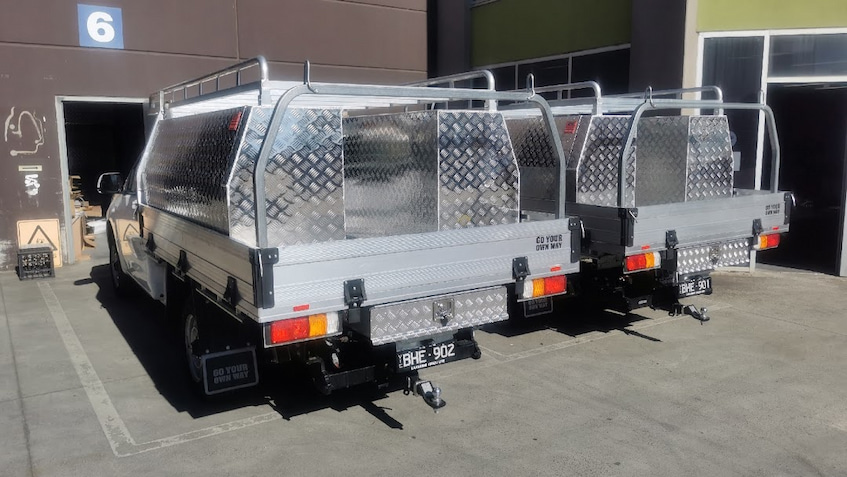 Prices in ute tray boxes vary according to size, choice of materials, and the extras that you option. A decent smaller toolbox sells for around $300, with bigger and fully featured toolboxes going upwards of $2000. Extras like dog cages will cost more, but which tradie doesn't have a dog, right?
For canopies, budget anywhere between $1500 to $5000. When buying, consider what you'll be carrying inside and whether you need any space on the tray left over.
Ute tray boxes are manufactured by dozens of companies in Australia, and they sell directly to customers or through local retailers. Salespersons will be more than helpful in answering any questions you have and help you choose what you need and want.0