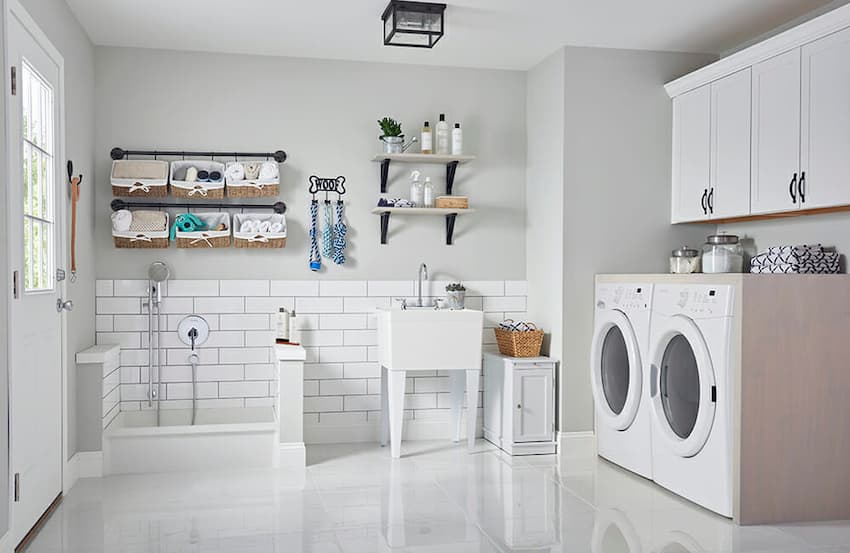 What to Consider When Buying a Laundry Sink
Maybe you haven't thought of this type of sinks in a long time, but they're back. In the past, the only way to wash laundry was by using such sinks and basins. They were later substituted by automatic washers and dryers that did the entire work. Of course, at the cost of high use of energy.
However, today many people are seeking green-friendly alternatives to wash their clothes which is why laundry sinks are popular again. The benefits of these sinks are many, starting from saving energy to prolonging the lifespan of delicate clothing items. These kinds of basins can also be used to wash other things besides clothes like for instance paintbrushes, bathroom curtains, shoes or toys, so they're multi-practical as well.
Are you interested in trying this green way of doing laundry? Let's see what you should know before purchasing your laundry sink.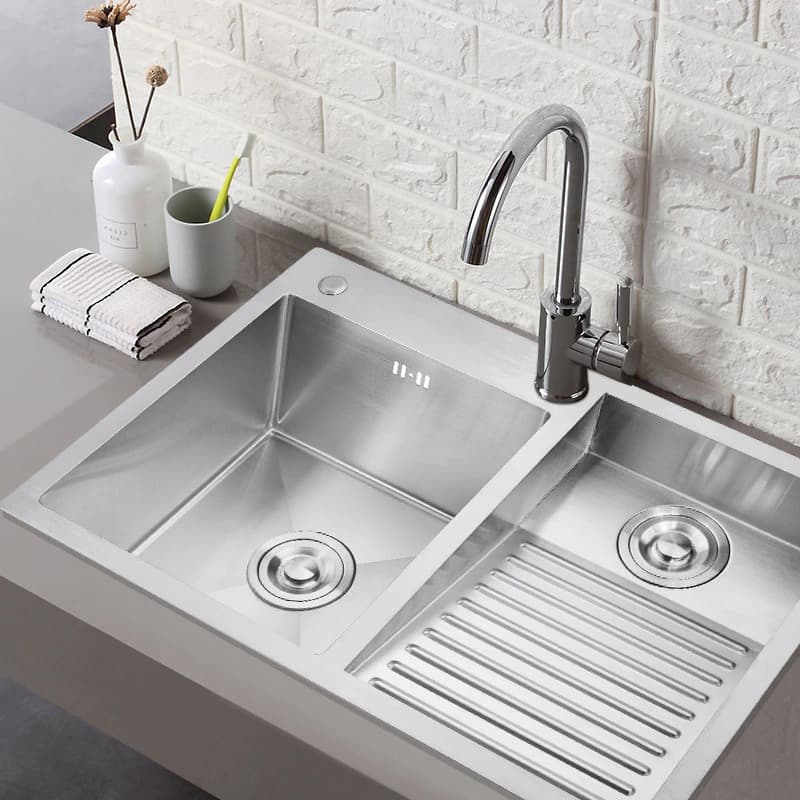 Types of Laundry Sinks
There are different types of laundry room sinks. And depending on your space, laundry room setup and needs, one option might be better than the others.
Drop-In
The drop-in sink is also known as self-rimming or over-mount sink. These models fit into a hole that has been previously cut into the countertop. The basin sits below the counter with only the rim of the sink remaining above. This style is quite easy for installation and usually works well with most countertops or other surfaces you may have in your laundry room.
Under-Mount
The under-mount laundry sink attaches to the bottom of an existing countertop mounted on a base cabinet. This type of laundry sinks is excellent if you want it to blend aesthetically into the laundry room. It's also great if you plan to use the laundry sink often since it's flush with the countertop providing a same-level workspace. Also, this type of installation attracts less grime into the seam, which makes the sink easier to clean. These sinks are usually shallow but large in width and length.
Wall-Mounted and Floor-Standing
These types of sinks aren't installed in countertops and they stand alone. This installation style is excellent if you have messy washing chores that might cause a mess on your countertop.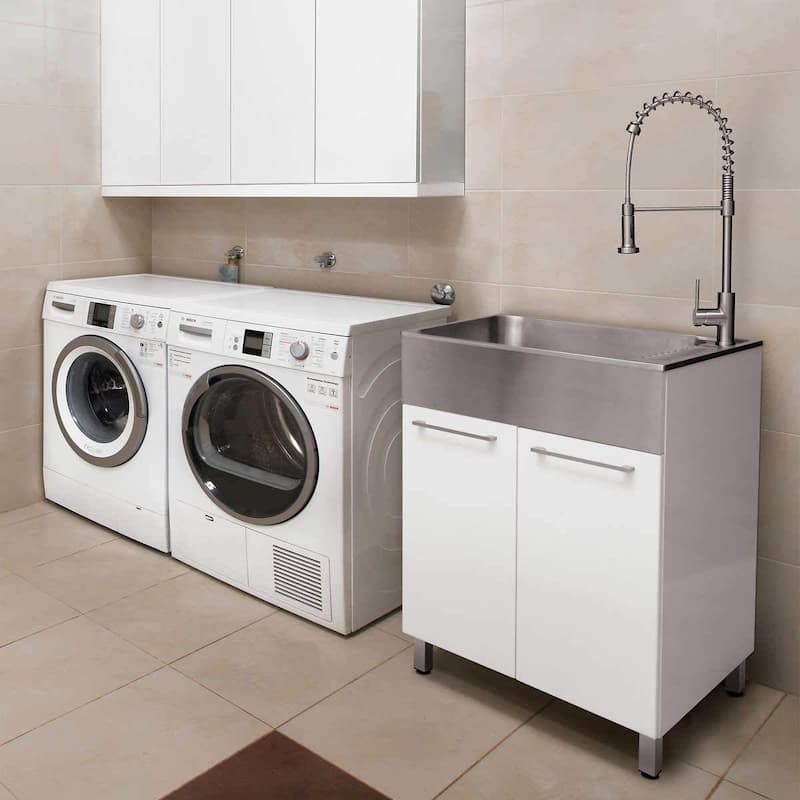 Type of Material
This is one of the biggest factors when it comes to choosing the perfect laundry room sink. It will determine how durable and easy to maintain your purchase will be. Here are some of the most popular material options.
Cast Iron
This is a traditional sink material. Cast iron sinks are coated in enamel for a heavy-duty product, which allows the sink to withstand high water temperatures and resist abrasion. If you seek durability pick cast iron. But even though it's made to last for a long time, eventually, the enamel may chip, leaving the sink with exposed metal. As a result, this material requires maintenance since the exposed metal will rust after a while. You'll have to re-glaze the enamel regularly.
Acrylic
Acrylic is a lightweight and durable sink option that is resistant to scratches and stains. If this is your choice, keep in mind that when water hits the acrylic it's going to be loud. They aren't heat resistant as other materials, so if you have to wash clothes with hot water, this isn't your best choice.
Porcelain
Porcelain sinks are classic and timeless. They are aesthetically pleasing and would make every utility or laundry room look elegant. Besides being an aesthetically attractive material, porcelain is also an excellent choice if you seek a heat resistant sink that is easy to clean.
Ceramic
Ceramic laundry sinks are burned at very high temperatures. This creates a non-porous surface, which is stain resistant. Ceramic is fairly easy to clean, it's sturdy, and has a good-looking shine.
Stainless Steel
Stainless steel is also a material that's easy to clean while being lightweight. Therefore it's a classic material for laundry and utility rooms. These sinks have an industrial look and are ideal if you're looking for a model to fit a utilitarian space. Just like acrylic sinks, stainless steel laundry sinks are loud when hit by water.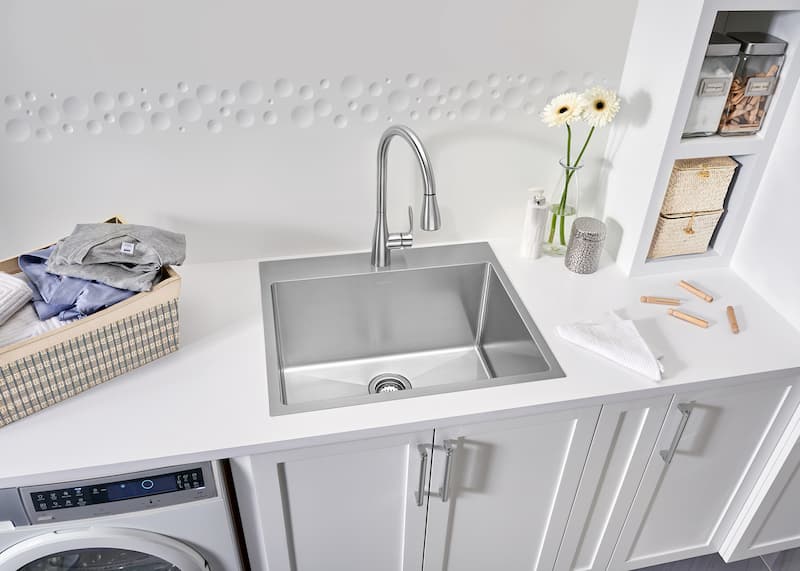 Choose the Right Utility Faucet
Finally, when picking the ideal sink for your laundry room, don't forget to pay attention to the sink's faucet. Consider the design, flexibility, and cost of the laundry faucet. Some of the most popular options are chrome, brass, copper, stainless steel, pewter and nickel.
When buying the right utility faucet, you should also want to consider the spouts and valves. For spouts, you can choose from aerated or non-aerated options. Valves don't make a notable difference in your everyday use of your sink but can affect the long-term durability of the faucet.
Some Final Thoughts
Your laundry or utility room deserves this piece, not only because it's a sustainable way of doing laundry, but because it's far more practical than you think. Pre-washing and soaking clothes in the sink is a good idea before you put them in your washer. This is also ideal for washing things that aren't clothes (you can wash tents, curtains, paintbrushes, and anything else that you believe will be easily washable in the sink).
This way you will save electricity and will have two options for washing. It's essential that you pick the right material for your sink (mainly based on your everyday use of it). I hope that now you have a clearer picture when it comes to the things you should have in mind before purchasing your sink. What matters is that it serves you well and helps you wash things easily and as often as you want.