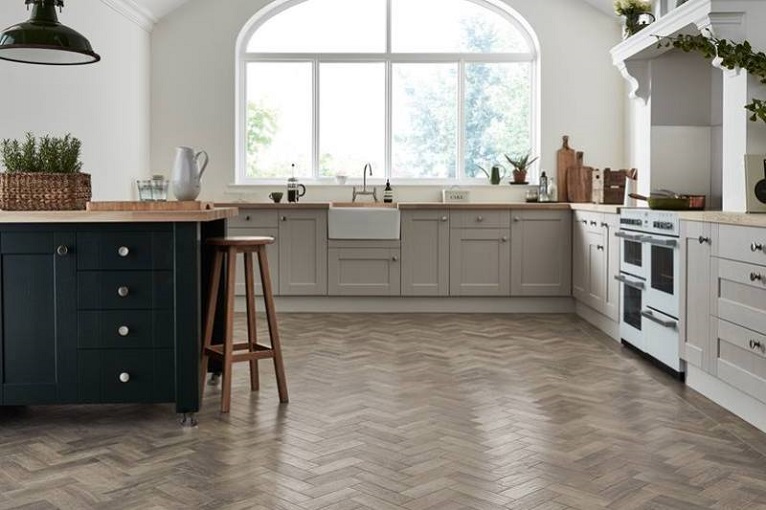 5 Best Kitchen Flooring Options
Choosing kitchen flooring can be overwhelming considering how many good choices you can pick from. But before you make the final decision, make sure the flooring you choose is one that will last long, won't strain your budget and will match the rest of your interior décor. The right choice can increase the value of your home and improve the functionality of your kitchen. And there isn't a homeowner out there who doesn't want that.
Vinyl Kitchen Flooring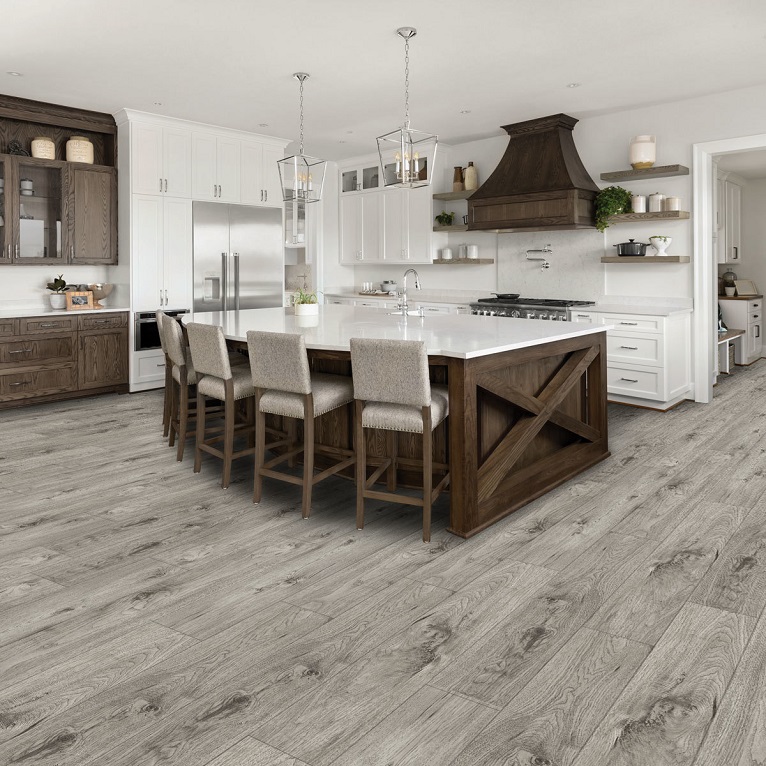 In the last few years, vinyl flooring for kitchens is the most popular option among homeowners. It's budget-friendly, durable, easy to maintain and good-looking. There are two types of vinyl flooring – vinyl rolls (large flexible sheets) and luxury vinyl tiles.
Vinyl sheets are a bit more basic-looking while vinyl tiles mimic natural hardwood and put the whole room together. Vinyl tiles are great for when you want hardwood flooring but don't really have the money to afford it. They are the best substitute there is. Luxury vinyl tiles come in diverse shades and colours, meaning you can easily choose a shade that suits your kitchen best.
Vinyl is a synthetic material, a type of plastic and it's widely produced all over the world. Vinyl floors are made from multiple layers of vinyl glued together and they are quite strong and resistant to damage. The vinyl sheets are more flexible than the planks that are quite rigid, but nevertheless, vinyl flooring is easy to install and can withstand heavy traffic over the years. The lifespan of vinyl flooring is about 10 years give or take.
Vinyl flooring for kitchens is a dream to walk on. It insulates the floors and is really quiet underfoot. It's designed to last and it's really easy to clean thanks to the PUR coating and the commercial wear layer. The kitchen is that part of the home where things get spilled frequently, pans and dishes get dropped, and kids run around waiting for breakfast. But, worry not, because the vinyl floors can withstand that and much more.
For a reasonable amount of money, you get professionally designed kitchen vinyl flooring with great detailing that's able to transform the room completely. What's more, vinyl flooring for kitchens is sustainable, waterproof and fireproof and sustainable.
Traditional Hardwood Flooring
Now, if you do want to splurge a bit, you can't go wrong with hardwood flooring. It's a high-quality flooring option that with proper care can last a lifetime and greatly improve the value of your home. Unlike vinyl tiles, hardwood is not waterproof rather water-resistant. That means that if the hardwood floor is exposed to moisture for a long period of time it will get damaged beyond repair. But, if you spill something and clean it up immediately, your hardwood floors will be fine.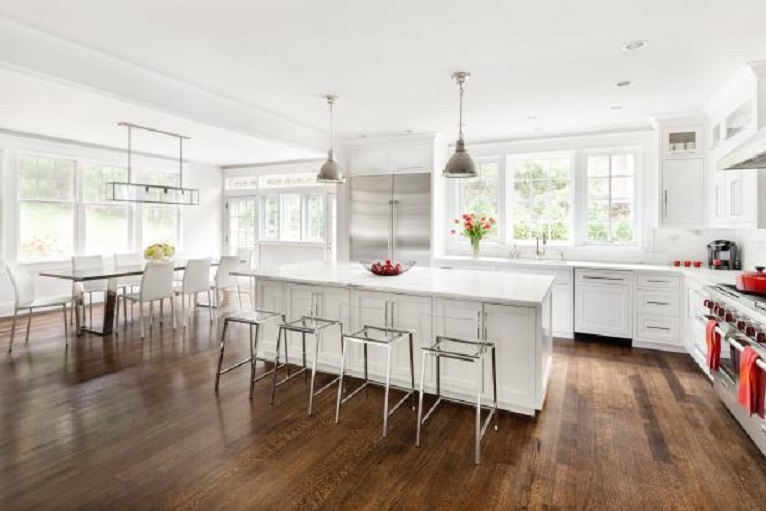 Since the kitchen is not the moistest room in your house, hardwood flooring is a good choice. Plus, you can add an additional coating on top which protects the hardwood and can be reapplied every couple of years. The additional coating guarantees protection from water and stains and prevents damage. The most common types of hardwood flooring are oak, maple, cherry, hickory and walnut.
Ceramic, Porcelain and Stone Tiles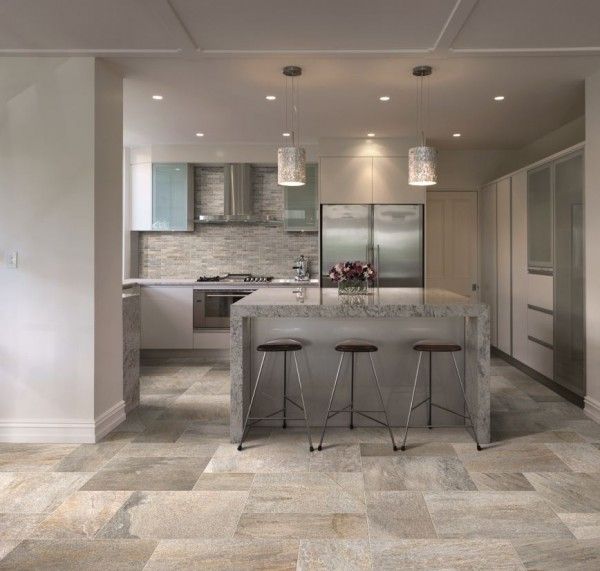 Tiles are believed to be the most durable out of all the kitchen flooring options. When installed properly, tiles are completely waterproof and they are a piece of cake to clean. Same as hardwood, tiles can last you a lifetime and they're a truly worthy investment. You can pick from three diverse types of tiles – ceramic, porcelain and stone. If you're looking for easy and modern ways to adorn your kitchen, stop looking, you found one. Modern tiles can completely transform your kitchen visually.
Ceramic and porcelain tiles are quite similar. The main difference is in the production process. Porcelain tiles are being baked at a higher temperature and are much harder and resilient than basic ceramic tiles are. But, other than that they are pretty much of the same quality and are both long-lasting.
Despite the durability, people often choose ceramic tiles because of the large number of different designs and colours available. You can find anything from neutral to bold colours and amazing prints. The choice is endless.
Stone tiles, on the other hand, have a more natural look and natural colours and patterns instead of man-made ones. Stone tiles are also the priciest option out of the three but considering their beauty and the quality, they're totally worth it.
Budget-Friendly Laminate Flooring
Laminate flooring is similar to vinyl flooring and mimics hardwood. It's a cheap but durable flooring option that features great strength and resistance to water. Laminate floors are very easy to install and come in a wide range of different colours and patterns. It's the perfect choice for a kitchen and comes at a surprisingly low price considering it has great features.
Laminate floors have a clear protective layer on top which ensures the floors won't get damaged easily either by water or frequent traffic. But, you should be careful not to use strong chemicals while cleaning because they might cause damage. A damp cloth is more than enough to keep your laminate floors sparkling clean.
Concrete Kitchen Flooring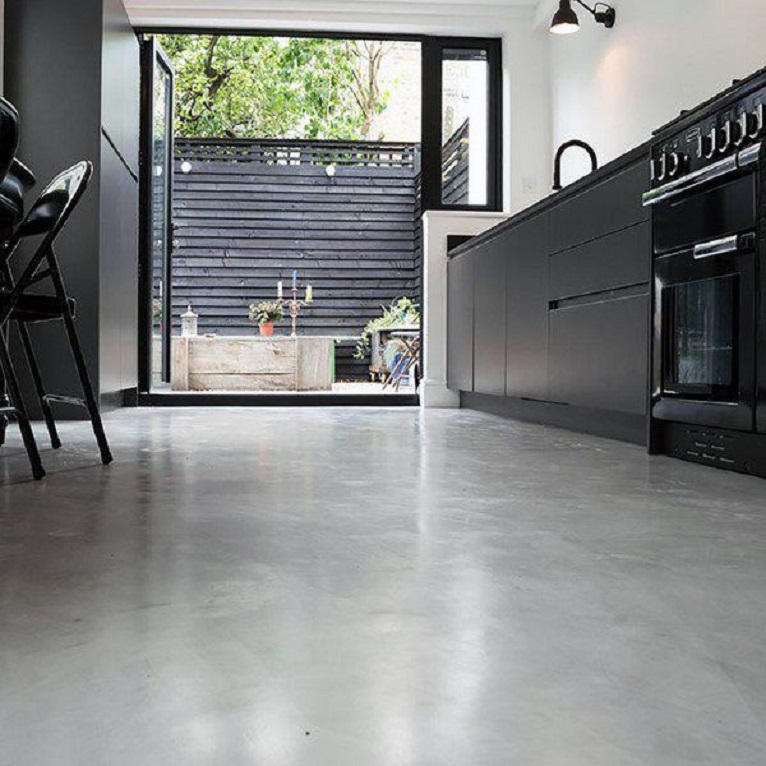 Last on the list of durable kitchen floors is concrete. The same concrete you probably have in your basement. Although it might seem like a very rustic option, with a bit of retouch concrete floors can look very trendy and appealing. Concrete floors have a very low price and can be polished to perfection so that they have a nice glow at the end and become perfectly smooth and pleasant to walk on.
No amount of water can penetrate concrete and there's nothing that can make concrete floors stain. These are the main reasons why concrete is a great choice for your kitchen. Despite the common belief that concrete floors are plain, dull and cold-looking, with the right approach they can be as beautiful and trendy as the expensive flooring options. For instance, you can get concrete floors with a marble-like effect. How's that for dull and plain-looking?
Concrete floors surpass all the other flooring types when it comes to longevity and they're the easiest to clean and maintain. So, if you were looking for a bit unusual solution for your kitchen floors, concrete is the answer to your needs.