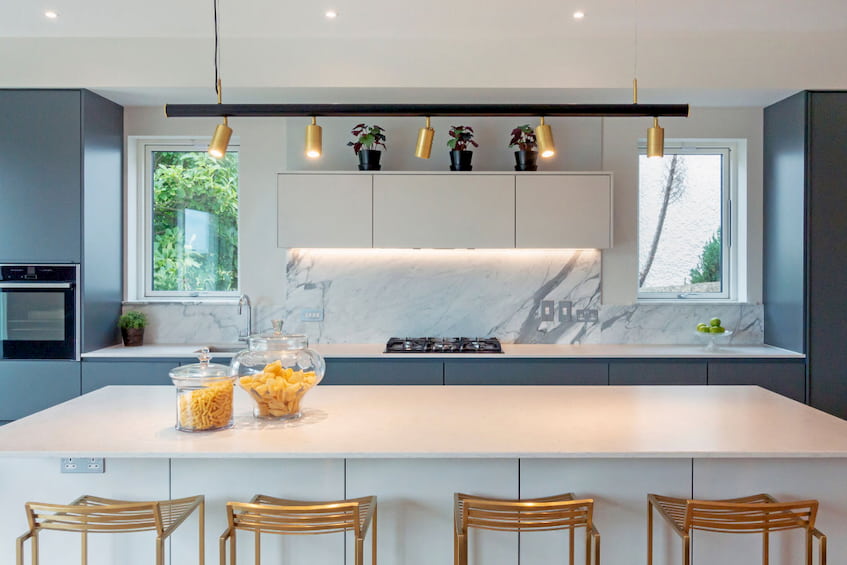 Add Versatility to Your Home with Pendant Lights
What is a Pendant Light?
Light pendants are fixtures that are installed on the ceiling with the help of a cord, chain or metal rod. These types of lights are a common choice of many homeowners as they're simpler, less bulky and more affordable than chandeliers. Although they come in many shapes, sizes, materials and colours, in general, all pendant ceiling lamp fixtures are decorative and appealing.
Types of Ceiling Pendant Lights
Lighting can really make or break the look of a particular room. These fixtures are an important asset of any home, which is why you should opt for both stylish and functional pendant ceiling lamp fixtures.
Multi-Light Pendants
Also known as cluster pendants, the multi-light pendants usually have 2-12 lights that are connected to the central fixture. According to interior designers, these pendant fixtures are a great substitute for a traditional chandelier, which explains the need for them to be placed in spaces that only have one overhead electrical opening.
Inverted Pendants
Also known as up-light pendants, inverted pendants project the light upwards towards the ceiling. The best thing about them is that they can be used as either general illuminating light or ambient light. These lights are usually hanged down and are a common choice for entrance hallways and dining rooms.
Downlight Pendants
Also called bell-shaped pendants, these are known for directing the light downwards. Since these lights supply an intense amount of direct light, they can be used for task illumination, which is why they are a common choice in kitchen areas (particularly above kitchen islands).
Drum-Shade Pendants
These pendant lights have a cylindrical shade-diffuser that can be made of malleable or hardback fabric. Except for fabric, the drum shade can also be made of rattan thus giving you the opportunity to add a dash of life and freshness into your home. Fabric design usually look more sophisticated though and can add a luxurious element to any space of your home.
Linear Pendants
These are quite similar to multi-lights as they are also composed of several light fixtures that run along a single canopy. Depending on the brand you choose, some manufacturers have flexible models of linear pendants that can provide either inverted or downward illumination.
The Most Common Materials
Glass
Although mainly used for chandeliers, nowadays glass is also commonly used for the production of ceiling pendant lighting. Glass pendants are certainly the most elegant and luxurious looking lighting option which makes them the perfect choice for living rooms, dining rooms, bedrooms and hallways. Since glass can be fragile, glass pendants are not the best choice for outdoor settings.
Metal
Unlike glass, metal is a sturdy material, perfect for both indoor and outdoor areas. Metal pendants can be placed literally in any space of your home, and they match a modern, contemporary or industrial home style perfectly.
Fabric
Unlike metal and glass, fabric pendants are softer and warmer. The choice of fabric pendants is huge as they range in both colours an designs and some of these fabrics can certainly compete with some metal models, appearance -wise. That is due to the fact that some of them can look more elegant and modern. So, if you are looking for something more affordable than metal to attain a certain contemporary/modern look, make sure you take a look at the large selection of fabric pendants.
Wood, Bamboo & Rattan
All three are a good choice for country and cottage style rural settings. Just like the fabric ones, pendants made of these materials can also create a warmer and more homey ambience in your home. Depending on your taste, these lighting fixtures can also be the perfect addition for rustic and industrial spaces.
Acrylic
Although relatively new to the market, manufacturers have realised that they can create any form of pendant ceiling lamp from this material. It is is flexible, modern, lightweight which renders it ideal for creating different pendant shapes that can be placed literally in every room of your home.
Shell
Pendants made of shells are unique and they are the perfect lighting option for the coastal style homes. However, such pendants can also look perfect in any modern home and give it a sophisticated touch.
Closing Thoughts
LED lights are the current leaders in lighting  for various crucial reasons so it's recommended to always opt for them.
Determining the right amount of lumens  for every room can help you optimise your home even more.