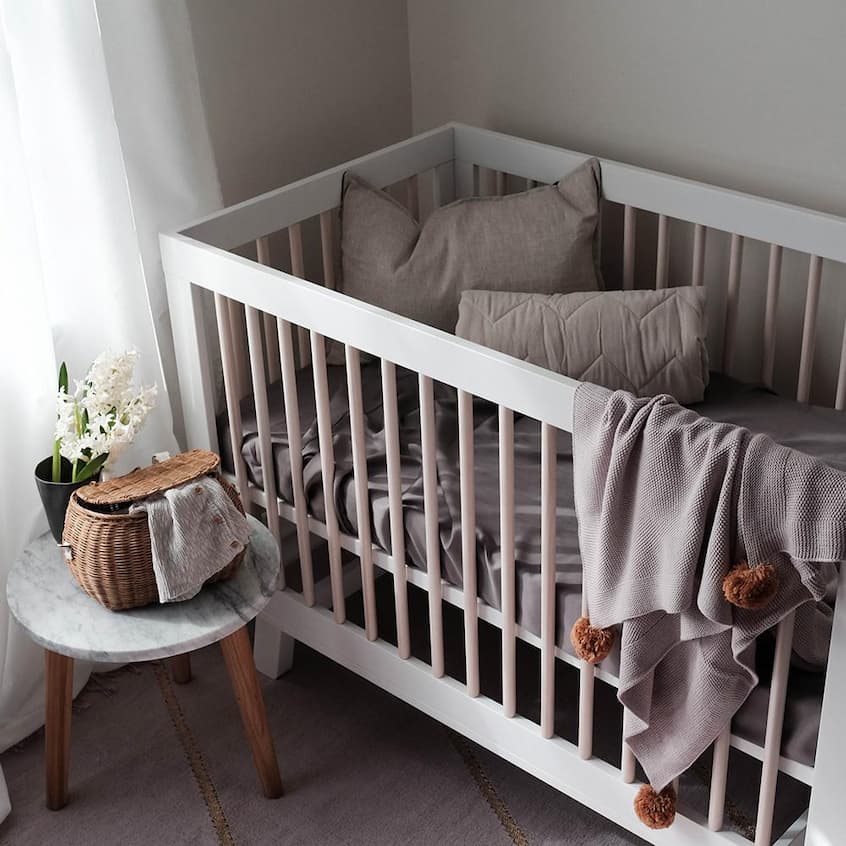 Bamboo Fabrics for a Good Night Sleep for Your Baby
New parents are constantly obsessing over the safety of their newborn child. Safe materials, safe baby toys, safe baby accessories. You probably have a list of things you'll need for every moment of their life, getting ready for their feeding, their clothing, their hygiene, their sleeping, etc.
If you are a parent to a newborn or you are about to become one, with all of these big things in mind, cot bedding might be somewhere on the bottom of your list. But when it comes to it, it isn't as simple as it may sound, because once you've bought the big things for your nursery, and most importantly the perfect cot for your baby, the next step is to find the perfect baby sheets.
Your Choice of Cot Sheets Is Important
Newborns sleep a lot, so choosing the right material for the bedding in your nursery is very important. Baby sheets come in a big price range, but as with most things in life, quality is never cheap. Quality cot sheets for babies come with fitted corners and are made from materials that will protect the baby's skin.
Apart from the material, when you are choosing cot bedding you need to consider how well it will fit the cot mattress. Keep an eye on the depth of the pockets and the elastic band, as well as the quality of the stitching. The sheet should fit the baby cot perfectly. The main problems with fitted sheets are that the elastic band can get loose, the material can shrink, it can lose its shape etc. since it will get washed a lot. So, when it comes to cot sheets, it's vital that the material, the elastic band and the stitching are durable and resilient.
Why Should You Choose Organic Bamboo Cot Sheets?
One certain way to ensure quality and safety is to invest in 100% organic bamboo cot bed sheets. Everything organic is better for you and especially for your baby – because if something is organic it means that it wasn't treated with any potentially harmful chemicals. And the organic bamboo fabric is the perfect material for babies, not only for baby cot sheets but also for babies' swaddles, clothes, etc.
Slowly but surely organic bamboo fabrics are getting the attention they deserve. There are many reasons why they are gaining popularity both in the fashion industry and in the home accessories industry and why they are a great option for your baby textile items. To determine if this is true, you may ask yourself what are the properties you need from material in order to consider it good for your child.
Baby Sheet Materials Must be Safe
Babies are very gentle, and their skin is highly sensitive. Yes, bamboo cot sheets are very soft as are some other materials, but more importantly, because of how durable they are, bamboo fabrics can stay soft for a long time. Furthermore, bamboo fabrics smell good and can stay clean for longer periods of time, which means they won't require as much washing as other materials, which will also allow them to stay soft longer.
Bamboo is a naturally antimicrobial plant. Because of this, the fabrics made from bamboo fibres are also antimicrobial, making them great for people with sensitive skin, and more importantly for babies. In other words, bamboo cot bed sheets could reduce the bacteria which normally thrive on sheets, as well as those which would thrive on dump textile, keeping your baby's skin, and their overall wellbeing safer.
Another very important reason why bamboo fibres are perfect for baby bedding is that they have anti-allergenic properties which will protect their skin. So, all in all, with bamboo sheets not only will your baby's skin touch quite a soft material, which couldn't irritate them, but they will also essentially protect their health, helping keep them safe from harmful allergens and bacteria.
Baby Sheet Materials Should Be Resilient
Your baby will spend a lot of time sleeping in their cot, on their sheets, and they will get changed a lot – so everything will need to be washed quite often. It's mostly because of this that materials used both for baby clothes and bedding need to be durable and able to withstand a lot of wear and tear.
If you take proper care of bamboo materials, they can keep their shape for a long time. And because it's quite hygienic, smells good, and is highly absorbent, it will probably require less washing than other materials would, which also contributes to its longevity. Furthermore, bamboo is one of the strongest materials, which is probably the reason why it's also used for things like bathrobes, towels, socks, even floor mats etc.
Baby Sheet Materials (and Other Products) Should be Environmentally Sound
By using organic bamboo crib sheets, you aren't only investing in your baby's health, but you are also doing your part in reducing our carbon footprint and taking a step towards a greener lifestyle.
Bamboo grows in just a small amount of water, meaning that the production of the fabrics made from it won't require spending a lot of water. Because it's naturally resistant to pathogens and insects, it also thrives without pesticides, and it's one of the fastest-growing plants in the world, and it also self-replenishes, significantly reducing the need to replant or to fertilise.
All of this is to say that bamboo fabrics are one of the most eco-friendly options out there. It's water-saving since the production of the material doesn't require a lot of water. It's pesticides-free, it can produce more in less time (if you compare it to cotton), since it grows really fast, and on top of everything it produces a lot of oxygen and absorbs greenhouse gases.