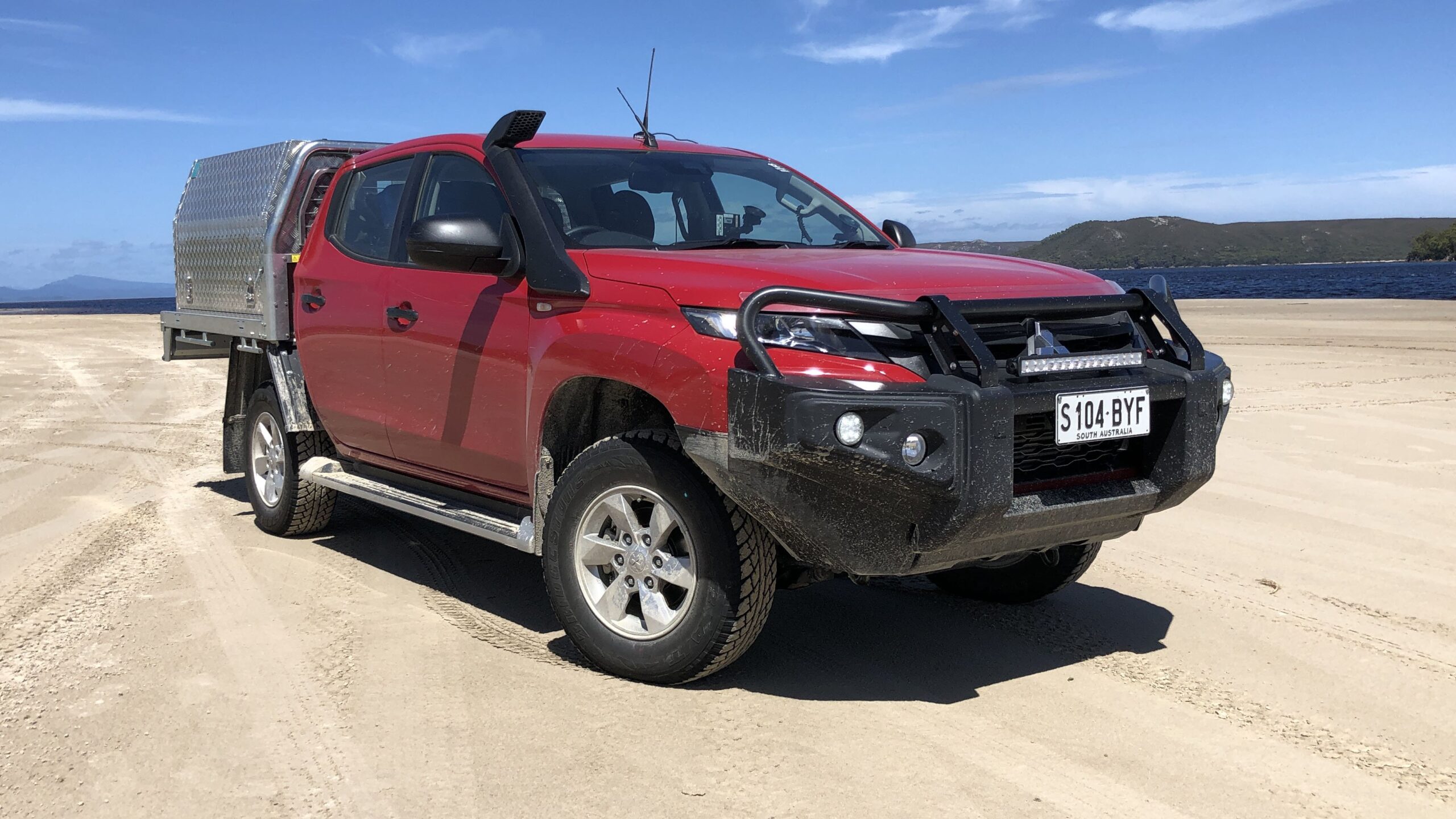 Beyond Front-End Protection: Mitsubishi Triton Bullbars Guide
Well known for their affordability and reliability, Japanese cars are one of the most commonly bought vehicles by first time and budget-conscious people. A Japanese car, no matter the brand, is going to last you a long time without any major issues. They might not be the most capable when it comes to performance, but they get the job done at a reasonable price. The same can be said about the Mitsubishi Triton, which despite being a compact pickup truck is still powerful enough to get you through the rigours of the outback.
With its sleek looks and robust chassis, the Triton is a great contender as a first-class off-road vehicle. You may not get a great turning radius or as quiet of an engine but you can rely on the performance of the Triton even in the most challenging of terrains. But a Triton wouldn't be an outback-ready vehicle if you weren't to install a bull bar on it. Along with a roof rack, Triton bullbars are one of the most sought-after 4×4 accessories.
Are Bull Bars Legal in Australia?
Generally speaking, bull bars are legal in Australia, but they must meet certain Australian standards and regulations so they are safe to use. Thus, all Mitsubishi Triton bull bars you'll see on the market are made to follow the shape of your vehicle. This makes the bull bars safer for both the driver and pedestrians since they don't have any protrusions or sharp edges. Plus, an ADR approved bull bar means that it's been inspected by a third-party engineer to ensure compliance with standards and regulations.
Reasons to Install a Bullbar on Your Triton
Animal Collisions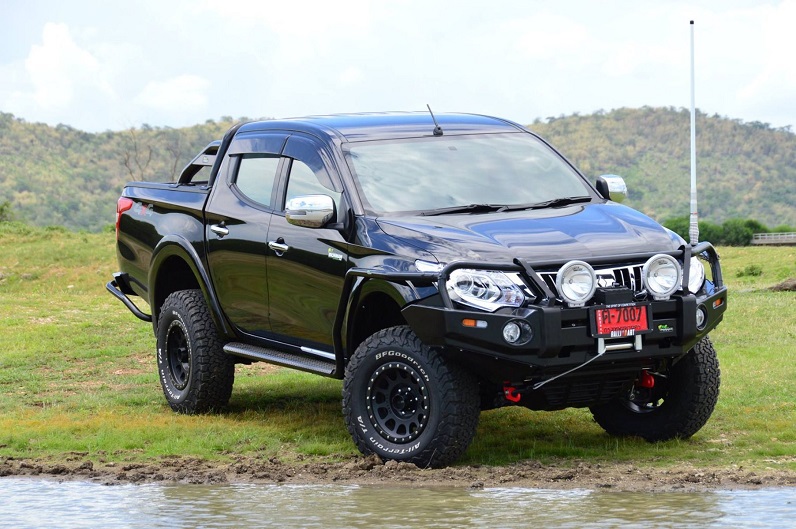 Why should you have a bull bar on your Triton in the first place? Well, this form of front-body protection is made mainly to keep damages from animal collisions to a minimum. As a result, the level of damage to your Triton will be reduced and your safety increased. If you often travel through animal-strike-prone areas, then you should definitely consider installing a bullbar.
Mounting Points
With a collection of metal hoops over the front grille and in front of the headlights of your Triton, you have multiple mounting points for additional accessories. You can have a winch installed, or maybe some bright auxiliary LED lights to make nighttime adventures more convenient. Anything that you can clamp or mount on a bull bar can be of great help in the outback as long as it is properly secured in place.
Approach Angle & Protection
General protection from trees, rocks and flying objects is something all Mitsubishi Triton bull bars offer, as well as a greater approach angle. If you were to turn into a sharp corner and see that the ground slopes up, you won't worry as much about hitting it with the front of your Triton. The bullbar is there to keep your fenders and fog lights safe so you won't have to worry about damaging them.
What Type of Bullbar Can be Installed on Your Triton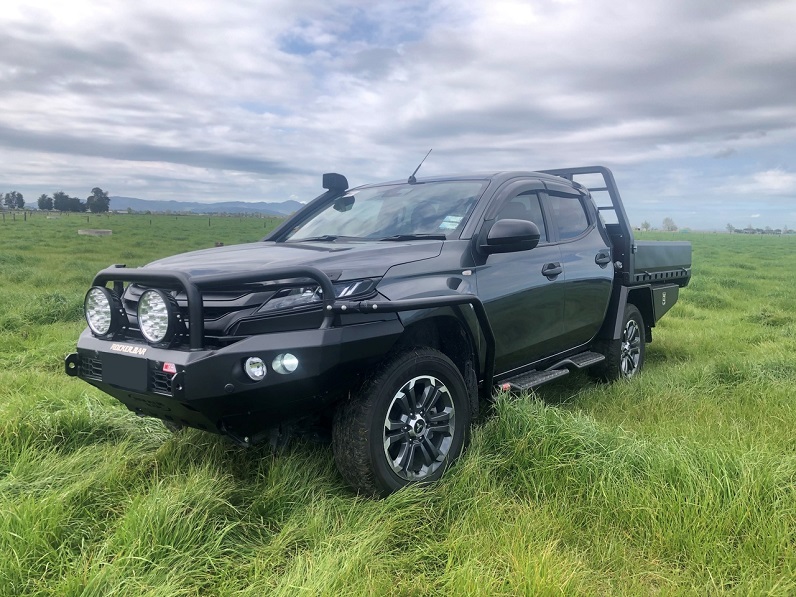 Single & Triple Hoop
Now that you know how beneficial installing a Triton bullbar is, let's see what your options are. The first two types of bull bars are quite similar – single hoop and triple hoop bull bars. A single hoop bullbar has one hoop of metal or plastic bar going over the front grille. This provides a solid level of protection, while a triple hoop bullbar provides greater protection but it also weighs more than its single hoop counterpart. A triple hoop bullbar has two more hoops of metal bars alongside the one in front, which go over the headlights.
Bumper
The simplest and least protective bullbar you'll find on the market is a bumper bar. As the name suggests, this type of bullbar goes on the front bumper of your Triton and it is a good option if you want anything other than your stock fender.
Baja
While similar to a bumper bar, a Baja bar comes with a greater level of protection and it can be used with high-power winches. Baja bars can be used for off-road competitions too as they have additional reinforcement in the chassis.
Nudge
Used for aesthetic purposes, a nudge bar is meant to provide protection for light impact. If you drive your Mitsubishi Triton mostly in town and don't go off-roading as much then a nudge bar is for you.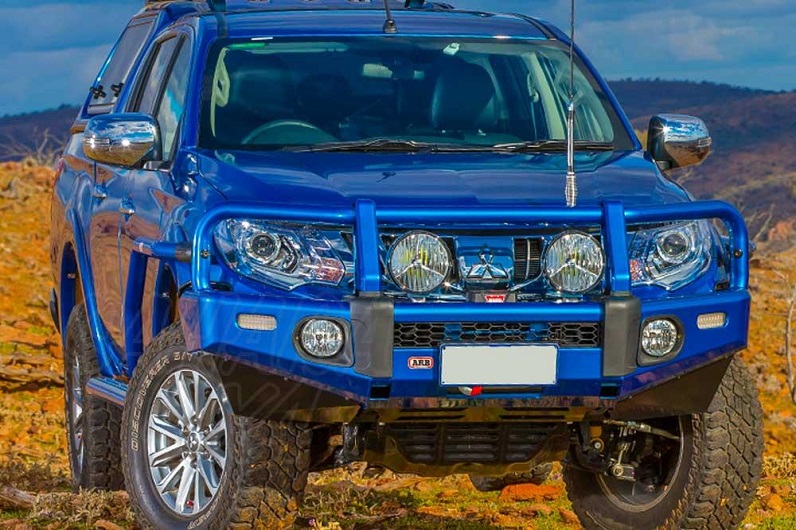 Competition
If you want the best of the best, the Mitsubishi Triton bull bar that will provide the greatest level of protection and maximum ground clearance is the competition bullbar. These bullbars, as you would expect, are mainly used in off-roading competitions since they can be easily removed when they get damaged. Remember, the bigger the Triton bullbar the better the protection it will generally offer. On the downside, bigger bull bars are heavier and they will hurt your fuel economy.