Cooking Outside in Style: Enhance Your Backyard With an Outdoor Kitchen
If we're being honest here, there's rarely anyone out there who could say no to a pleasant evening spent in your backyard while preparing some delicious food and chatting with friends and family. You probably spend more time in your backyard than you do at home at this point. We can't blame you honestly. After all, it's the perfect way to relax and kick your feet up after a long and stressful day at work. Nothing compares to that.
These days, most people have their backyard well planned out. You know how it goes, you have your outdoor kitchen on one side and the lounge area on the other. Speaking of outdoor kitchens, they are, quite possibly, the focal point of every backyard social gathering. All that working and socialising is bound to crank up an appetite.
For this reason, equipping your outdoor kitchen with the proper tools is key to keeping everyone happy. Nowadays, it's fairly easy to find a practical outdoor kitchen Australia households prefer. Luckily, most outdoor kitchens today closely resemble the ones we have indoors, with a few tweaks. But don't worry, we've got you covered since we'll provide the information on all the essentials you're expected to have.
What Are the Different Types of Outdoor Kitchens?
In short, there are two main types of outdoor kitchens – built-in and modular. Here's a quick round-up on both types to help you decide which one is more appropriate for you.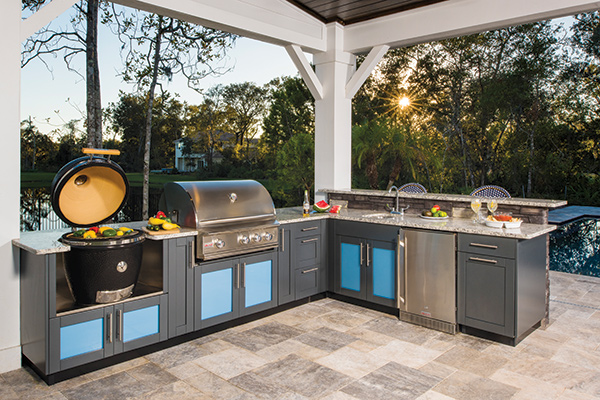 Modular Outdoor Kitchen
The great thing about this kind of kitchen is that, well, it's modular, which basically means you can move it around wherever and whenever you like. The kitchen cabinets usually come with wheels that can be secured into place to ensure safety and balance. If we're being honest, you probably won't be rearranging your outdoor kitchen that often once it's all put in place but if you ever need to make certain modifications, this modular nature might prove to be an asset. By having a modular kitchen, you won't have to disassemble your cabinets every time you want a quick change. You just click on the safety lock and roll them into place. It's as easy as that.
Built-in Outdoor Kitchen
These are the polar opposite of modular kitchens because they're designed to fit into a designated place in your kitchen area. Each stainless steel component is expected to blend in seamlessly, resulting in a wonderfully uniform exterior. While you may not be able to move the components around whenever you'd like, all of the drawers and cabinets are bound to blend in with one another perfectly, which makes them extremely aesthetically pleasing.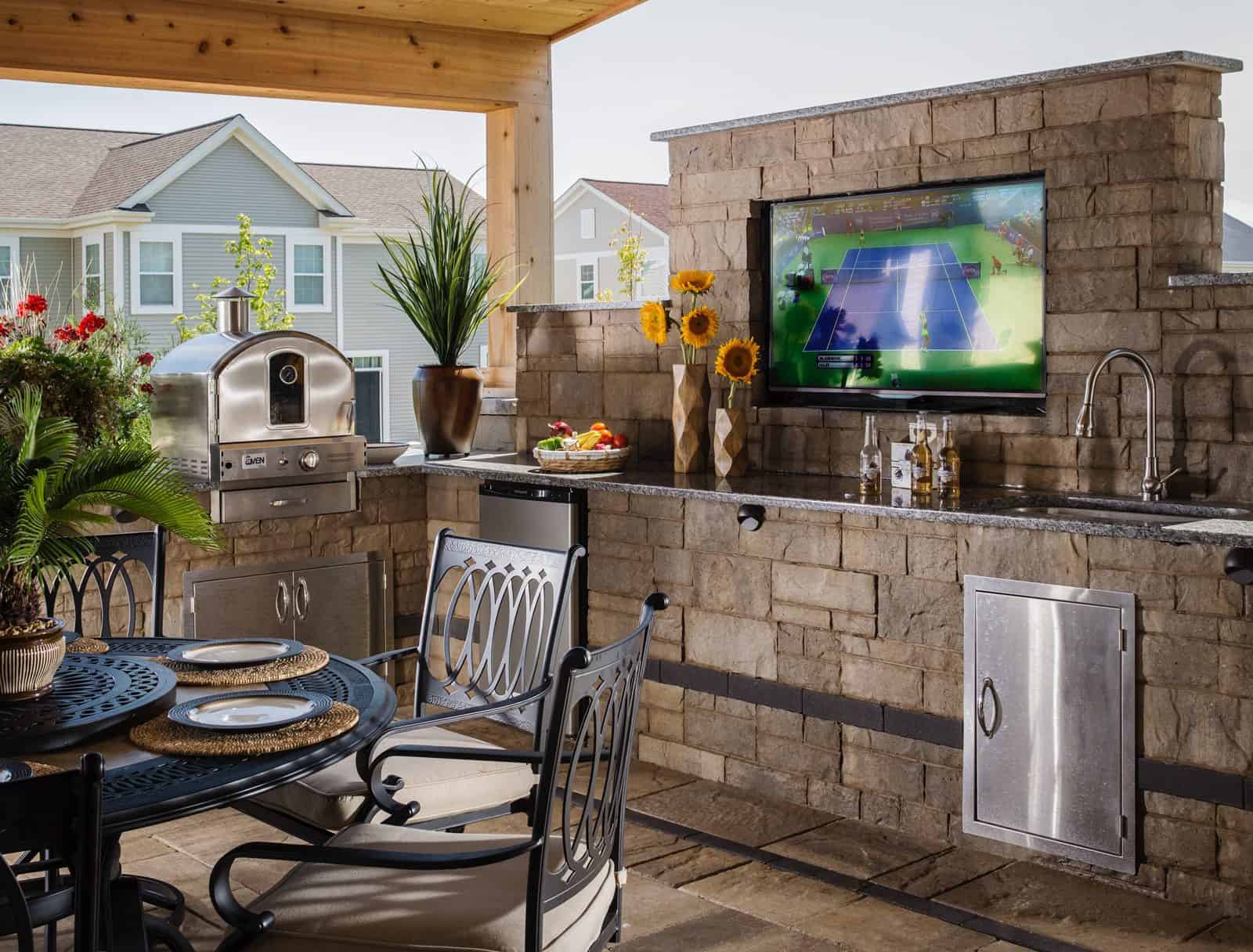 Types of Outdoor Kitchen Appliances
As mentioned previously, outdoor kitchens are practically the same as the ones you have indoors. An exception would be the materials since outdoor kitchens have a more rigid and robust exterior to help them withstand various weather conditions. When it comes to materials, stainless steel is the classic choice due to its minimalist design and incredible durability. In any case, there are a few items that are must-haves in any outdoor kitchen Australia wide.
Kitchen Storage
Whether it's cabinets or drawers, you can't deny the importance of proper storage. You'll definitely need space to store all your necessities, including pots, pans, silverware and napkins. When organising your storage, remember to keep things you'll need and use the most at arm's length so that you don't have to reach out for them all the time.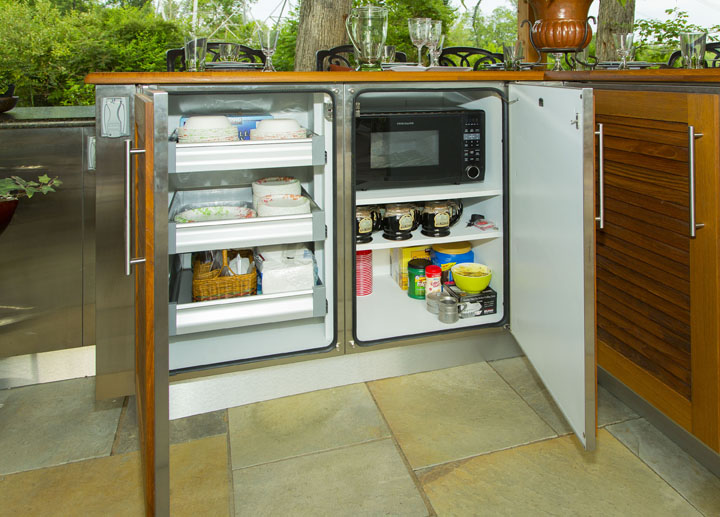 The great thing about outdoor kitchen storage is that it'll keep your goods intact. This means that they won't spoil from the likes of extreme humidity or pouring rain since the stainless steel casing offers maximum protection.
Kitchen Sink
This one shouldn't come as a surprise. It can be used for different things – from washing hands to doing the dishes. And because this is such a common occurrence, installing a sink into your outdoor area should be a no-brainer because you wouldn't have to run inside every time you need to use the one you have inside your home.
Kitchen Freezer
You know how going into the cellar to grab a few cold beers can be a hassle sometimes? Well, what if you didn't have to do it anymore? You can have all the cool drinks you want nearby if you install a freezer as part of your outdoor kitchen. Need another drink? No problem. Just pop open the cooler and you're good to go.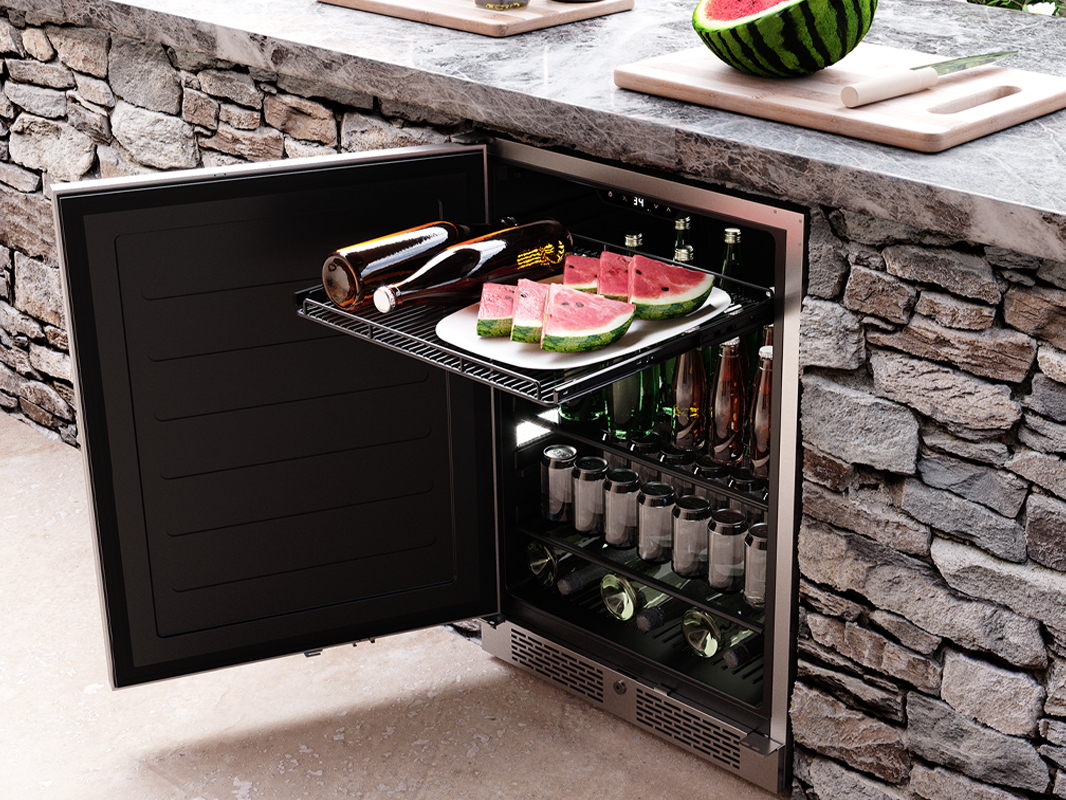 Barbecues And Pizza Ovens
And last but not least, the cherry on top – your main food station. Whether it's cooking meat on a sizzling barbecue or baking a pizza in a stylish and functional home pizza oven, there's no doubt you'll be preparing some mouth-watering meals every time you use them.
Benefits of Having an Outdoor Kitchen
There's one huge benefit right from the start – you won't have to smoke up your entire house when preparing your food. As unfortunate as it is, sometimes the smell of food can linger in the air for hours afterwards and no matter how tasty it is, no one wants to smell the remnants of your meal for that long. It's just not a pleasant experience.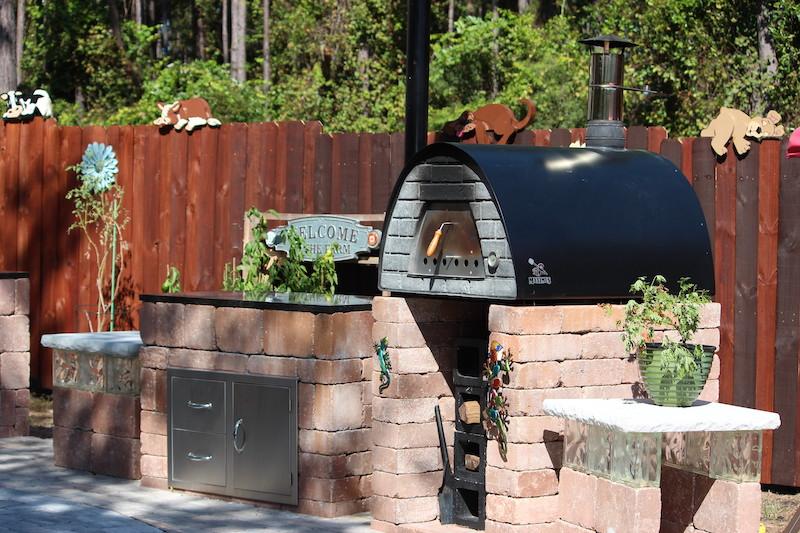 By cooking outside, you rid your home of these pesky smells, keeping everything fresh and clean. Another benefit is that this is a great way to save up on utility bills because you won't need to air-condition the area that much. Sounds like a winner to us.