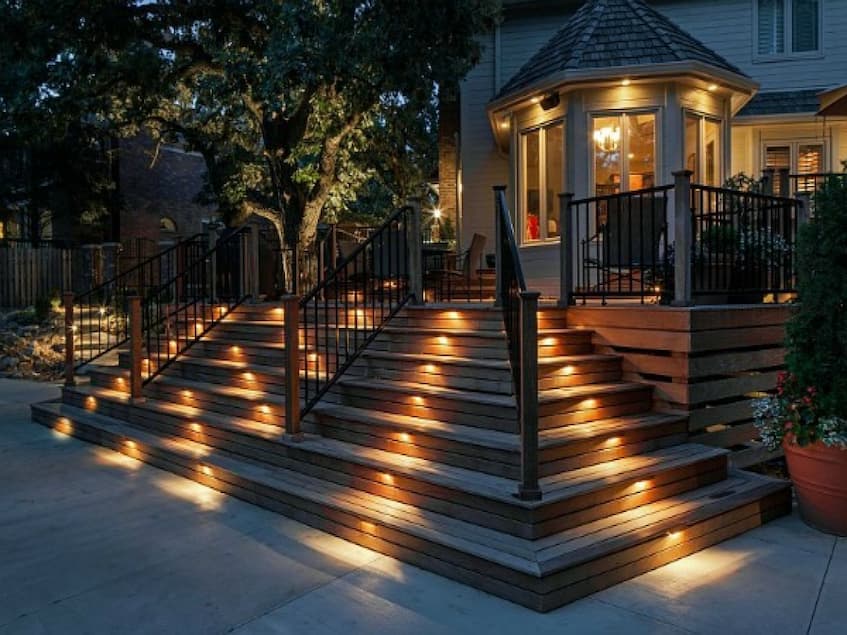 Enhance Your House Aesthetic With Exquisite Outdoor Step Lighting
Different types of outdoor lighting have been quite popular over the last decades, among which step in particular. Instead of giving out all the money on expensive front and backyard decor, people have found that with simple lighting would do the trick in making the house look more appealing and welcoming.
The extra benefit is that these lights won't just add to the aesthetic of your home, in fact, they're also a smart safety precaution. I mean, we tend to fall down on steps so often, imagine the challenge of climbing up steps without the adequate light from the right step light. It's a certain recipe for disaster.
Now, as simple as it may sound, choosing the perfect lighting can be a bit tricky, given that there are many designs on the market. Here are some of the main picks that will perfectly complement your house:
Outdoor Steps Lighting Ideas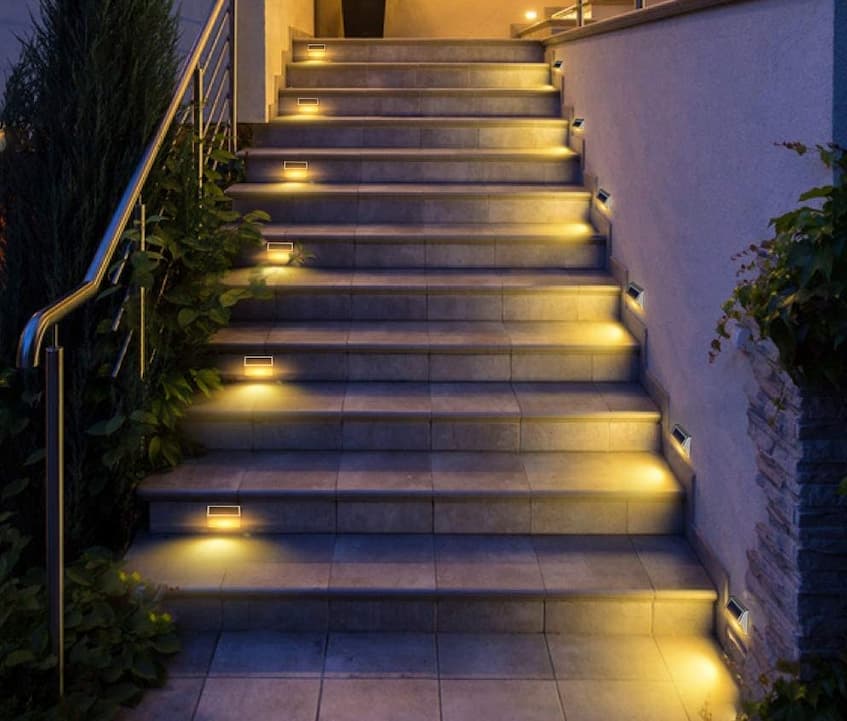 One of the most common choices people go for when it comes to outdoor lighting are the recessed lights. They're the ideal outdoor step lights that will really brighten up and increase the charm of your outside area. If you're new to all this, you might wonder what recessed lights are.
They're basically light fixtures mounted onto a surface, in this case – inside the actual steps. Now, there are a couple of reasons why this kind is proven to be so great. First off, this lighting is known to provide a larger coverage. Secondly, it's the ultimate aesthetic choice. These lights fall flawlessly into the steps and brighten them up in a breathtaking way. Another great thing about them is that they come in various different styles, so you can pick from a vast assortment and get the ones that really match your outdoor area.
Surface-mounted lights are another popular type of outdoor step lighting you can get. They're quite similar to recessed lighting, but here, the gang box isn't hidden behind the surface. These make a great pick because they too offer a modish look, and they happen to be a much more affordable option. Not to mention, they're quite durable and they don't consume as much power.
Small lamp posts are also a great idea if you're looking for something simple, yet still appealing. You can have them installed on the sides of your stairway or you can have them all around your outside region. They will provide great visibility which will make sure you walk safely at night. These stylish outdoor step lights also come in various designs and styles that you can choose for a better looking outdoors. It's a great way to impress your guests, too!
If you happen to have stairway rails, then a smart lighting idea would be to place railway lights. They were quite popular back in the day and you would only see them in hospitals or movie theatres, however lately they've become a very common choice for regular household owners. These lights can be used in many creative ways, and they come in a ton of colourful options. Make your pick wisely!
Lastly, you have strip lights as the most affordable and energy saving variety. They can be placed however you want, they won't impact your budget poorly, and they're eco-friendly so they won't generate a ton of energy and heat. Another benefit they bring about is the control with the colours and intensity.
Things to Consider When Getting Step Lights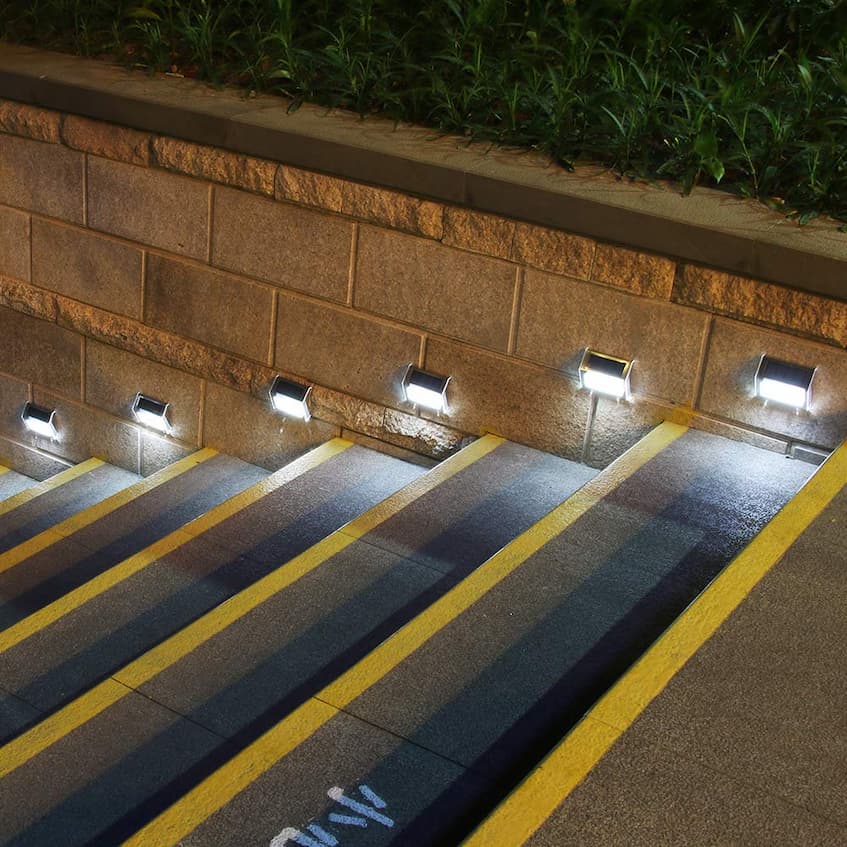 Other than the above-mentioned styles and designs, there are other important things you have to keep in mind before purchasing outside step lights. Considering the shape and size is something you might want to do if you're really going for that extra aesthetics boost.
There are so many options you can go for. Star-shaped, heart-shaped, large, and small lights. Be sure to get help if you're a person who struggles with decision making. The colours should also be chosen wisely. You have a wide range of shades you can pick from, depending on the lights.
Let's not forget to note how important the construction materials are here. This is because the lighting will be outdoors and will be facing challenging weather conditions so you have to pick out sustainable and durable materials for your lights. You can do yourself a favour and go for stainless steel, aluminium, or solid copper.
Another question that's worth answering is: What type of light is best for outdoors? This applies to the type of light bulb. Let's start off with the LED or the Light Emitting Diode. It's the best kind to go for both outdoor and indoor lighting. It's a good choice for several reasons. One of the reasons is that LEDs are very long lasting and are quite a worthy investment.
Also, they don't use up a ton of energy, so overall, your budget will be thanking you. Another reason they're great as outdoor step lights is that they fully light up the surrounding area, and they don't take a long time to brighten up. Let's not forget that you will have the choice of getting a built-in or a replaceable LED globe. Built-in ones are usually thrown away after they die, so it's not quite good for the environment. If you really want to go for an eco-friendly pick, go for replaceable LEDs. Don't be afraid to invest, you will not be disappointed.
As worthy opponents of the LED lights you have the Halogen Flood Lights and the Fluorescent Flood Lights. The halogen ones produce quite the brightness with the halogen gas and tungsten filament which are electrically powered. However, they're known not to last as long. The fluorescent lights are very advantageous too as they come with a long life-span, dependable on the given maintenance and usage of course. They happen to be much cheaper than LEDs and they do a great job at lighting up the space.
Final Thoughts
Overall, taking the time to give your house a beautiful and inviting look from the outside is one of the best things you can do. Most people put their whole efforts into the interior, although, the front and back yard are undoubtedly what makes up the house aesthetic. You can do your home a huge favour by getting quality outside furniture, regularly maintaining your garden, and adding unique outdoor lights. Such elements are sure to make your home more noticeable and absolutely striking.