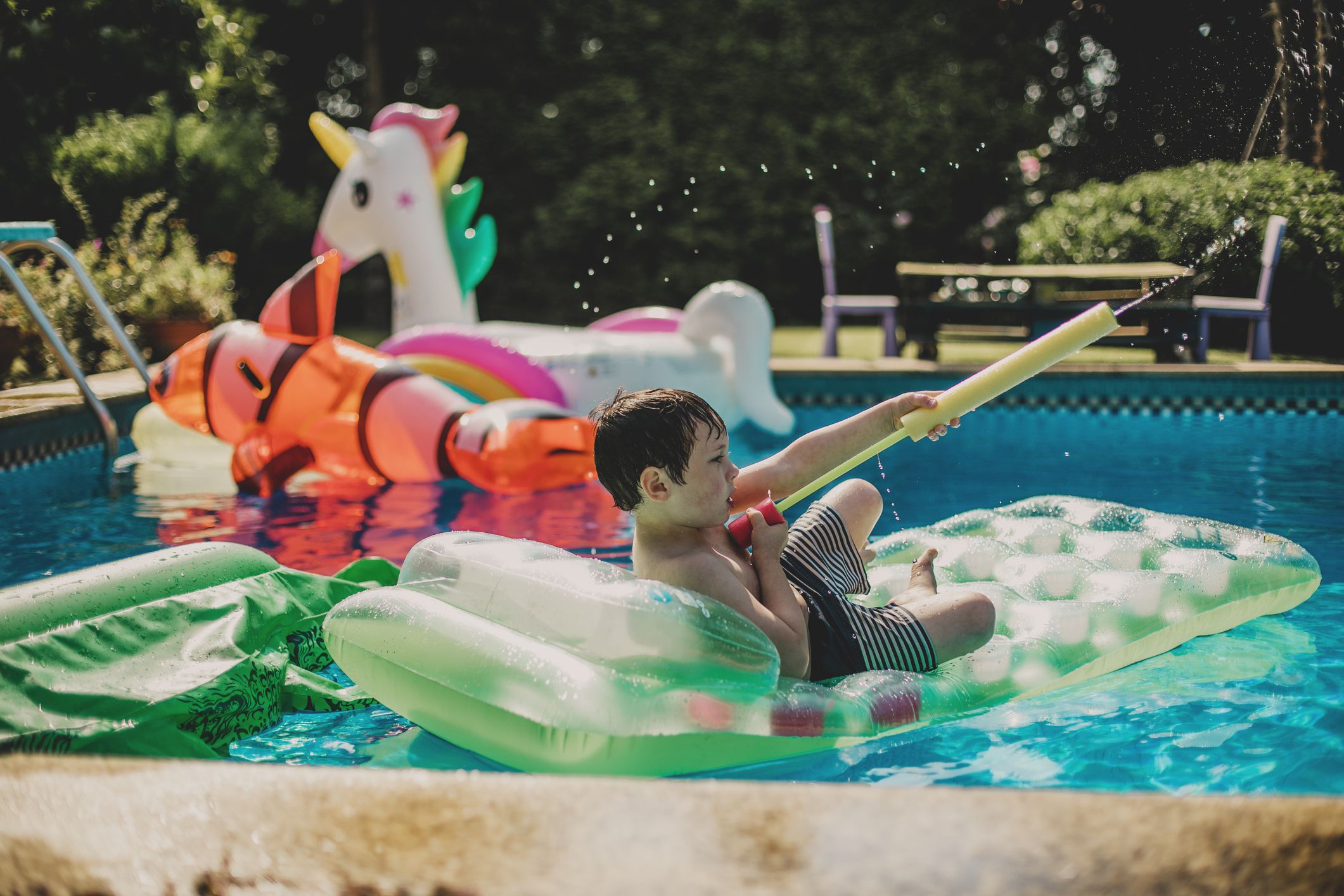 Fun In The Sun: Splash Around With Bright, Colourful Pool Toys
I'm sure there's nothing more fun than splashing around in the pool when the weather is warm and inviting. And for most parents, keeping their kids entertained and engaged this time of year can be challenging. That's why it's so important to create an imaginative atmosphere that will inspire children, turn on their imagination and make them look forward to spending time outside.
If you're looking for some fun in the sun, you can find an array of pool toys at retailers that are sure to liven up your next backyard barbecue or pool party. There are many colourful toys for pools that bring life and excitement to any backyard splash area, including squirt toys, floaties, water guns, and other floatable devices. But for kids, the following ones seem to be the most fun to play with. 
Slide Into Fun with a Water Slide
As the name suggests, a water slide is an inflatable plastic toy that can be easily inflated with air to create a long slippery surface for children to play on during summer days. They are generally made out of vinyl or urethane foam with a smooth, slippery surface similar to that of an ice rink. These toys provide hours of entertainment for both kids and adults alike in backyard pools, beaches or even just on lawns!
The first thing to think about when buying a water slide is where you will place it. The last thing you want is to get a slide your kids love but then realise it doesn't fit in your yard or on your patio. Make sure to measure the area where you would like to put the slide and look at this number when considering options.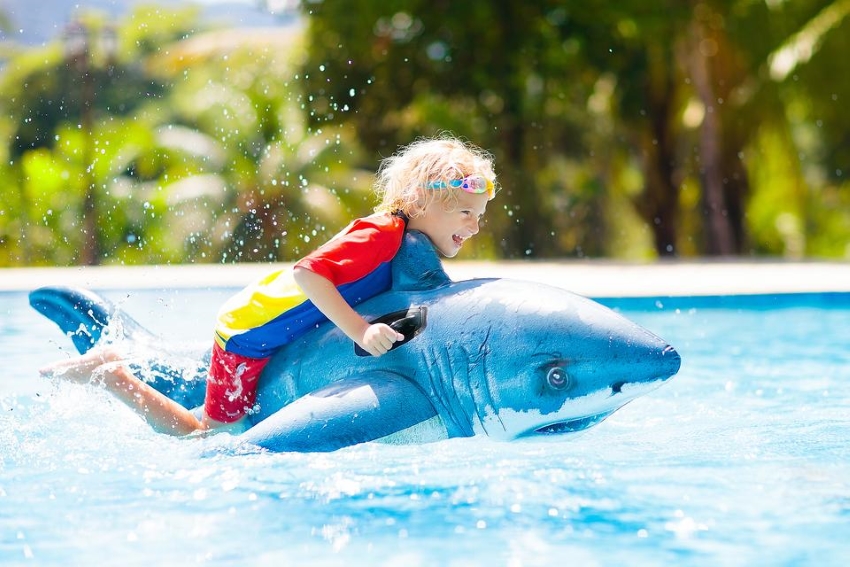 If you have children of different ages, another important factor is whether the slide has age restrictions. Some slides are designed for older children or adults and might be unsafe for younger kids, so keep that in mind before you buy.
A Swim Vest with Fun Patterns – Make Pool Safety Cool
Swim vests are usually recommended for children who aren't great swimmers yet. The floatation devices help keep kids above water and give them the confidence to try new things. They're also popular with parents because they are designed to be difficult for children to remove, which means parents can take their eyes off the kids for a few moments without worrying.
If you have an older child who isn't excited about wearing the same old yellow swim vest as the other kids in their class, try one of the many fun designs from stores that sell toys for pools. They usually provide different brands with a variety of adorable vests featuring everything from flowers and fish to pirates and princesses.
Floats in All Shapes and Sizes
Everyone loves floating in the pool water. It's an excellent way to relax and cool off and it's also a great exercise to help ease muscle pain and improve balance. A good float is one that is comfortable and durable. There are so many styles and designs out there, it's easy to get overwhelmed when trying to choose the best one for you.
First, make sure that you know what size of float you want. You need to make sure that your pool can hold the weight of the float without any problems. You also want to make sure that it is durable enough so that it can withstand the weight of the person that's going to lay on it.
Regarding the shape, you can choose from the classic pool noodles and the more modern pool loungers, which include things like inflatable swans, doughnuts, unicorns and pizza slices.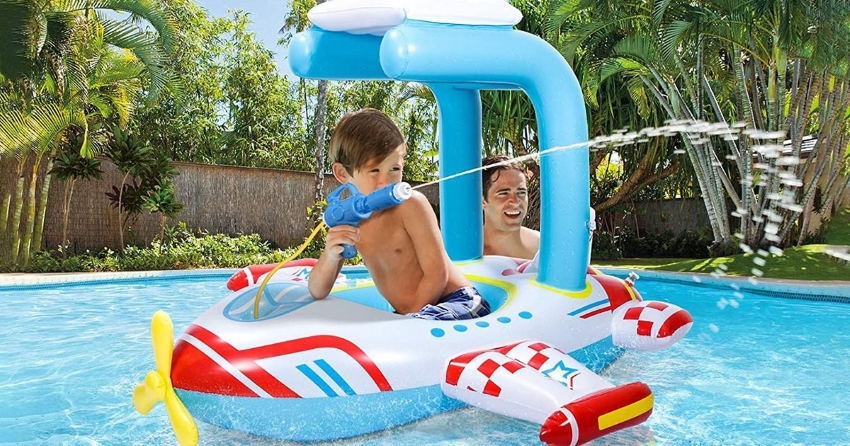 Chill Out in a Blow-up Chillax Chair
A pool chair is an inflatable seat that you can use to float around in a pool or even read a book while sunbathing on your boat or dock. From styles that look like an actual chair to ones that feature mesh seating and cup holders, there are so many options to choose from.
So, if you're looking for something that's even more lounge-y than a blow-up mattress, this type of chair is the best match for people who might prefer to spend the day floating in a less obtrusive way. Additionally, this type of chair doesn't take up too much space, unlike a blow-up mattress, so it's perfect if you own a plunge pool but still want to float around in the water.
A blow-up chair usually has a built-in cup holder for your drinks and an optional headrest or pillow for lounging. A chillax blow-up chair is a classic pool toy, and it's a great investment for your family's joy.
To Sum Up
There's nothing like a day at the pool, crisp drink in hand and fun toys floating by you. Whatever is your favourite thing about swimming – whether it's racing with friends or splashing around in the shallow end – there are plenty of fun products to make your experience even better.
Whether you're considering yourself or your kids, there's no shortage of options when it comes to choosing the right swim toys for you. If you're looking for something good to play with in the pool, a little extra exercise when working out or something to keep you hydrated while you splash around, these pool toys have got your back.