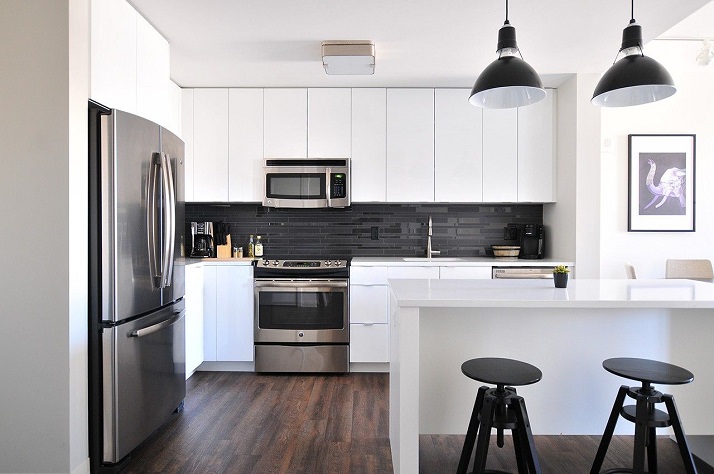 Give Your Kitchen a Stylish Makeover with a Corner Sink
The kitchen is one of the most frequent and hard-working rooms in the house, therefore, effective kitchen design is needed to meet your daily needs. If you're looking for easy and modern ways to adorn your kitchen, the kitchen sink is the most important feature to consider as it can change the look and functionality of the entire space.
But choosing the right kitchen sink can be a daunting task. You need to create optimal and functional use of space for various daily tasks, from food preparation to washing the dishes, which can be a bit challenging if you're working with a small kitchen or an awkward layout. The good news is that the sink manufacturing technology has developed many different styles and configurations of kitchen sinks and one of the most unique options out there is a corner sink.
What's All the Fuss About Corner Kitchen Sinks?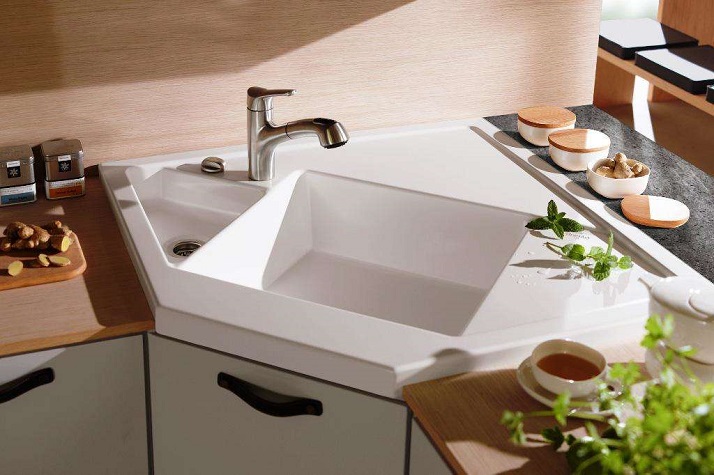 Corner sinks have many benefits, especially in small kitchens where efficient use of space is most important. This type of sinks is installed in the corner of the countertop. It's typically designed with multiple sink basins on either side of the counter's corner and a sink faucet in the middle. However, many designs are available including single basins.
Even with the many benefits they provide, corner sinks are still less common than other, more traditional sink styles. You can choose a corner sink to create a focal point in your kitchen and give your kitchen area some extra flair and functionality. You may be surprised how the often-unappreciated corner area can easily become a functional hub within your modern kitchen.
Corner sinks can essentially save space in any kitchen. While they're usually installed in a corner of the kitchen, they can be used on the corner of any counter in a U-, L- or G-shaped floor plan and even on the outer corner of a kitchen island. These contain many corner areas, and corner sinks are an ideal choice for better use of space. Even in confined spaces, corner sinks can help homeowners make the most of what they have.
A 90-degree corner is best suited to an L-shaped sink or one with two basins set at 90 degrees from each other. If you have a diagonal corner cabinet, where the corner is made up of three lines with two 135-degree angles between them, then you can opt for a rectangle sink or a diamond-shaped sink.
Modern corner sinks offer the same range of features as multifunctional kitchen sinks and are available in many different materials, including granite, stainless steel and more. Granite is a strong and durable material, scratch-resistant and able to withstand extreme heat, abrasion and chemical weathering. Stainless steel, on the other hand, is a very popular choice for modern kitchen designs as it provides a clean, sleek look. It can survive high impact, heat, shock, rust and corrosion.
Benefits of Corner Kitchen Sinks
Save Kitchen Space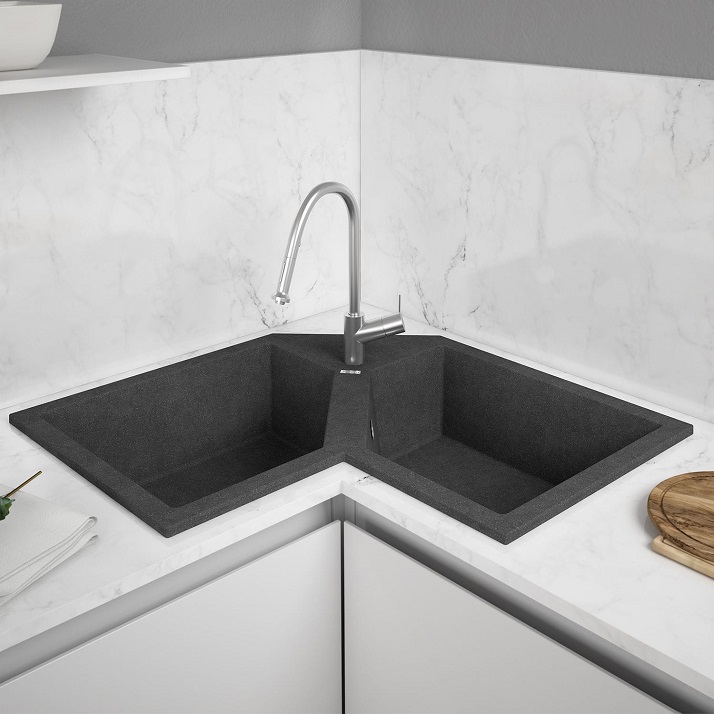 The biggest benefit to having a sink in the corner of your kitchen is that it saves some much-needed space. If you have a small kitchen, it can make your entire kitchen design feel much bigger, but even homeowners who have slightly larger kitchens, often choose corner sinks because this type of sinks allows them to make the most of otherwise unused space, turning an overlooked corner area into a functional kitchen space.
It becomes more popular these days in homes with particularly large kitchens to see a traditional kitchen sink and a corner sink in another part of the kitchen, which makes it easier for two people to use sinks at the same time.
Eye-Catching Design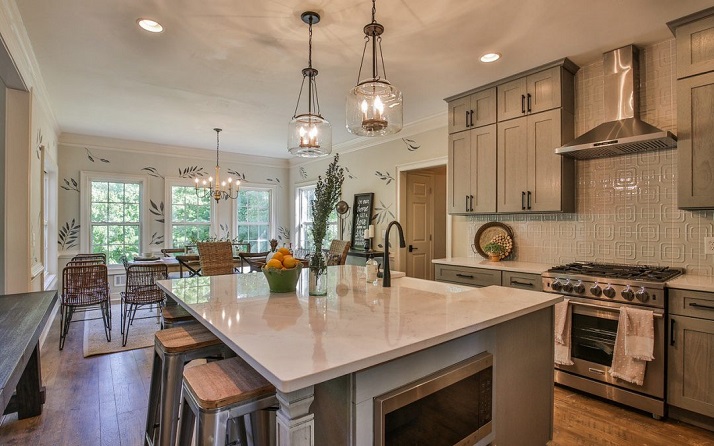 The kitchen is the heart of the home and as such, it sets the tone for your living space. Kitchen sinks can be very eye-catching and with so many materials and styles available, it's possible to create an exceptional look that your family will love. In some homes, having a sink in the corner means having windows on both sides, so the "wasted" counter space behind the sink can become a great spot for plants and herbs and can help you create a beautiful vibe in the kitchen area.
Ensure Short Distances Within the Kitchen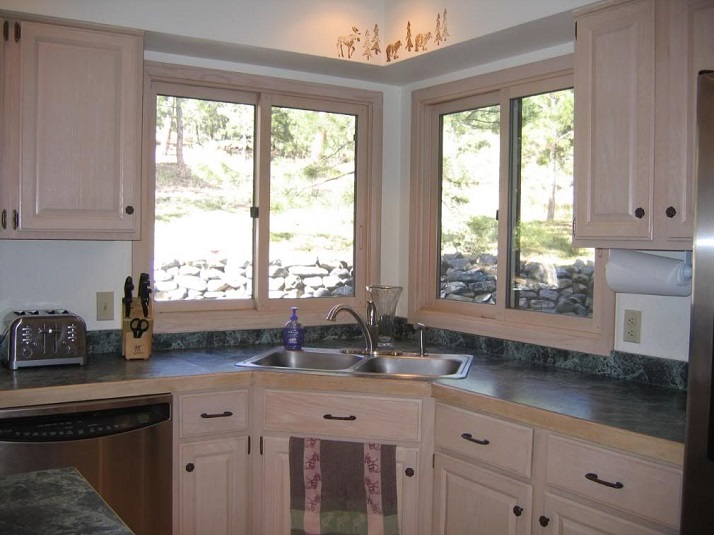 Depending on the layout of your kitchen, corner sinks can make cooking easier. If you have a refrigerator on one side of the sink, a stove on the other side and a cutting board that covers half of the sink, you can prepare a meal easily, without moving around too much. Before too long, owners of the corner kitchen sink will no longer want to be without this level of convenience.
However, if the dishwasher is right next to the sink, as it usually goes in a standard kitchen layout, you may feel boxed in when the dishwasher door is open. To prevent this, consider putting a small cabinet between the sink and the dishwasher to give yourself some room to move while loading dishes.
Cleaning: Pros and Cons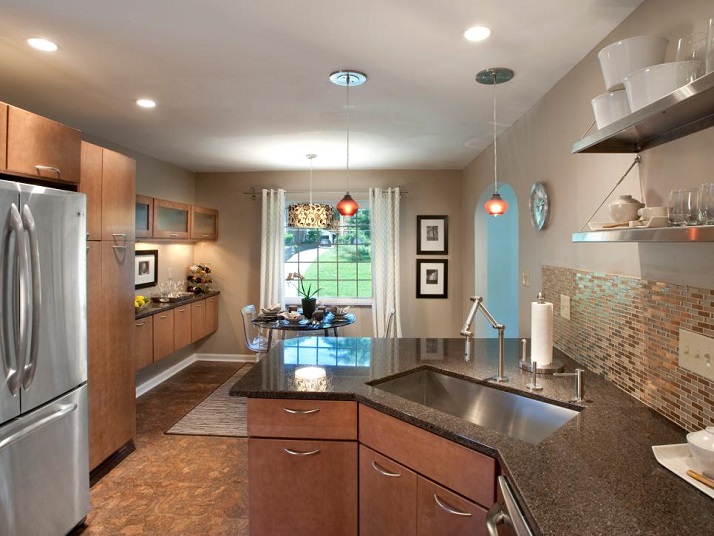 Lastly, cleaning behind a corner kitchen sink can be a challenging task as it may be hard to reach behind the sink. However, water from the sink is less likely to hit your backsplash, so you won't be facing issues with cracking or peeling caulk.