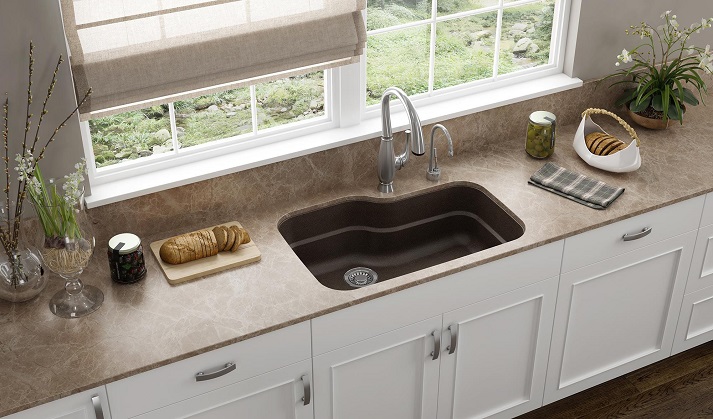 Granite Sink: Improve Your Kitchen's Style & Functionality
When it comes to modelling your kitchen to your liking, even the smallest details will make you contemplate your options for hours. Considering the fact that it's the most frequently used place within our homes, taking the time to adorn your kitchen and turn it into a pleasant and practical space is certainly worth it.
Even though every little detail matters for creating a space you'll love, some elements in the kitchen are more important than others. Such as the example with the sink. If the kitchen is the most used room in the home, then the sink is definitely the most used element in the kitchen itself. And as such, it has the power to affect both its look and functionality.
Luckily, today the designs of kitchen sinks can accommodate everyone's taste and needs and work well with every style movement. But out of the bunch, granite sinks certainly stand out as the most common choice for modern homes. Put an end to all of your dilemmas with making the right call and investing in a granite sink for your kitchen.
Why Are Granite Sinks the Right Choice for Your Kitchen?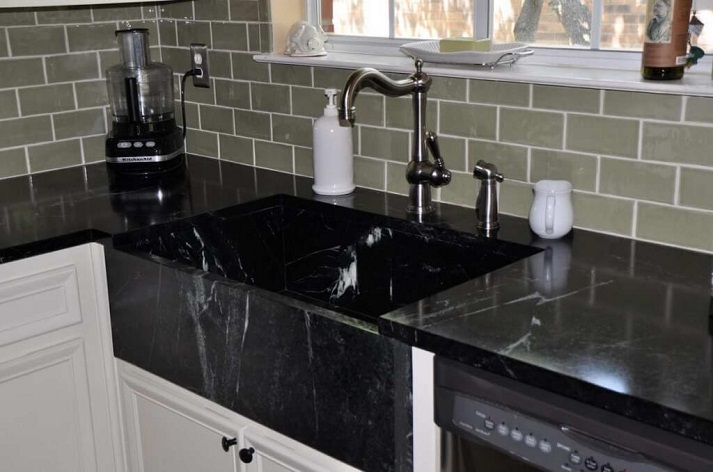 Granite sinks are quite a virtue among kitchen fixtures since they present a more luxurious angle for sinks. Being non-porous materials and water-repellent is what gives granite sinks an edge over the other options. Easy to clean and sanitise, cooking has never been this practical.
These sinks are made from granite stones and acrylic resin mixture that is pressed into moulds and come out as desired. Granite is a stonelike material made from magma that was once at the very core beneath, but due to numerous tectonic shifts, nowadays it's the most common mineral found in rocks and mountains. When under direct sunlight, granite sinks handle the UV radiation very well and exhibit non-colour fading properties.
Colour Options and Preference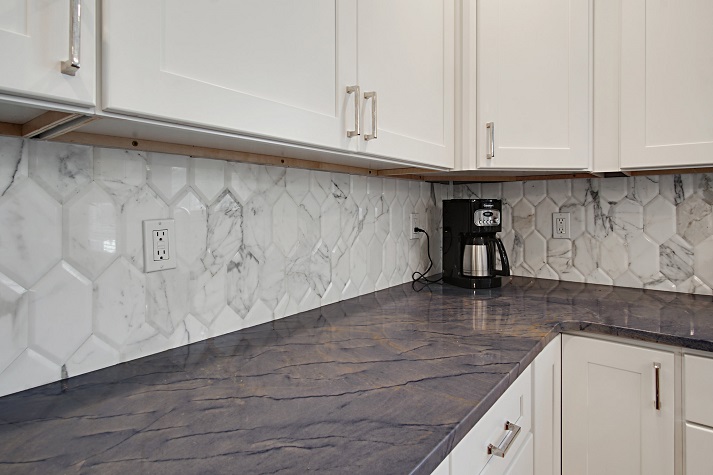 Even though most granite sinks have the same full matte finish, many people find the contemporary product suitable for many kitchen designs because they come in a range of colours. So, you can choose from neutral and earthy tones to bolder hues.
And although a range of colours like white, brown, grey and shades of pastels are available, the most popular one is a black granite sink. The black matte finish is especially popular among folks who want an industrial or minimalist style, but an attractive black granite sink can find a place in almost every kitchen design.
All things said, the best option for you would be to pick a colour in alignment with your whole kitchen design.
Kitchen-Safety and Durability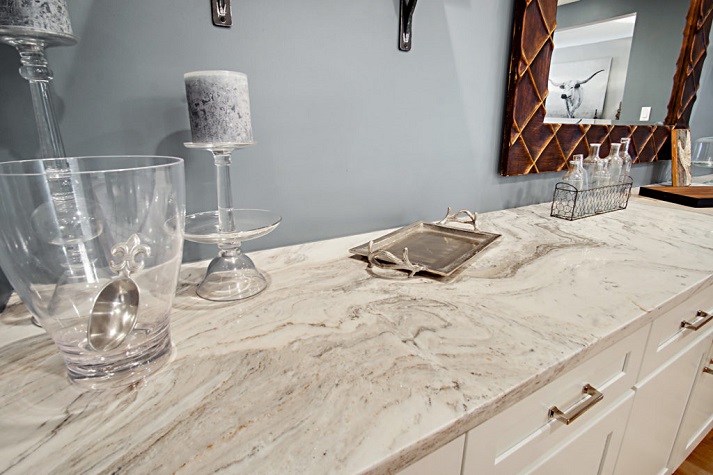 Granite sinks have become more advanced with recent technologies and are able to withstand any type of damage. Their durability is prominent, and they offer unerring standards for your kitchen countertop. The robust granite material is able to hold against silverware scratches, stubborn food stains, messy water puddles, and high-temperature heat. So there's no need to keep your pans and pots on the countertop.
As a result of being formed under high heat, granite tends to have preeminent bacterial resistance and is proven to be safe when doing day-to-day chores and food preparations.
The only downside for this type of sinks is the requirement for frequent cleaning. It's better to keep them neat at all times, the non-porous surface is easy to clean with just a damp cloth and soapy water.
Another pro tip is to apply a sealer frequently for longer and deeper protection which will make the material less penetrable and more damage resistant.
Natural Granite or Granite Composite?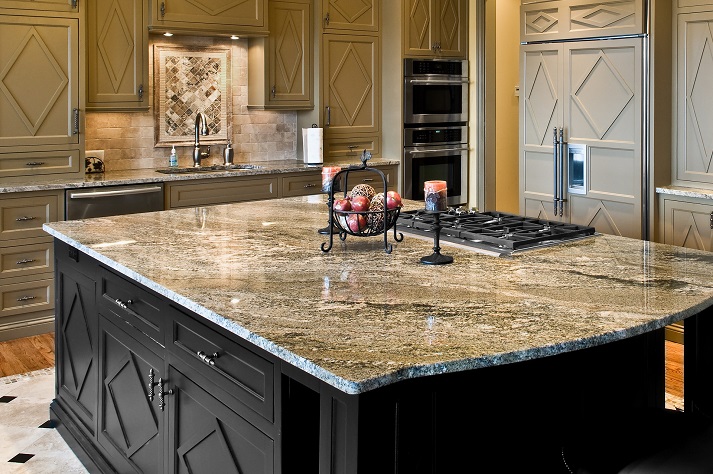 When it comes to natural granite, like any other natural material, every piece is different. The quality of the mineral composition and distribution impact the strength of the material and can affect the durability of the sink. A good quality sealing agent can prolong the life of the natural granite.
Granite composite sinks are made from a mixture of natural granite stone and a small percentage of acrylic resin. The sink compound is heat moulded into a solid product and the manufacturing process renders attractive designs. Composites are also far more present on the market and easier to maintain.
Single Basin vs Double Basin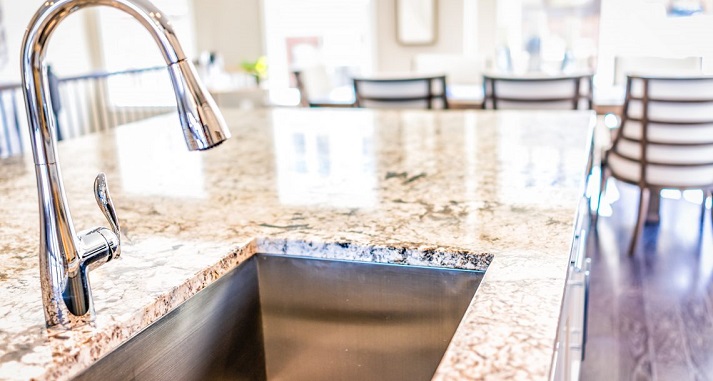 Single basin sinks save on counter-top space and offer a clean look. They are available in different sizes and are more flexible in terms of use. Some may lack inside space, but even with one basin, you can organise the capacity inside the sink. Simplify your use of single basins with few simple accessories like over-the-sink drying racks, cutting boards, hanging baskets, plastic tubs and colanders. Single basins also give you the option to use advanced workstations, designed to sit on top of sinks for a more coordinated workflow.
While a two basin sink gives you more room to hand-wash and stack the dirty dishes inside, it also gives the opportunity to handle food preparations and pile on more cookware simultaneously.
In the end, it comes down to how much space you need, what are your cleaning practices and how many people are using the kitchen.
Ways You Can Mount Your Granite Sink
Drop-In Sink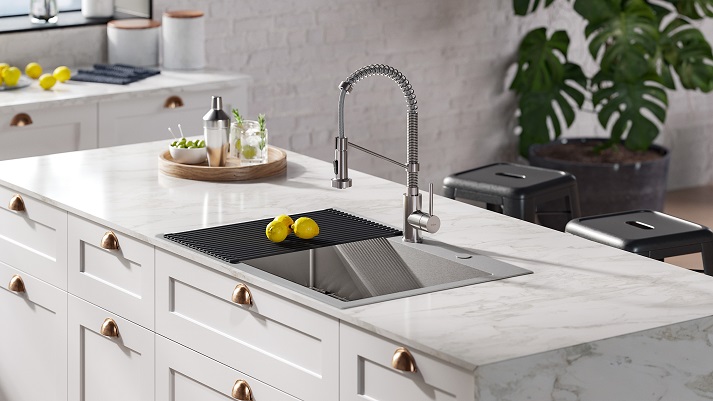 The most common sink installation you'll see is the topmount sink or drop-in sink. This type of set-up will make sink reparations the easiest. Thanks to their versatile configuration, drop-in sinks work with all kinds of countertops, wood, tiles, composite, marble, concrete, quartz. They are affordable, and while they may present an outdated look, they can give more character to the overall design.
An Undermount Sink

A sink placed under the countertop is called an undermount sink. This ensures a cleaner look of your kitchen and more of a flush design, great for cleaning up and allowing you to save more counter space to work on. Granite and quartz countertops work well with undermount sinks.
Apron Front Sink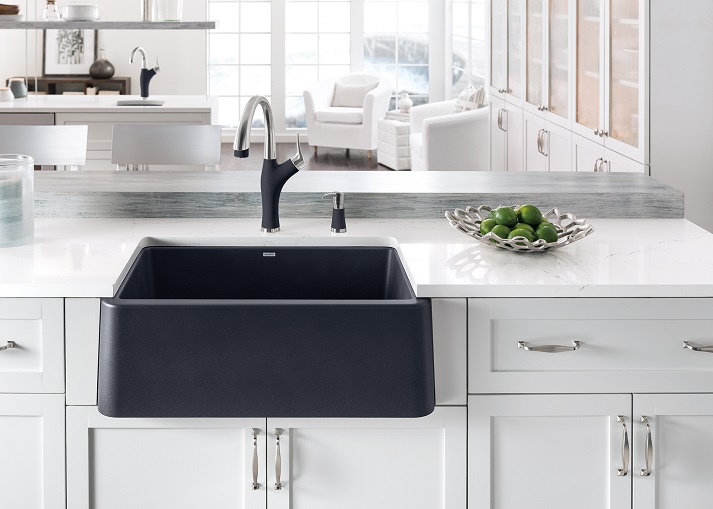 For a farmhouse interior, your best choice would be the apron front sink. These sinks have many advantages such as bigger depth and inside space and the forward placement which provides better access when washup. Farmhouse sinks give the traditional feel and functionality but offer a modern material approach. Slide-in installations make handling and after-care much easier.