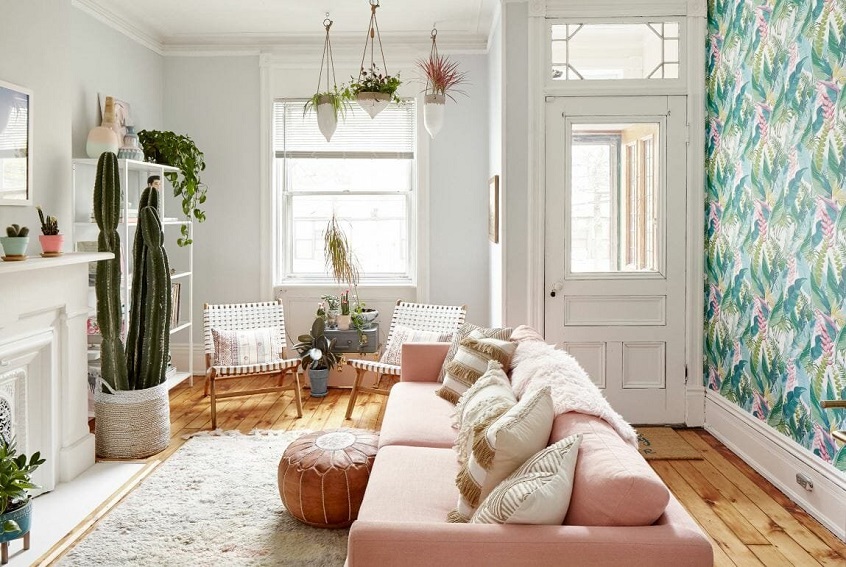 How to Embrace Boho Style in Your Home
Whenever we go into someone's home we like to look at the decor items they have so we can better understand what they like. Our home's style can say a lot about our character and personal preferences. One very popular design style nowadays is boho style. This unique style welcomes the use of natural elements, unique patterns and textures, bright and vivid colours, and unconventional decor. Boho style is inspired by those who lead more of an individualistic and artistic lifestyle, such as writers, globetrotters, and artists.
There isn't really a wrong way to do bohemian style as it's very flexible and relaxed. But how do you achieve this cozy and dreamy look? There are many ways you can incorporate boho style into your home, from choosing bold and colourful patterns, macrame wall hangings, floor pillows, throw blankets, and pillows. This style helps create the ultimate tranquilly and serene ambience for you to indulge in.
So, if you want to breathe more life into your home, boho style is the right way to do it. Here are some ideas.
Bring In a Variety of Textures and Patterns
One thing that this style doesn't lack, is a variety of textures. You can add textures in so many different ways through baskets, plant pots made of different kinds of materials, macrame wall hangings, colourful rugs, wood furniture, and so on. When creating a boho-chic space, you can go all in. This style gives the ultimate liberty to mix patterns and designs such as florals and paisley mixed with ethnic and geometric or tribal print, which are all a hallmark of the boho-chic look.
Liven Up Your Space With Art
No bohemian room is ever complete without adding a carefully created mix of art and books. If this decorating style appeals to you, you are probably an artistic person yourself and love everything related to art. Art plays a vital role in the bohemian style. Besides prints, you can also hang some tapestry, throw some unique pillows over your sofa, or embellish your walls with some beautiful natural elements.
In bohemianism, more is more, so adding a bit of everything you like and find inspiring can add up to the overall look. This style provides a great opportunity for self-expression as it has many elements that can be included for creating a vibrant, colourful boho atmosphere.
Incorporate Your Favourite Colours
Boho is the perfect style where adding colours is a must for creating a vivid and lively look. You can experiment with any colour you want, as there are no restrictions. You can start off by painting the wall of your room any way you want it, as there aren't specific rules to follow. However, if you aren't really into bright colours, you can choose more natural and earthy hues or embrace a subdued mix of shades like olive green, cognac, and mustard yellow.
If you want to add some darker colours, you can opt for forest brown, deep reds, and purples that will give out a more confident and bold look to your room.
Incorporate Greenery
Bringing life into your boho-inspired home can be done in a variety of ways and one of them is to fill your home with lots of plants. Plants are colourful, lively, and natural and they can be incorporated into your place in so many interesting ways. Whether potted in premium quality novelty plant pots or hanging from the ceiling, integrating plants into your decor will turn your space into a perfect boho oasis.
Adding some large novelty plant pots with your favourite flowers to fill the empty corners of your rooms or adding smaller plants on shelves and tables is a lovely way to add greenery and decor to your place. Unique plant pots can help you achieve a cozy and warm bohemian atmosphere. Wooden, wicker, and ceramic are some of the favourite bohemian pot materials.
Get Crafty Macrame Plant Hanger
If you are looking for an interesting way to hang your plants you should consider getting a macrame plant hanger. These are some of the many novelty flower pot hangers that will make your place look bohemian. Macrame hangers are convenient to use, appealing to the eye, and affordable to buy. They will fit a wide variety of flower pots in different shapes and sizes.
Rugs
Bohemian rugs are must-have accessories for your home. Adding very traditional elements like oriental rugs, Moroccan rugs with some unique geometric or ethnic patterns can help you easily create an eclectic boho feel. You can also try piecing multiple rugs together or add a small colourful rug on top of another neutral.
Use Vintage Pieces
Bohemian furniture is usually not found in stores but is rather collected over time and can be bought second-hand at some vintage shops. This style actually focuses more on mid-century modern accessories as well as on anything reminiscent of the free spirit hippy movement of the 1960s and 70s. Each piece of furniture should be special and tell a story.