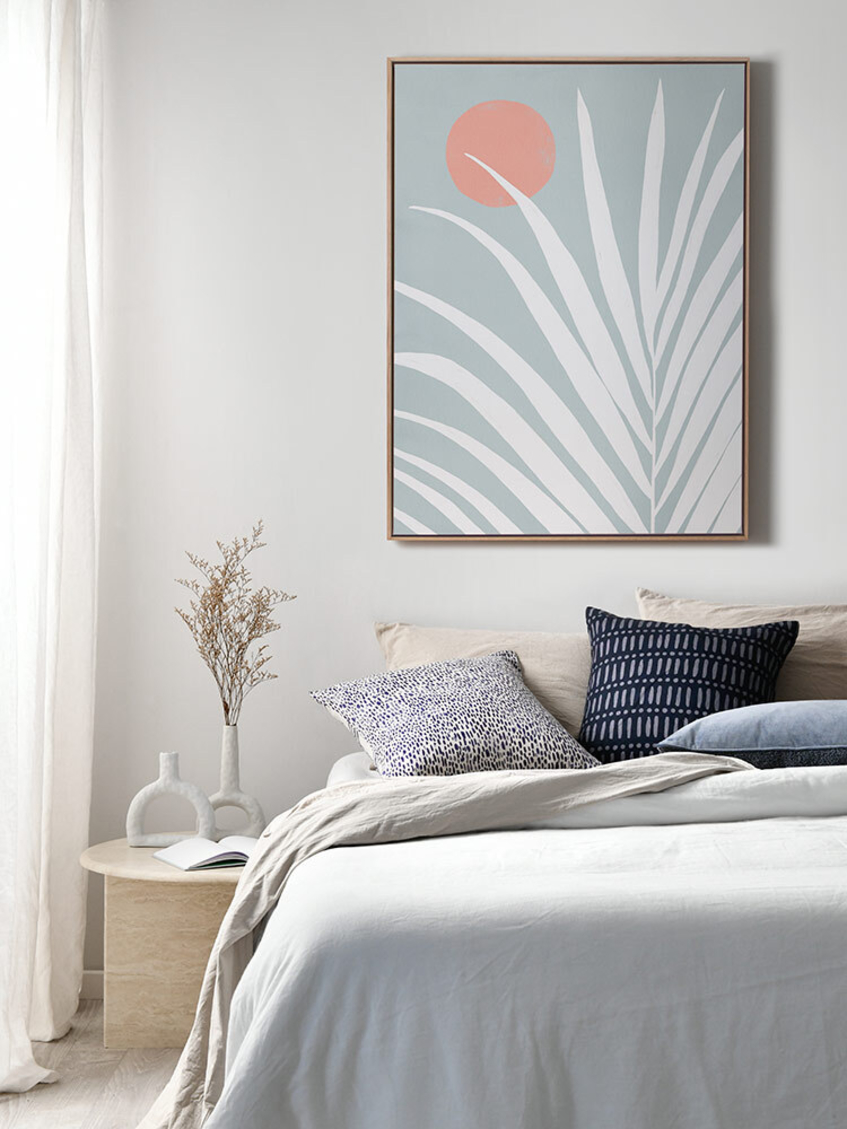 How to Pick the Perfect Wall Art for Your Bedroom
The bedroom is unquestionably the most personal space in your home. However, because it gets the least foot traffic, it usually gets the least amount of design attention. Since your bedroom is where you rest, refuel and reflect on the day, it's only right to treat it with proper respect.
While you may have already selected the ideal headboard, a comfy bed sheet, and a warm rug, waking up to a room with blank walls is anything but motivating. If a lack of wall decor in your bedroom makes it feel unfinished, we will help you dress up your sleeping area with the perfect wall art!
Wall Art for Setting Your Bedroom Mood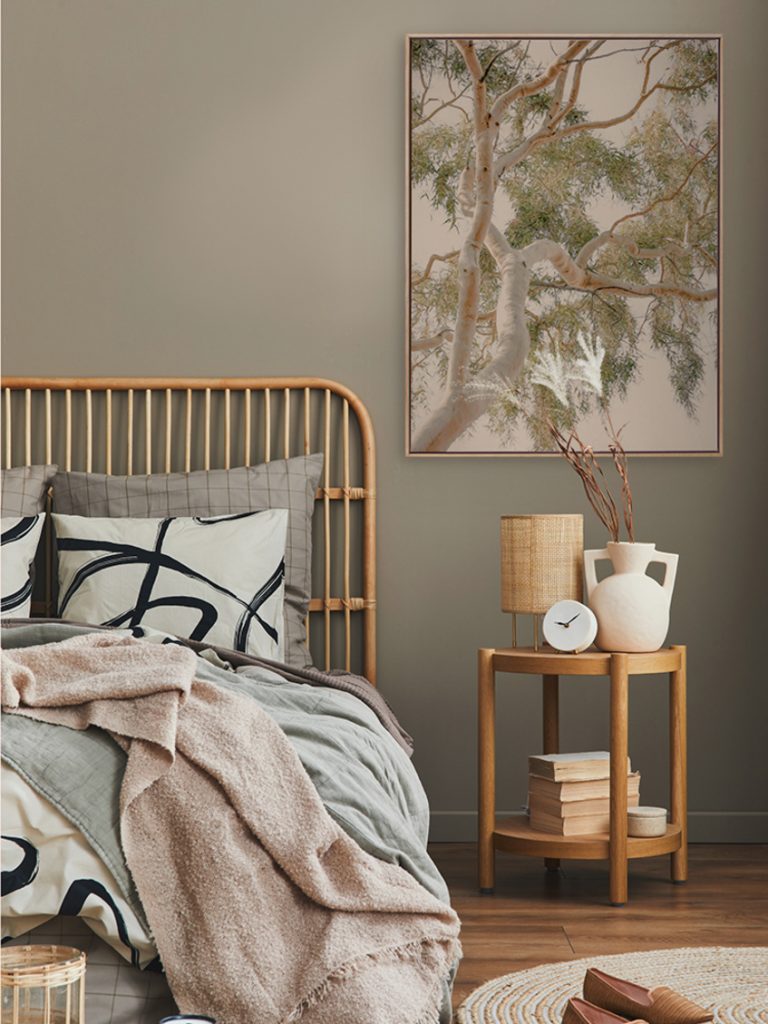 When setting the mood for your bedroom, make sure you pick the right bedroom wall art to portray the vibe you want to create. Stay away from items that contradict your mood-setting, regardless of how cool you think they are.
Escape
The concept of Escape aims to transform the bedroom space into a whole other "world" where you can escape from the stresses of regular life. Scenic photographs, landscape paintings, or abstract art with a distinct perspective of getting away from it all are common elements of bedroom wall art with an escape-centric theme. You can also go for a more coastal-inspired bedroom and use a themed photographic print that perfectly sets the escape mood.
Passion
Besides colours and textiles that usually infuse passion into your bedroom, installing the right piece of wall art can also assist in creating a sense of passion. Deep, rich reds and sexual, but not filthy, images might help set the tone for the lovers' bedroom. Maintaining a sense of class is critical, especially if your bedroom is accessible to guests passing through on their way to the bathroom. In the solitude of your bedroom, though, it's simpler to take greater aesthetic risks to generate a specific vibe.
Tranquillity
You can easily establish a tranquil mood by using a simple yet effective semicolon to create a calm blue bedroom, symbolizing a long rest before proceeding. Much relies on the amount of light that already enters your bedroom. For example, if there's a lot of daylight, you might want to tone down the colours — unless you want your bedroom incredibly bright!
Landscapes, garden sceneries, botanical imagery, and seaside views are traditional art selections for a peaceful bedroom. On the other hand, simple graphic art pieces will work wonderfully. All these photographs offer a sense of peace and calm frequently wanted in an area dedicated to sleeping and relaxing.
Bedroom Art Colours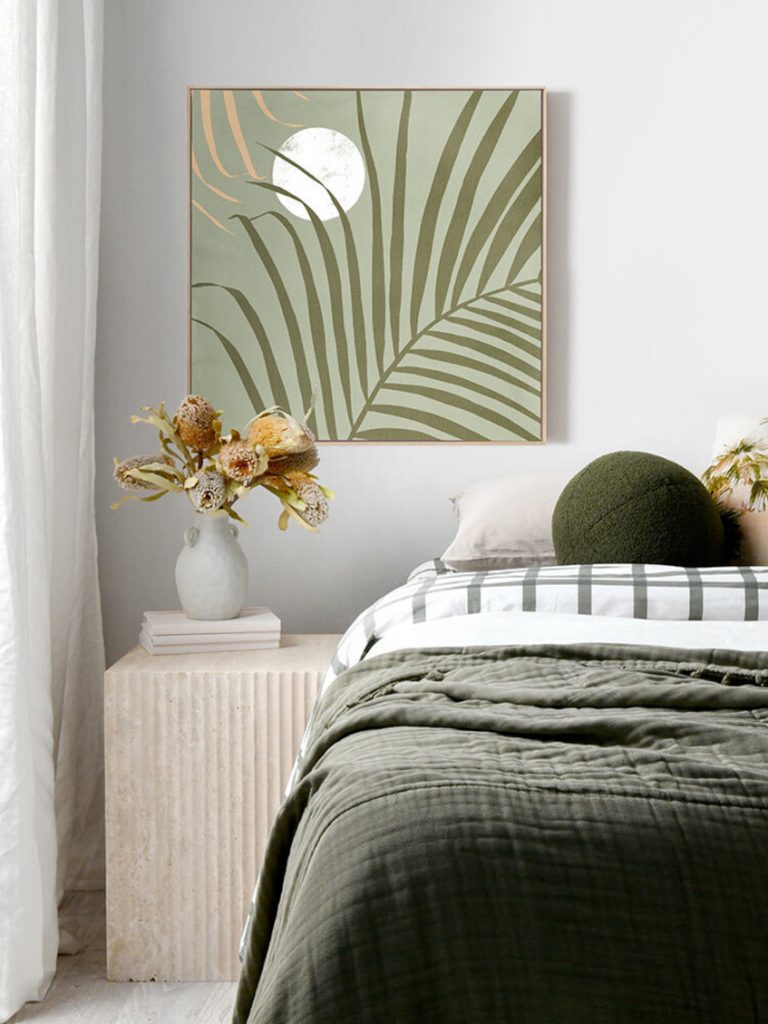 The colour you choose for your bedroom directly impacts the overall feel and mood. The same goes for the bedroom wall art. In most quiet bedroom art applications, softer and more serene colours, such as blue and green, will be used in both your overall bedroom design scheme and your bedroom art. That isn't to say you can't add a splash of crimson or pink to an otherwise peaceful room; just don't go overboard.
The best way to retain the sense of ease and tranquillity in your bedroom is to match your wall art with the existing hues in your room. While many varied colours and patterns add visual interest, they will work against the serene tone you're aiming to achieve. For instance, red is and will probably always be the colour of love. So, to give your bedroom a romantic feel, hang some wall art with a strong red impact. On the other hand, black and white art is usually utilized to create unique visual settings and produce a sense of escape from an otherwise bright and vibrant environment.
Bedroom Art Size
According to interior design experts, large-scale art pieces should be hung at eye level, either immediately above the bed or on the opposite wall. Smaller art collections, especially ones with varying colours, sizes, or subject matter, should be limited to a bare minimum in the bedroom because they can be too visually stimulating.
If you're going to put up an art series, keep a limited number of art pieces and make sure they all match in topic and colour. Keep in mind that the bustling sensation of clutter you don't want in your bedroom is created by the change in visual themes, not by the number of objects.
Bedroom Art Styles
The style or subject of the artwork is heavily influenced by the mood you want to create with the design.
Because of their overall relaxing effect, landscapes, ocean views, sweeping abstracts, and soft-focus and de-saturated photographs function best in serene bedrooms. You want something that appeals to you visually yet doesn't require you to think too hard about the artwork to preserve a sense of serenity.
Big, bold canvas wall arts work well in a passionate bedroom because the artist's emotion may be conveyed through violent brushstrokes and vivid colours. Black and white photography that is subtly sexual also does a beautiful job of establishing the scene for desire without being overpowering as nobody enjoys an obnoxious bedroom!
Bedroom Art Types
There is a wide range of bedroom wall art you can choose from to perfectly complement your bedroom décor. There's something for everyone, from canvas paintings to photographic prints to art plaques and more.
Another bedroom wall décor to consider is the woven tapestry. When you think about tapestry wall hangings, you might imagine a medieval tapestry in an ancient castle. But, this bedroom art will provide your sleeping area with a tactile feel, plus there's the acoustic advantage of sound-dampening cloth. Moreover, these meticulously woven artworks come in various shapes, sizes, and colours.
On the other hand, a decorative wall clock is the type of wall decor that we wouldn't recommend for a bedroom. No matter how pretty they are, nobody enjoys having a constant reminder of how little time there is between finally getting to bed and pulling oneself out of it in the morning.