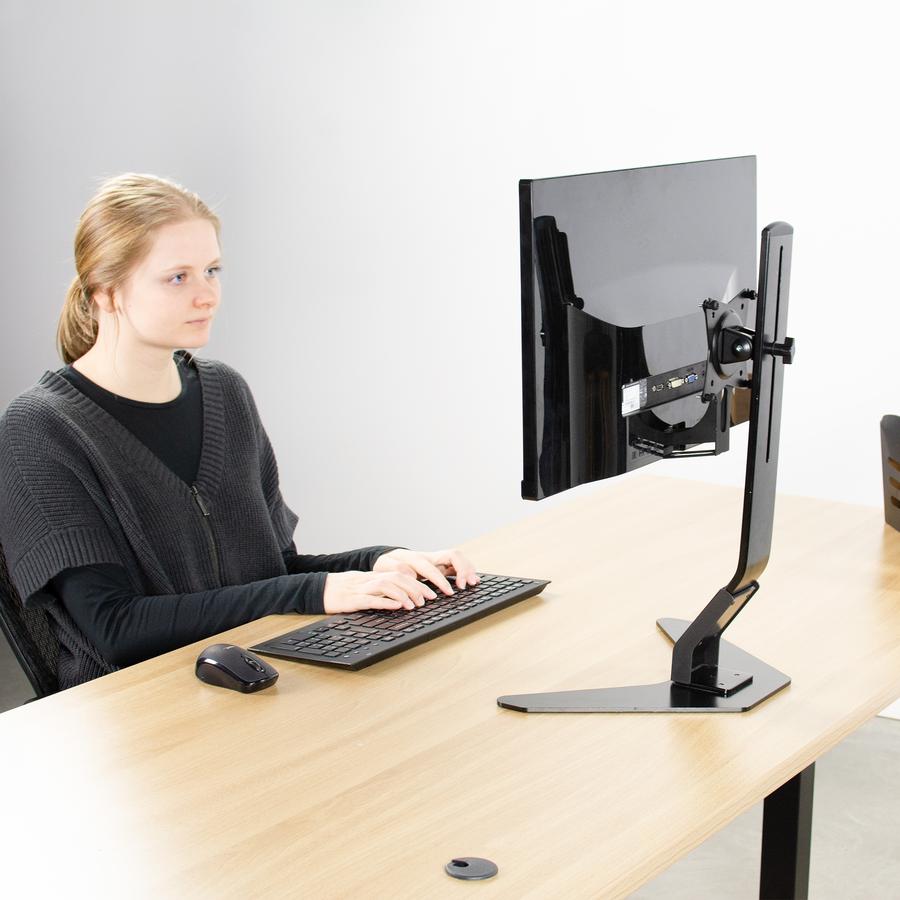 Monitor Arm Buying Guide – Relieve Neck and Back Pain
Due to the busy lifestyle most people lead nowadays, many of them are sick and tired of being sore and achy as a result of spending at least 40 hours a week sitting in their office. And although sitting in an office chair may not seem like the worst thing on earth, it definitely has a lot of negative health consequences. Sitting all day long at a desk can be terrible for your spine health, your posture, and it can end up causing a number of issues with sore shoulders, muscle imbalances, headaches and similar. Standing is definitely a healthy option to alleviate these pains, but if you're standing and still looking down at your screen, you won't see any noticeable changes for the better.
This is where monitor arms come in helpful. An adjustable monitor arm screws onto the back of your computer monitor and then clamps to your desk, the wall, or it can even stand freely on its own allowing you to maneuver it as you need to. A monitor arm will provide you with the flexibility to have your screen at the perfect height. The right monitor arm for you will help you say goodbye to headaches, neck pain, and sore shoulders, but how do you find a good one? Well, as is the case when shopping for anything for the first time, you need to first make a research on the matter. Here are some of the factors to consider once you decide you want to buy monitor arm.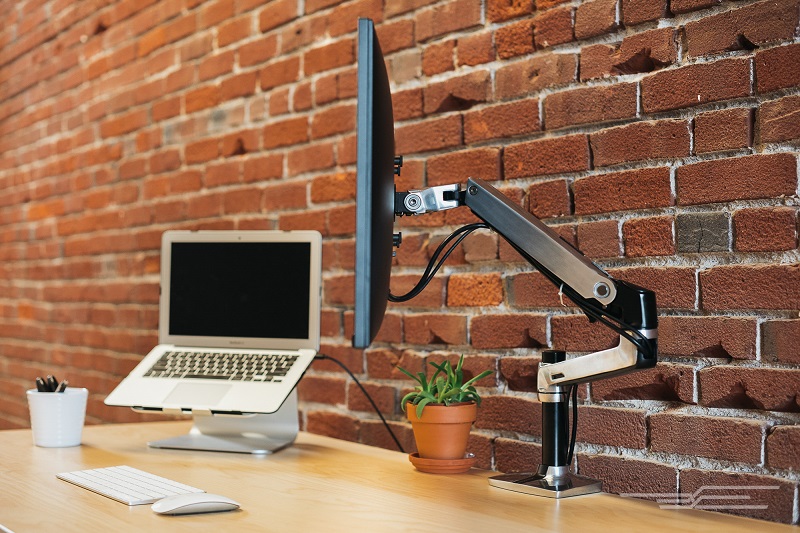 Height Adjustment
According to the mechanism it has, adjusting the height of a monitor arm can be done in two ways: with a gas/ pneumatic cylinder and with a knob or pole mount. If you want to set it and forget about it, buy monitor arm that uses a pole or a knob. The gas/pneumatic cylinder arm is the most convenient one as the monitor can be adjusted at any height by just moving the monitor with your hands.
Mount
You can choose from either desk or wall mounted monitor arms. If you want to get a desk mounted arm, your best bet is getting one that will clamp onto the edge of your desk. Furthermore, the wall mounted arm comes in two different types – a sliding wall bracket mount or your regular wall mount. Your standard wall mount arm will allow you to pan, tilt and adjust viewing angles fairly easily. The sliding wall bracket will allow you to adjust heavier screens but it isn't very flexible.
VESA
Mounting standards set by the Video Electronics Standards Association (VESA) need to be fulfilled by the manufacturer. The VESA compatibility standards require manufacturers to arrange screws and holes in a certain way in order to handle a particular weight class in the best way possible. Make sure you check if you monitor is VESA compatible, and in case it isn't, you can get an adapter that will allow you to attach it to the arm. Most Apple monitors aren't VESA compliant, but there are plenty of adapters on the market that can fix that.
Depth Adjustment
Here you'll want to look for three main points – tilt, rotation, and modification. If your monitor has a touchscreen display, then you might want to consider getting one that can tilt it about 200° so you can use it in more than one way. Rotating your screen is going to be very useful if you code a lot since you'll be able to see more lines at a time, which is why it's best that you buy monitor arm that can rotate the screen a full 360°. Most arms aren't very modular and that's due to their flexibility, but there are some that will allow you to change the mounting method and add monitors.