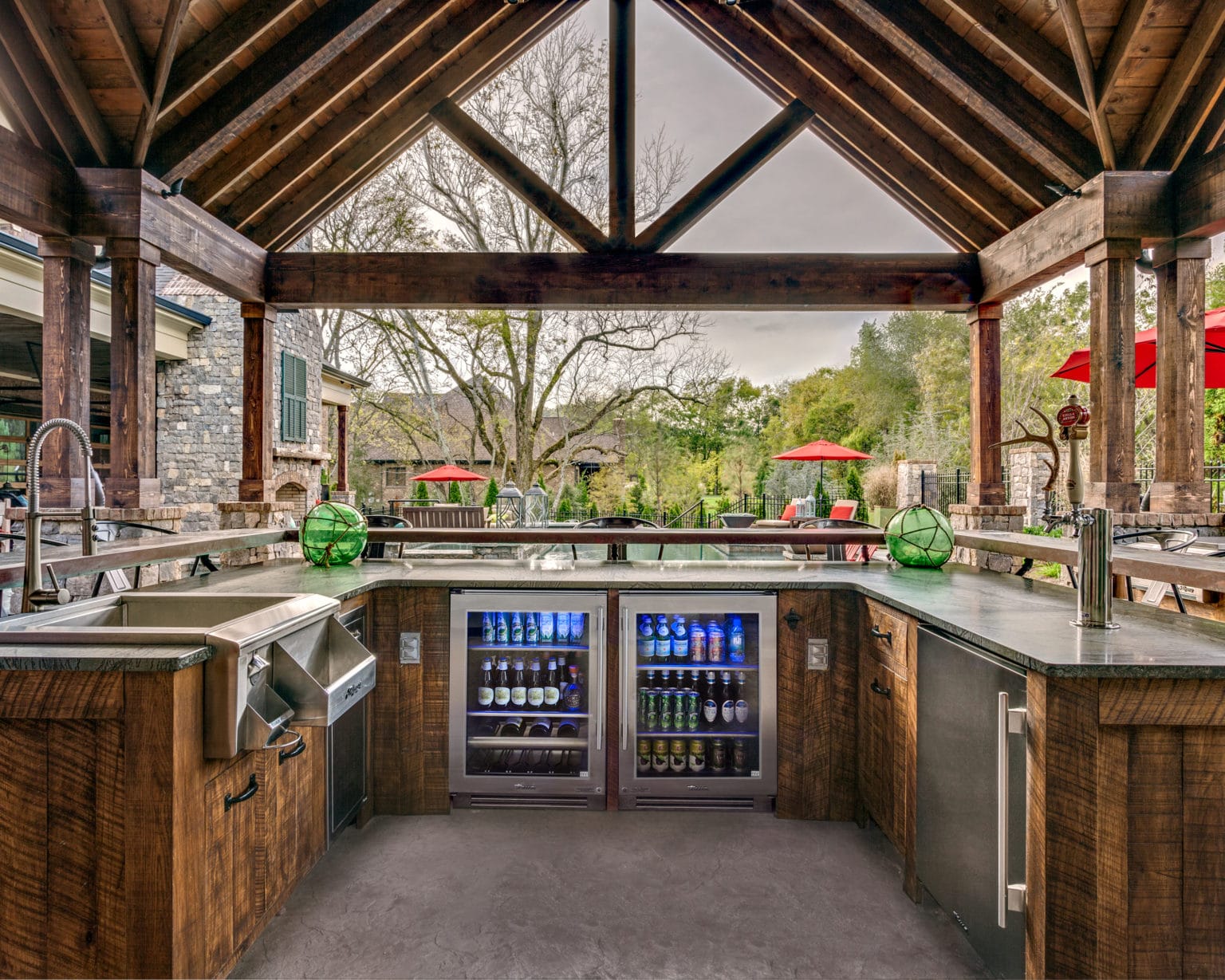 Outdoor Kitchen Essentials to Make the Most Out of Your Backyard
There's nothing quite like spending time in the great outdoors with family and friends, wouldn't you agree? And while going on full-on camping trips or hikes is always a blast, we can't always make that happen. But that doesn't mean we can't enjoy all the best parts of nature right in the next best thing – our very own backyard!
Creating a warm and welcoming space in your backyard can be as simple or complex as you want it to be. But one of the best ways to really enjoy the experience is by adding an outdoor kitchen. Think about it – the smell of freshly cooked food, the sound of laughter and conversation, all while surrounded by beautiful scenery. What could be better?
What Do You Really Need In an Outdoor Kitchen?
If you're considering adding an outdoor kitchen to your backyard oasis, there are a few key elements you'll need. Equipping it with these essentials will help make the space both functional and stylish. Let's do a quick rundown of what you'll need:
Outdoor Fridge
Is there anything better than cracking open a cold one on a warm day? You're absolutely right, there totally isn't. As the sun is beating down on you and your guests, the last thing you want to do is run back and forth from the house to grab drinks.
This is why you should take a look at some of the spacious outdoor fridges Australia has to offer. Most of the time, they're compact enough to not take up too much space but have plenty of room on the inside to keep all your drinks nice and chilled.
Plus, the cook will definitely appreciate having quick access to drinks and ingredients while they're busy prepping the meal. No more running in and out of the house to grab things just to make a few simple dishes.
Make sure you position your fridge in a place that's easily accessible to both you and your guests. In this way, everyone can help themselves to whatever they like without having to ask for permission or assistance.
If you want to get really fancy, consider adding a wine cooler or beer dispenser to complete the perfect outdoor kitchen experience. These will help keep your drinks at the perfect temperature while adding a touch of luxury to the space.
In any case, the array of outdoor fridges Australia has on the market will give you plenty of options to choose from. Knowing what you need will make it that much easier to find the perfect model.
Cooking Station
All backyard kitchens need some sort of cooking station. Whether it's a basic grill or a full-fledged kitchen island, this is where all the magic happens.
Of course, the type of cooking station you choose will depend on your budget, available space, and cooking needs. If you're someone who loves to entertain, then you'll definitely want something that's more substantial. This way, you can prep and cook everything in one space without having to run back and forth to the house.
On the other hand, if you're someone who likes to keep things simple, then a small grill will do just fine. You can still cook up all your favourite dishes without all the bells and whistles. Just make sure it's big enough to accommodate your needs.
And if you're really tight on space, consider getting a portable cooking station. These are great because you can easily move them around as needed. Plus, they typically come with all the features and functions of a regular cooking station, just in a smaller package.
Storage Cabinets
Storage space plays a big role in any kitchen, seeing as it's where you'll keep all your pots, pans, platters, and other cooking essentials. The same goes for an outdoor kitchen – you'll need somewhere to store everything so it's neither in the way nor exposed to the elements.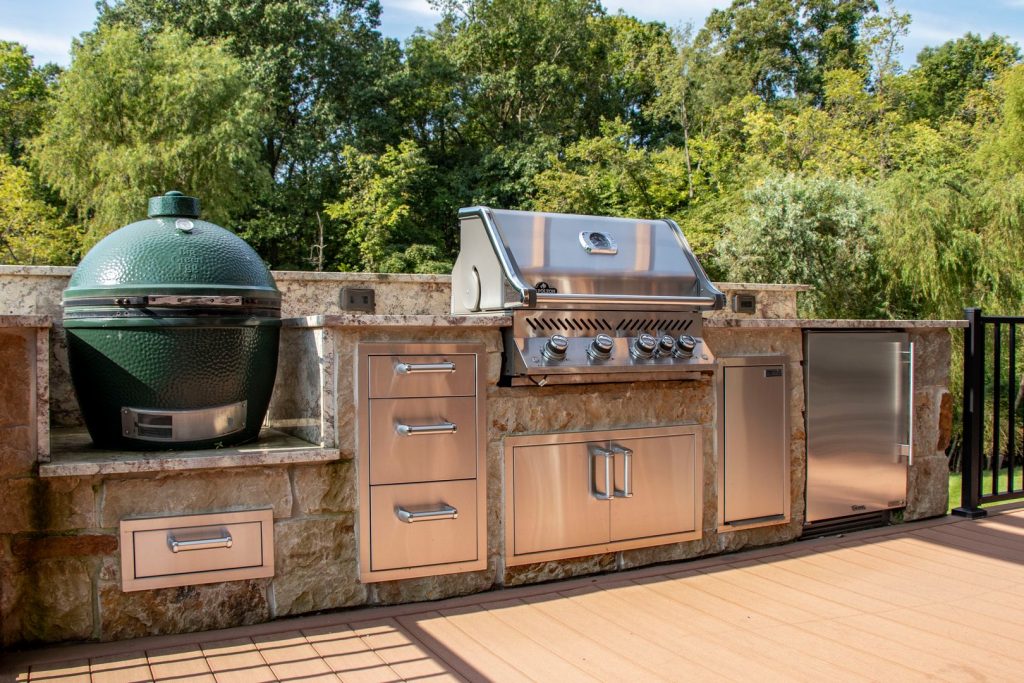 This is why storage cabinets are a must-have for any backyard establishment, no matter the type of cooking station. They come in all shapes and sizes, so you can easily find something that fits your space. You should look for durable materials, such as stainless steel, that can withstand the everyday wear and tear that comes with being outside.
Some storage cabinets even come with features like built-in spice racks and utensil holders. This is a great way to keep things organised and within reach while you're preparing the food. You can also find models with integrated shelves and drawers if you'd like to take the kitchen neatness to the next level.
Outdoor Furniture
Without a doubt, furniture can create a more inviting space to dine or lounge in. Some people like to keep things on the down-low with a few minimalist chairs and tables. Others kick it up a notch with luxurious sofas and loveseats, coupled with coffee tables and side tables.
It really all depends on your personal style and what you want to use the space for. If you arrange get-togethers often, then you'll definitely want furniture that can accommodate a larger group of people. However, if you prefer more intimate gatherings, then a smaller set-up will suffice.
Either way, you should choose furniture that's sturdy and resilient enough to withstand the outdoors. Materials like wicker, rattan, and teak are always a good option. They're not only durable, but they also look great with any décor style.
Umbrellas
Last but not least, don't forget about umbrellas! The Aussie weather can be unforgiving, with harsh sunlight and sudden downpours. This is why it's important to have some form of protection from the elements, especially if you're planning on spending a lot of time in your outdoor kitchen.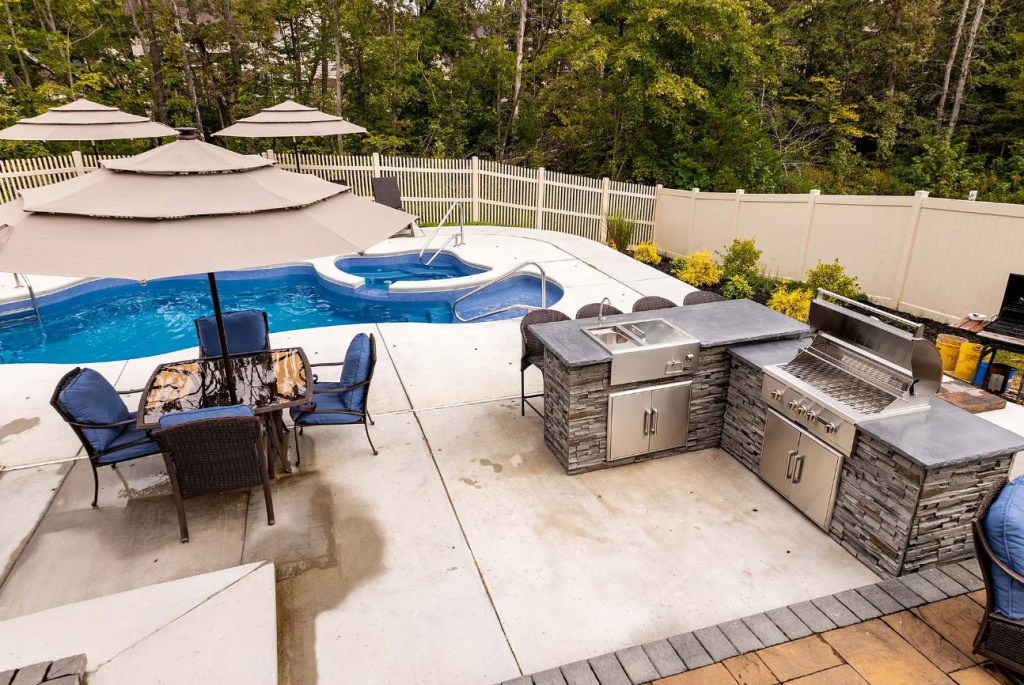 There are a number of different umbrella styles to choose from. If you want something that's easy to set up and take down, then a freestanding model would be ideal. These are great for small spaces since they don't take up too much room.
Another popular option is a cantilever umbrella because of the added convenience it offers. As it's attached to one side of the table, it allows you to tilt and turn it as needed. This way, you can always stay in the shade, no matter what time of day it is.