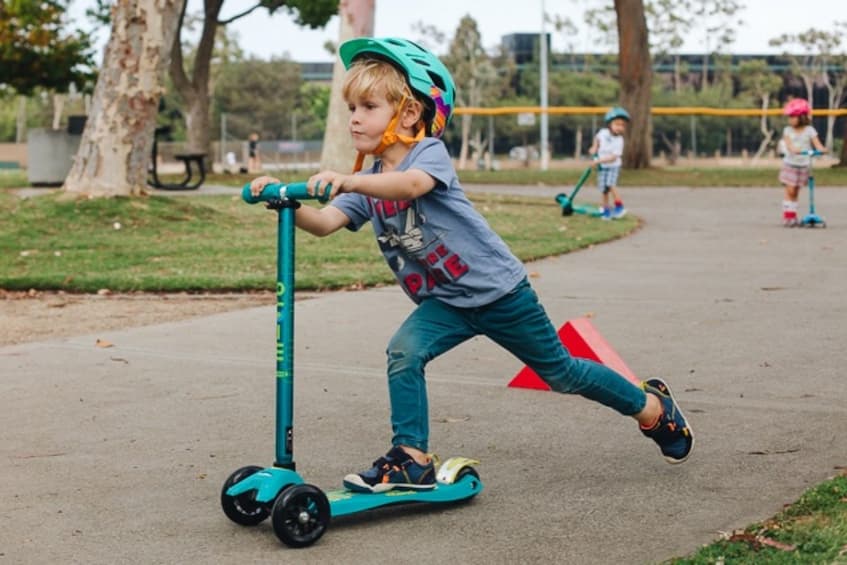 Scooters for Kids: Keep Your Children Active and Entertained
We all know how beneficial it is for our kids to spend some time outside. They get the vitamin D they need from the sun and get to play, which contributes to them staying active and healthy. This way, they have an opportunity to socialise and appreciate nature and creation.
Not so long ago, spending time outside used to be the norm. For kids to go and play outdoors, it was enough for their parents to tell them they were free to go. And nowadays, getting them out is becoming a real struggle for parents. The numbers only show how true this is. On average, Aussie kids spend twice as many hours in front of a screen compared to unstructured outdoor play. How can we break this trend? What can help you get your kid outside and reap the many benefits of staying outdoors?
Making it fun for them can be of great help. Buy them a kid scooter and watch them enjoy the ride. Wondering is riding a scooter good for kids? Here are some of the reasons you should buy your child a scooter and tips on choosing the right one.
Why Are Scooters Good for Kids?
A Perfect Way to Exercise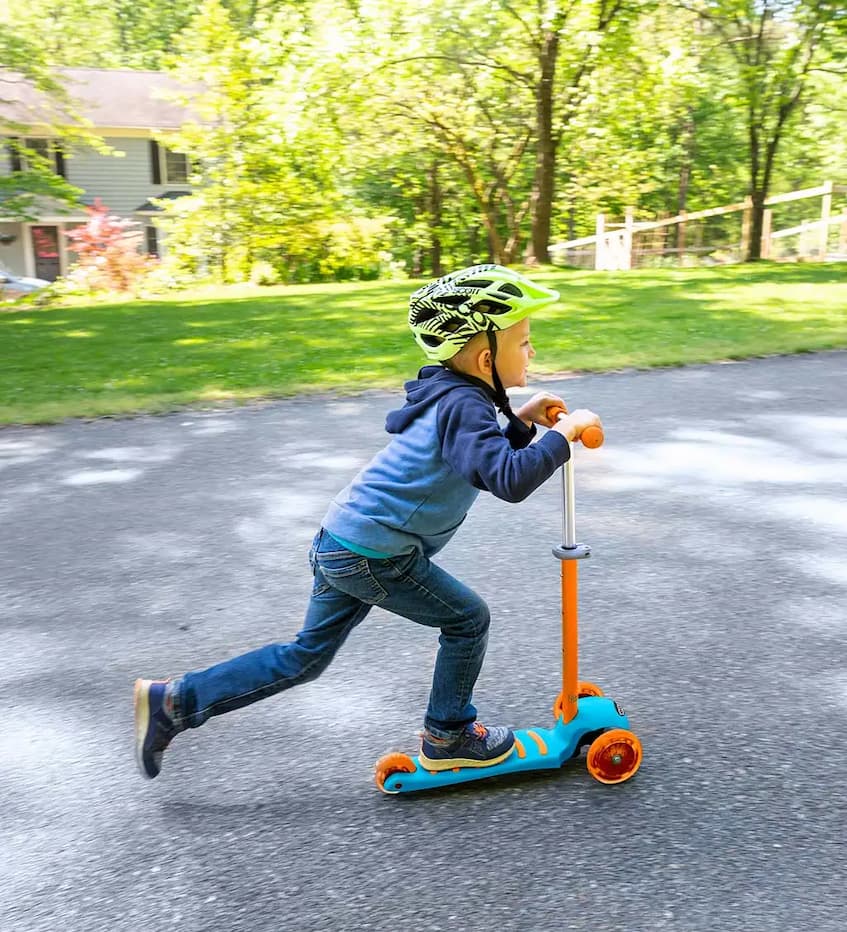 If you want to get your children to exercise, you need to find them an activity they enjoy. That's the only way they'll get motivated to go out and move their bodies. Riding a scooter is a fun and enjoyable activity and a great way for active play and movement. Plus, kid scooters provide the perfect aerobic exercise that helps strengthen their bones and muscles.
Improves Your Kids' Motor Skills
Motor skills start developing immediately after a baby is born, and we learn them day by day, improving constantly. Today, there's a significant problem with children's motor skills development. Experts say that, unfortunately, this has a lot to do with screen exposure and technology. The result is more and more kids having various motor delays and an autism spectrum disorder and ADHD.
A scooter helps children develop both gross and fine motor skills. They get to engage both sides of their bodies and different muscle groups when they learn how to push the scooter with a kick. And they also learn how to balance, which is a very important skill for many activities later in life. It's also great preparation for riding a bike.
A Confidence Booster
Riding a scooter for kids is a skill that's not complicated. Anyone can learn to ride, even children with some kind of developmental delay. Still, it takes time to be mastered. And when kids manage to do that, it boosts their confidence. It also helps them control their bodies and learn self-control, which is very important for their emotional and mental health.
Kids who have more opportunities to build their self-esteem early in life often become successful and responsible people. Giving them a scooter to ride is worth it in the long run.
Helps Them Socialise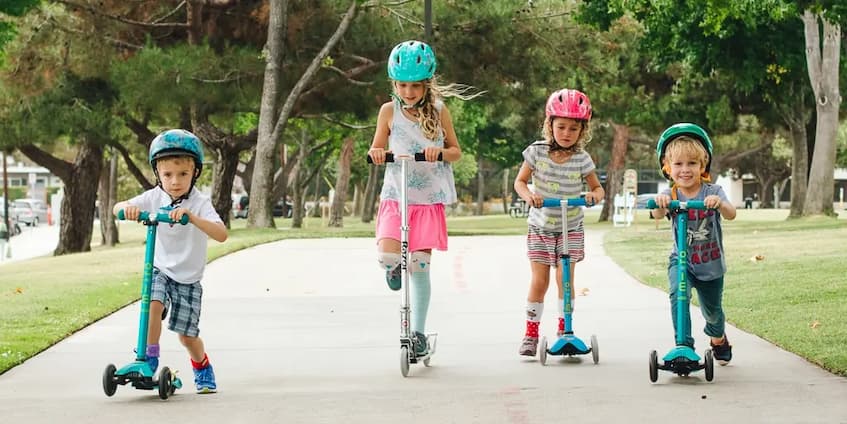 Riding scooters for kids isn't a team activity. Yet, it's a great way for them to interact with their peers. I'm sure you've seen several children riding together in a neighbourhood, racing each other. Besides being fun, this helps them socialise. They learn how to establish better relationships and make friendships more easily.
Riding scooters with your children is also a good outdoor activity to enjoy together as a family. You will set a good example for your kids, while they get to learn valuable things, like traffic rules and caring for the environment.
Encourages Creative Play
Simple activities are always the best option when you want to encourage a child to use their creativity. When kids ride their scooters in limited space, they can easily start imaginative play too. They can ride in circles, pretending to be shopping or going to school.
How to Choose the Best Scooter for Children?
There is a wide variety of kid scooters out there: 2-wheeled, 3-wheeled, different sized, kick and electric ones. A kid's kick scooter is the best option to start with. Here are some things to look for when buying one.
Number of Wheels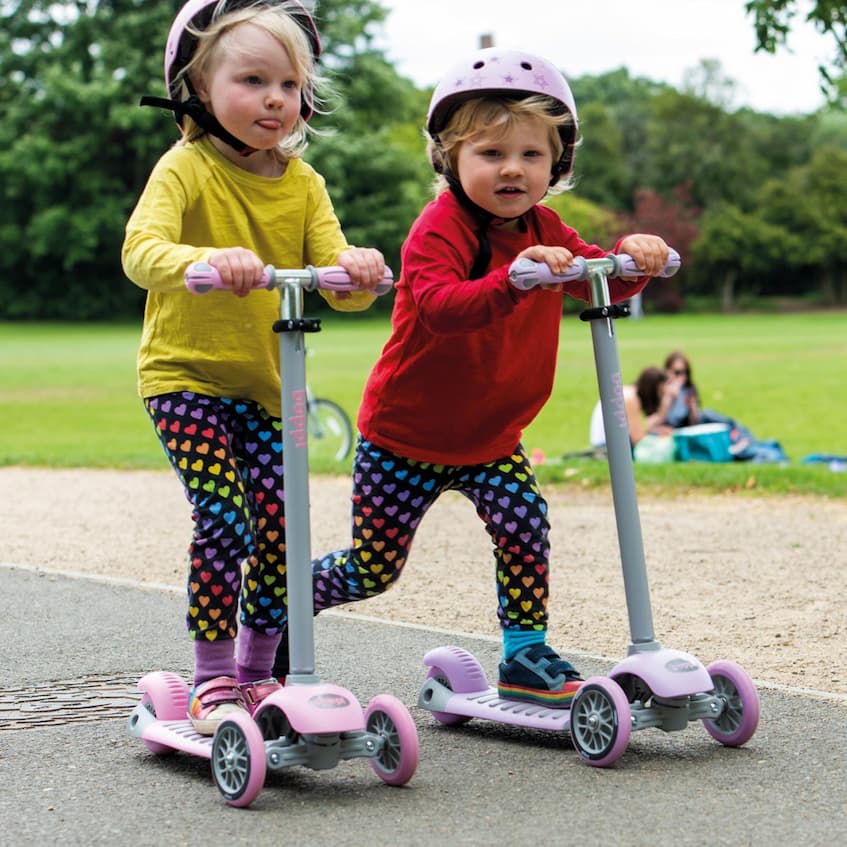 At what age can a kid start to ride a scooter? It's considered safe as soon as a child walks and runs with stability. The general guideline is 2 years and above. What's the best toddler option in terms of wheel number?
As toddlers haven't got the balancing skills of preschoolers and school-aged kids, the 3-wheeled scooters are the best option for them. There are models with 1 front and 2 rear wheels and vice versa. There are 2 turning mechanisms too: lean-to-turn and bicycle turning. Let your kid try and kick the scooter before buying. That way, you can easily see which option is better for them.
As your child becomes proficient in riding its 3-wheel scooter, or they're old enough, you can switch to scooters with 2 wheels and help them really enjoy the ride.
Size
The size of a scooter can refer to wheel size and also its height. Smaller wheels are a better option for children, as bigger ones are harder to push. For the height of the handle height, it's best that it's in height with the belly button and not higher than the kid's shoulders if you want to avoid future injuries.
Weight
A kids' scooter is important to be lightweight, so the kid can move it and lift it easily. However, weight shouldn't compromise the quality of material and durability. Opt for trusted brands that sell high-quality scooters that can last for years.
Don't Forget About Safety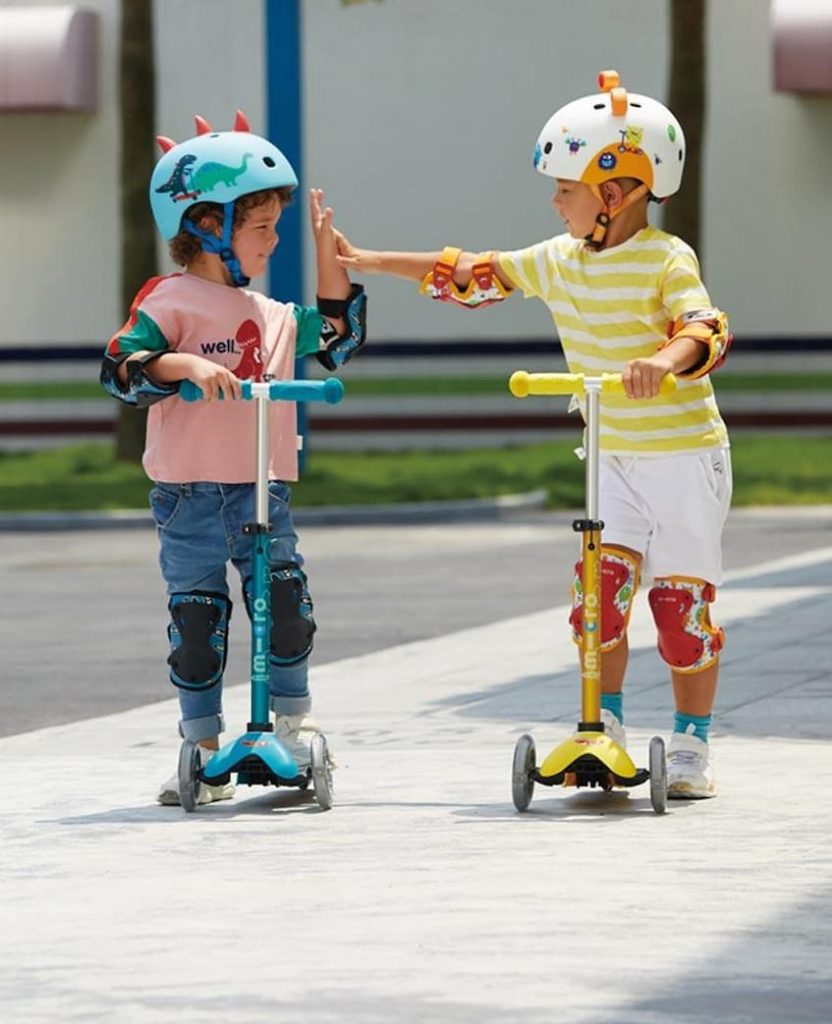 Until they master scooter riding, children tend to fall a lot. The only way to keep them entertained and safe is to ensure they wear their safety gear must-haves. These include a helmet, elbow and knee pads, and the right sneakers. You also need to teach them street safety: where they can and where they shouldn't ride.
You must keep your children safe when you're riding together. And as they grow up, they must learn to care for their own safety, as well. Teaching them safety from a young age and wearing safety gear yourself can go a long way. And so can buying them helmet and pad designs they like. Especially when putting them is an everyday struggle.
Final Thoughts
It's not easy buying something that your kids might fall off. Seeing them hurt themselves isn't fun at all. However, risky play, including riding a scooter or a bike, is very important for their overall development. And buying the right scooter and teaching the ride safely can be very helpful in preventing injuries. In the end, seeing your child get outside and have fun is completely worth it.