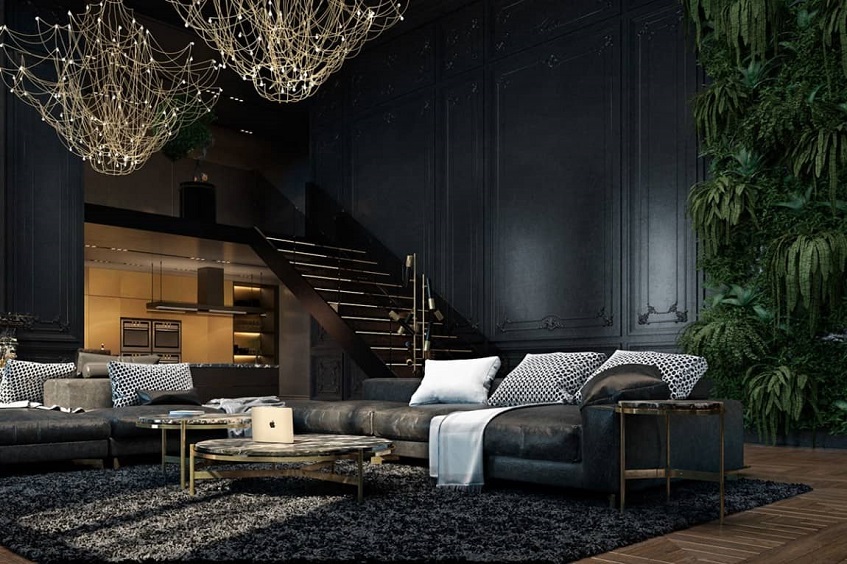 Paint It Black: Strike a Dramatic Note with Black Interior Design Elements
Black is a bold and dramatic colour that few of us have the courage to include in our home design – and with a good reason. Too much black can overwhelm your space, making it cold and uninviting, while the right amount will transform it into a modern and stylish one. This is why it's best to use it in moderation through selected design elements to create a visual effect.
What's great about black is that it's a neutral colour that goes well with any other colour – combining it with a metallic colour will create an opulent look, black and warm colours create a sophisticated and mysterious look while red, white and black create a stunning, eye-catching modern combination. Whichever colour scheme you plan to use in your interior design – here are some ideas for black elements you can include.
Black Door Handles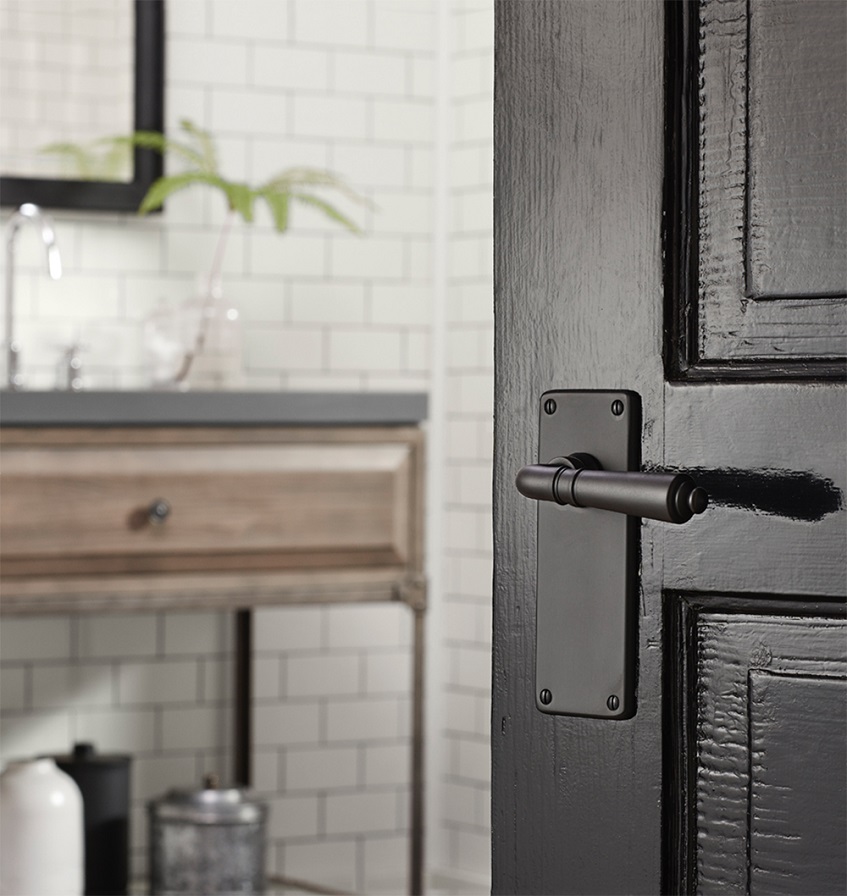 Internal door handles can be the jewel of the room if you select them properly. They're a subtle, yet important detail that helps tie together different design elements and improves the natural flow through the property, from one room to another. They contribute a lot to the overall design scheme of your home, even though they're physically small and tend to be the last feature people pay attention to.
Black door handles are an increasingly popular choice of finish that represents the epitome of modern interior design. They provide a sleek, contemporary and minimalistic look that takes inspiration from Bauhaus' streamlined, straightforward aesthetics. Perhaps one of the most popular door handle trends is the matte finish, as more and more households adopt these black door handles Australia wide.
What Are the Advantages of Black Door Handles?
They match all interiors. Black is a staple colour that blends well with many other hues, both in the fashion industry and in interior design. Black door handles add character and style when paired with a white or natural wood door, although they can work well with any type of door. Use the more minimalist models with sharp edges for a contemporary-styled home and handles with rounded edges for a home in traditional style.
They're visually pleasing. Unlike metallic finishes that we usually ignore, door handles in black tend to attract the eye. They make the interior look mysterious and sophisticated.
They're easy to maintain. Door handles tend to get damaged a lot because they're the most used accessory in our homes. Once the surface gets scratched and chipped, it may lose its aesthetic value. Luckily, you can find sturdy and durable black door handles Australia wide. Most manufacturers use high-quality electroplating that makes the handles resistant to damage. Black door handles also show fewer fingerprints, which might be a problem for other door handle finishes.
Black Pendant Lights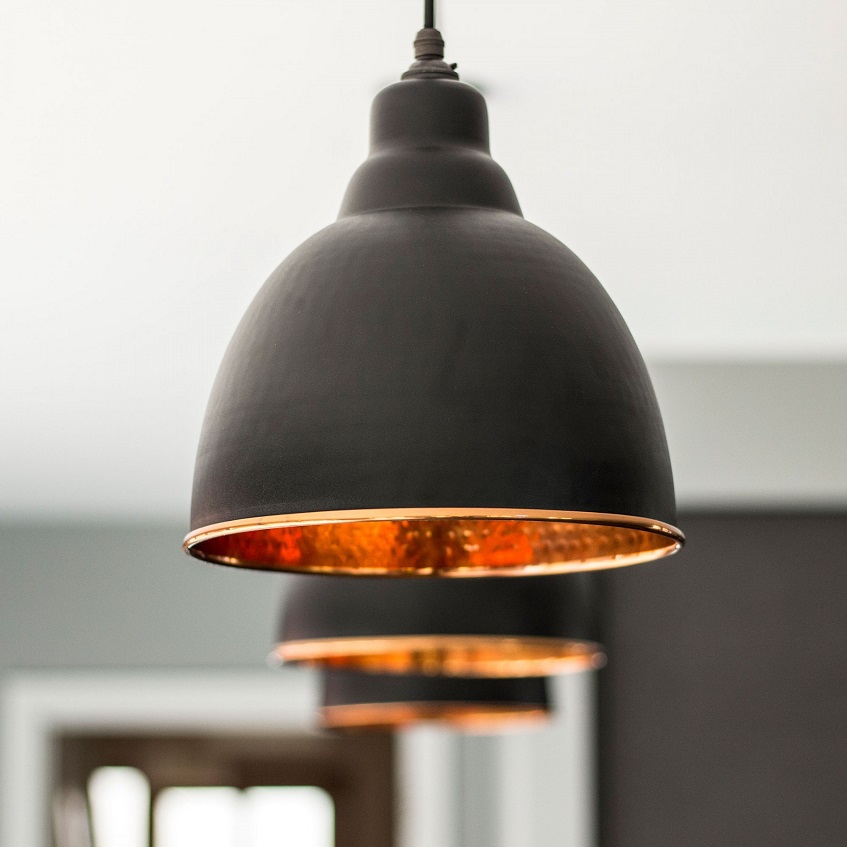 Another way to include this luxurious colour without overwhelming your home is by adding black pendant lights. These are versatile and practical lights that have many purposes. We often see them in multiple fixtures above dining tables, but they can provide excellent task or ambient lighting anywhere in the house. We can also find them in a variety of materials ranging from metallic and glass to wooden or rattan pendants. Today's most modern pendants have often intriguing and minimalistic shapes, which are best accentuated by the colour black. They look simple, but they will give your space a mysterious and artistic touch. Combining them with black window frames and door handles can help you create an instant "wow factor".
The Most Popular Pendant Lights
Lantern Pendants
This model of pendant lights represents a refined version of the well-known vintage lantern. With so many versions available, the black-framed models with clear glass shades are the most stylish ones. An extravagant pyramid or star-shaped pendant will act as accent lighting and a part of the room's décor. On the other hand, if you're in need of a more subtle and functional light – a simple cube-shaped lantern will do the trick.
Drum Pendants
Drum pendant lights are elegant and versatile fixtures. They can be used to make a statement or to complement large rooms in the house, such as the living room, dining room or master bedroom. A drum pendant with a black shade is one of the most stylish choices for an ambient light that will radiate luxury and warmth.
Multi Light Pendants
These pendants let your creativity shine the most and they come in two distinct forms. The first is made of multiple lights attached to a central core. This is a good choice for illuminating a dining room or a pub room. The second style consists of separate pendant cord lights that are attached to the ceiling, and it works best for illuminating large open spaces like foyers and staircase landings.
Black as a Wall Colour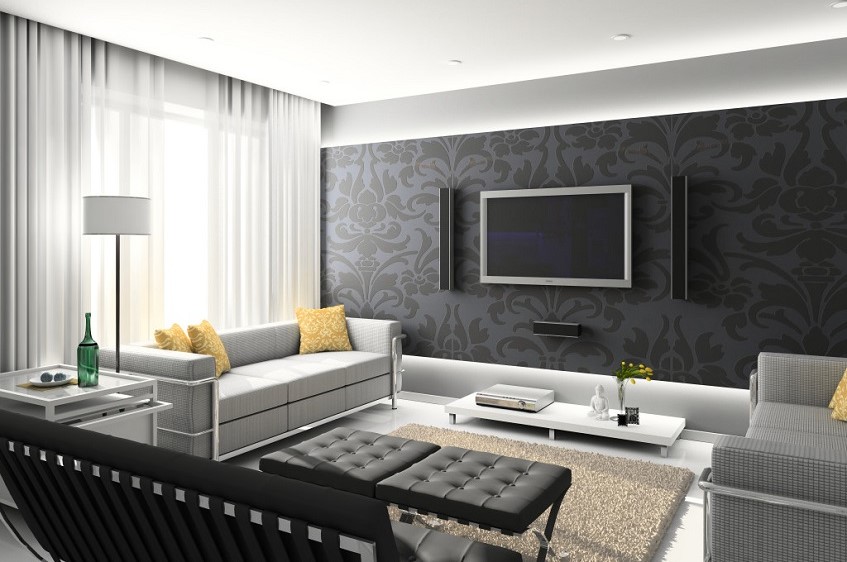 Black can be a slightly intimidating wall colour choice. It generally has a sombre reputation because we associate it with moodiness. However, in terms of interior design, it's always been trendy due to its neutrality and versatility. Sometimes it's even better to choose a darker wall colour, especially in situations where the room gets plenty of natural daylight – which can also be overwhelming. You can always spice up your interior design by using black textured wallpaper which will add more dynamic than a simple solid-coloured wall. When using black as a wall colour, it's good to follow a few simple rules to make the room visually balanced:
For a low ceiling – paint it lighter than the walls to visually elevate it;
For a high ceiling – paint it black while keeping the walls in a lighter colour to visually lower it and create a sense of privacy and shelter;
For a large space – paint the ceiling and the back wall in white, while painting the side walls black to make the space visually smaller;
For a small space – combine black ceiling and back wall with white side walls to make it appear larger.
Bottom Line
Including black in your interior design can be risky, but sometimes it can pay off. Instead of making big changes, you can start by adding subtle touches like black door handles and lighting fixtures that will smoothly shift the mood and give your space a luxurious look.