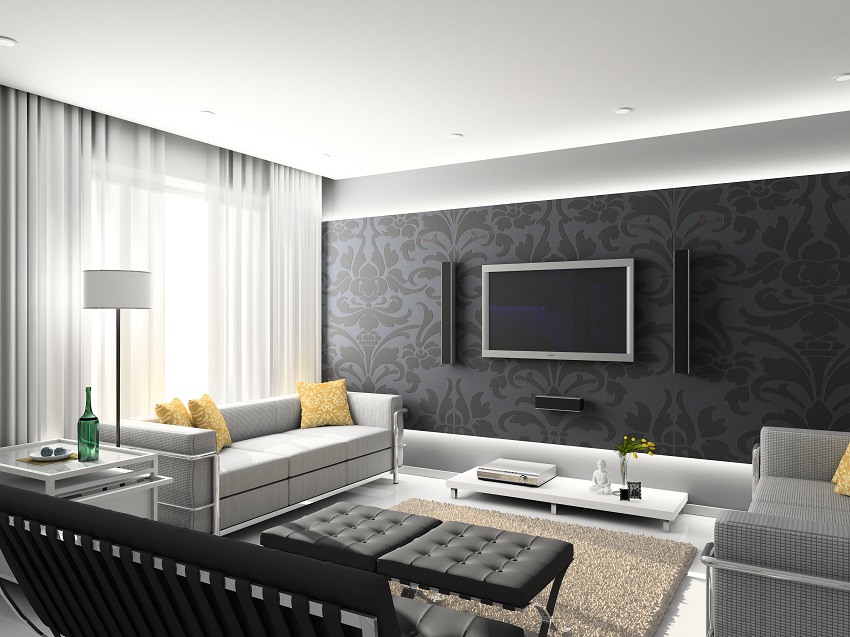 Wallpaper: Add Texture and Colour to Your Walls
One of the criticisms of wallpaper is that it's practically an imitation of other building or decorative materials to give a room quality that it doesn't possess. On the other hand, imitation is the best form of flattery. A wallpaper's best features, the variety of colours, patterns, textures and degrees of durability can give much character and life to a room lacking these qualities, at a price that most people can afford. To fake it until you make it makes sense after all.
Wallpaper's variety can make a room your own and set its intimate horizons, whether abstract or natural, whichever way you desire. It can be used in any room in the home and you can always check its effect before purchase by borrowing large samples.
Living Room Wallpapers
Your saloon is the epicentre of happenings in your home. When decorating it, you influence how you and your closest will enjoy your leisure time. Symbolically, your living room will depict how you live.
Wallpapers have the ability to give formality to the living room or on the other hand, more warmth and informality. They can make a room suitable for relaxed and quiet activities or for more lively ones. If there is no fireplace or window as a focal point, one wallpapered with a magnificent pattern can add a splash of life.
Wallpaper can help correct the flaws of your room by illusion or camouflage. If you don't have the funds to buy all furniture pieces yet, wallpaper can make a room seem more completely furnished and you might like this temporary solution so much you turn it into a permanent one. If on the other hand, you have a great lounge and coffee table with artwork hanging over, abstract patterns are quite suitable as you don't want to draw attention away. Moreover, they stay in style for much longer.
The choice of materials, environmental control technology and raised printing have all improved the quality and authenticity of wallpaper. Raised printing is a process in which colour is applied thickly to give a three-dimensional effect. It adds richness, depth and texture to the wall.
Thus, almost any material can be immitated. For the devotees of the industrial look, getting a wallpaper brick design can add the same edge to your living room that a real exposed brick wall can.  If the tropics of Mexico and Peru are where you want to spend your evening and weekend afternoons, stone imitations that remind you of walls of ancient temples will set the southern and mysterious vibe.    
A history fan and an old soul could enjoy American colonial style, where fabrics and wallpaper feature a toile design, extremely popular during the colonial era. In spite of the West's appeal, the Oriental East also has undeniable charm. Match your velvet couch and handmade braided pillowcases with wallpapers with mosaic patterns.
If you want that mid-century modern "Mad Men" interior, you should aim to create a seamless flow from the inside to the outside. Leave your windows bare to emphasize the outdoor view while you dress up the walls with graphic wallpaper featuring bold geometric patterns that match your retro furniture. 
Kitchen Wallpapers
Choosing the right kitchen wallpaper is an easy way to adorn your kitchen. If it's a small one, you might want to opt for a wallpaper with a finer-scaled pattern as bolder and large scale texture patterns give a subjective feeling that the room is less spacious.
Stainless steel appliances will contrast your warm wallpaper brick look perfectly. On the other hand, coated wallpaper is a smart option for the kitchen as it tends to get messy. Choose a wallpaper with a covering that's durable, tough, waterproof, and most importantly, scrubbable.
If you're going for the Amish style in your kitchen meaning lots of wooden crafted furniture, choose neutral tones for your wall like greys, blacks, whites and browns. It's best to keep your floral pattern wallpapers for your bathroom or hallway as they are outdated for the kitchen.
Modern European and Scandinavian styles rely on the principle that less is more and cabinets have smooth and flat surfaces. Contemporary European colour schemes focus on neutrals and thus, the attention is put on natural materials such as wood, stone and granite, making dusty or ashy rose timber wallpapers a great match.
If you are dedicated to the cottage home and farmhouse interiors white will predominate in your kitchen. On the other hand, the woodwork with rustic finishes like oil-rubbed bronze and copper, open shelving, farmhouse sinks and brick accent walls, whether real or faux brick wallpaper will roughen up that softness around the edges, as real farm life is. 
Bathroom Wallpapers
When decorating bathrooms, people and designers tend to stay on the safe side as bold colours and patterns were seen as too risky in the past. Clearly, as wallpaper gives character, bold choices might not be such a bad idea for a windowless bathroom. Also, it can give depth to a room and help turn it into a spa-like or tropical paradise.
Bathroom wallpapers are also coated and easy to maintain and clean, just don't use cleansers and abrasives as they can be damaging. A natural sponge and some soap water are all the supplies you need.
One of the primary concerns expressed by bathroom redecorators is the moist environment, suggesting that it will peel in a couple of months. It's natural to wonder does wallpaper come off with humidity as that is the primary concern of most interior designers and bathroom redecorators.
The most common advice Is to save yourself the trouble and never put paper in such a humid environment. Older wallpapers did peel off because they were applied using glue, an animal hydrophilic (water-loving) product. Alternatively, new wallpapers are applied using synthetic adhesives that are synthetic and hydrophobic meaning they don't mix with water.
Also, sanitized papers have been developed that are resistant to bacteria and germs, especially important for bathrooms. The vinyl coating of the wallpaper is enriched with a chemical, giving built-in anti-germ protection. It additionally impedes the development of odours and the resistance to fungi, mildew and rot. Importantly, it's possible to get both attractive designs and durable wallpaper.
Kids' Room Wallpapers
As a child grows, so does their need for privacy and a safe place to keep personal belongings and also play with them. Thus, a child's bedroom should be planned according to his/her likes and dislikes and requirements in order to provide it solid ground for growth. Conversely, conventional furniture and a "one size fits all" approach is best avoided.
On the other hand, there are some general conclusions one can make for children. Firstly, they mostly like bright colours. Secondly, even though personal preferences might vary, kids do love their superheroes. Just ask which one. For the little astronauts and fans of the night sky, try a dark blue theme-based wallpaper behind the bed and its wooden based bed panel. Match a little princess's royal bedhead with a Frozen or Barbie wallpaper.
Mark every age and stage with appropriate colours and patterns that soothe or boost your child. Light colours are not the smartest choice when it comes to a kids room as they do enjoy scribbling on walls. Luckily, bright and light are different things. Alternatively, choose one that's highly resistant to dirt and stains.