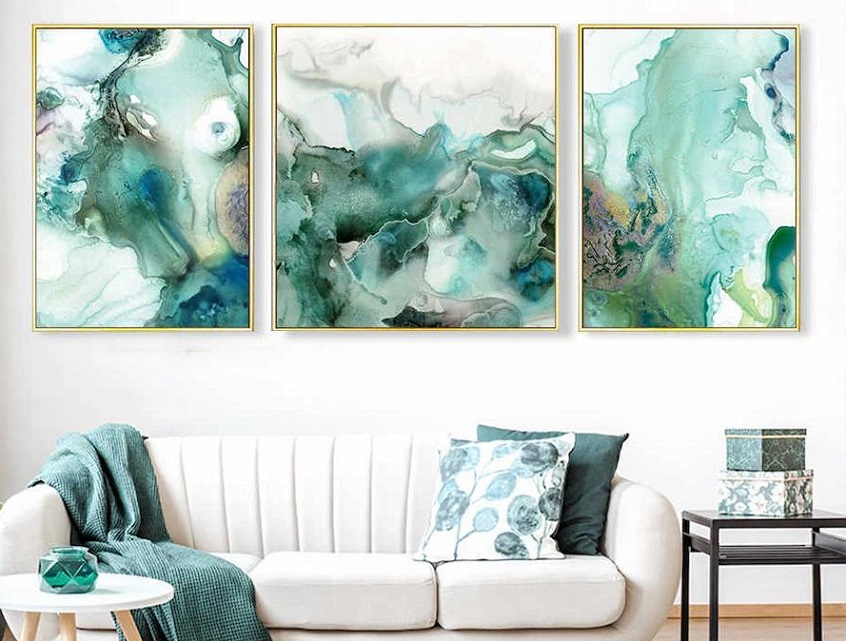 Ways to Add Colour and Instantly Refresh Your Space
Not everyone loves colourful designs. Especially when it comes to home interiors. Some people like to keep it simple using neutral colours. These spaces are easier to decorate and redecorate because neutral bases allow more options if you decide to change something in the décor.
But a few colourful pieces just know how to breathe life into a room. No matter how plain the entire design is, having just one vivid item is definitely attention-grabbing. If you don't want the larger pieces of furniture to be in colour but you still want to add an element of surprise, or if you're the type of person who enjoys constantly redecorating, here are some options that are inexpensive and easy to do.
Bring the Room to Life with Watercolour Art Prints
Art prints are graphic images that are duplicated and they can be made using different techniques. Paintings will always be the most sophisticated pieces of art but many people prefer the simple art prints because of their accessibility. Watercolour art prints are becoming a favourite when it comes to home décor. They have that translucent, dreamy look but can be intensely coloured as well. Their versatility is the reason why you'd want to choose eye-catching watercolor wall art for your interior.
Hanging watercolour prints isn't just for the living room. They are a modern way to decorate your kitchen, bedroom, and even bathroom. They can bring brightness, softness, and style to any space. When it comes to picking out the perfect watercolour print, there are a few things that you need to consider.
Go for Something That You Love
Even if you're someone who follows trends, it's always important to enjoy everything you have in your home. If not, then what's the point in having it there? Art should provoke feelings, you need to feel excited or calm just by looking at it. The watercolor wall art that you'll choose needs to reflect your personality and style. If something doesn't feel like the right choice, just don't buy it.
Choose the Right Size and Frame
Prints can come in various sizes, from small to large. You could hang one larger print and make it the focal point or you could choose several smaller watercolour prints. Large prints look better in large spaces with bigger pieces of furniture. You don't want to have small items and an enormous art print. The room just doesn't look balanced. You can do various smaller prints of the same style or matching colours and arrange them according to your liking.
When you're buying watercolor prints, you have the option to buy them with a box frame of your choice, you could get just the stretched canvas without a frame if that's what you prefer, and you can get a rolled canvas that you can frame it yourself.
Create an Accent Wall to Make a Statement
An accent wall is a wall that differs in colour, shade, or texture from the other walls in the room. It serves to add a personal touch and highlight an area, and as such is perfect for bringing a dull, neutral space to life.
How to Choose a Colour?
When choosing a colour for your accent wall, you need to consider the colour of the other walls. You could have the walls in one colour, a lighter one is preferred, and make the accent wall a shade darker. You could have white walls and make one wall stand out in whatever colour you want. You can go for bright ones or more neutral tones. Even though neutral hues aren't the first thing that comes to mind when an accent wall is mentioned, you don't have to use a strong red or pink. If you want to keep it simple, a darker shade of any earthy tone works perfectly for accent walls.
How to Choose a Wall?
The wall that you choose to be the accent wall shouldn't have many items in front of it so it doesn't look cluttered. Also, it shouldn't be the wall with windows because they naturally stand out. Pick the wall that draws your eye when you first enter the room and has several smaller pieces of furniture in front.
What to Use for Accenting the Wall?
Besides paint, which is the most obvious choice for making an accent wall, there are different methods that you can use.
Wallpaper is the easiest way to refresh a room. It's easy to install and remove and there are many styles that you can choose from like retro wallpaper for a blast from the past, contemporary design for a trendy look, geometric shapes, floral, animals, etc.
You can try adding texture with tiles or stone, or creating a pattern by installing strips made from lighter materials and cover them and the wall with one colour. In this way, you'll add a subtle dimension to the wall.
Bring Softness by Decorating with Fabrics
Using textile for decoration is one of the most effortless ways to freshen up a room. There are more ways in which fabrics are used to instantly change the appearance of a space.
Cushions are a well-known and much-used method for adding colour. Changing just the cushions of a sofa can make it look like a whole new furniture item. You can match the colour with that of the couch and go several shades lighter or darker, or you can make a contrast.
Hanging fabrics on the wall is another popular way. You can experiment with any textile that you have, like some beautiful scarfs. You can hang a spectacular tapestry or a gorgeous rug, or you can wrap frames in fabrics that you like and make them look like paintings.
Add a Unique Visual Element with Hanging Plates and Baskets
Hanging plates on the wall is probably the most inexpensive way of decorating. They can be found in any shape and design which makes them the perfect piece for incorporating into every style.
You can choose to arrange them symmetrically in a line or asymmetrically in any shape that you want. They can be concentrated on one spot or scattered on the wall. You can go for a simpler design and choose more neutral plates in interesting shapes or you can pick out plates that are painted and decorated to really make that wall stand out.
Baskets give that three-dimensional depth to a wall as well, but they bring a natural element with their woven texture. They create a simple yet authentic look. You want to mix sizes and patterns but don't use too many baskets because a few are enough to turn heads.
Take into account the size of the wall because one larger or several smaller baskets will work well with smaller surfaces, while more or bigger baskets can be used on larger surfaces. You don't want to make a small wall look cluttered or the baskets to get lost in a massive background.