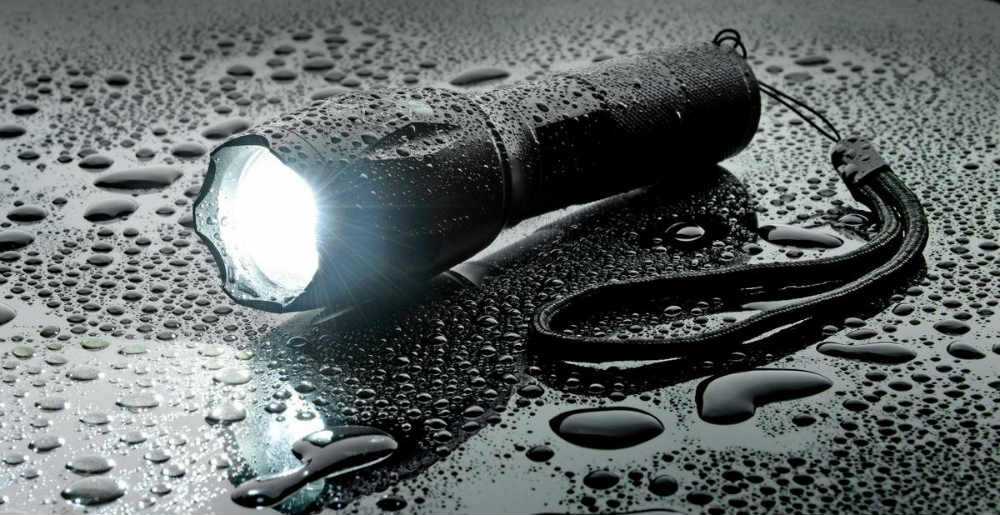 An Illuminating Flashlight Comparison
What is a Flashlight?
A flashlight is a hand-held portable electric-powered source of light. A simple enough question with a simple enough answer. This small device is usually powered by a battery which produces energy to illuminate the light source of the flashlight. Over the course of the years, flashlights used incandescent bulbs that did produce a lot of light, but at the cost of energy efficiency and excess heat. This all changed with the invention of the LED (light-emitting diode) bulb which not only cuts energy costs by a huge factor, but also made flashlights last longer, light up further, weigh less and burn cooler and brighter than ever before.
In this comparison guide, we will go through a few of the best LED flashlights on the market right now, see their features and what each of them can offer that the other couldn't.
ThruNite
The ThruNite flashlight is truly a remarkable product. Since their founding over a decade ago, ThruNite has produced a multitude of cool looking highly efficient and bright, space-aged flashlights. They have the widest range of brightness settings of any light on the market, ranging from a very dim and useful firefly mode to a brightness setting that can illuminated trees over 500 meters away. Ranging from pocket models to powerful strobe lights, it's safe to say that there's a ThruNite flashlight for every terrain. Their wide selection of ThruNite torches have a two-button interface that makes toggling through the brightness levels one-handed easy. The blinding strobe mode is useful in emergencies, but the ThruNite's design avoids accidental activation of the strobe during regular use, which is definitely an advantage over most competitors.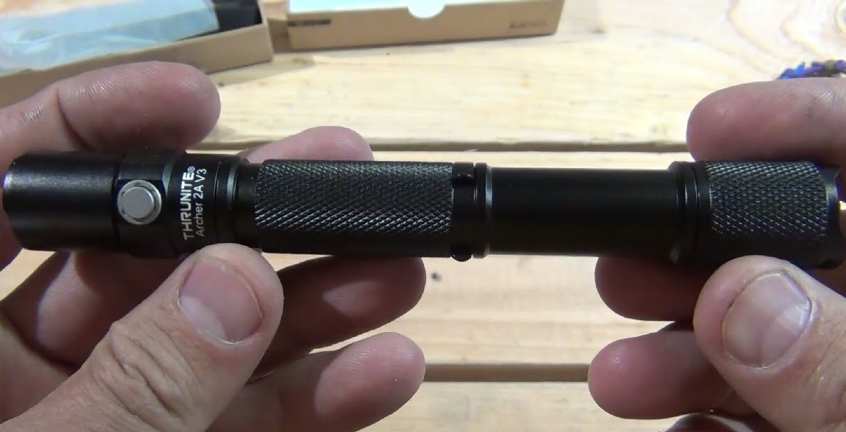 Best of the Bunch: ThruNite Archer 2A V3
This $30 baton-style ThruNite LED flashlight is a compact multipurpose flashlight that offers a powerful output for about 40 minutes before an inevitable drop in light intensity. The Archer has a light-but-sturdy aluminium body, making it comfortable to hold. Its two-button interface is highly intuitive and its belt clip is truly handy. The beam of this ThruNite torch is wider than many similarly priced baton LEDs and is waterproof up to a depth of 2 meters, with an impact resistance of 1 meter.
The Archer is powered by two AA batteries and uses CREE XP-L2 LEDs with a lifespan of 20+ years of run time. The max beam distance is about 93 meters, with a peak beam intensity of 2200cd. It weighs 48g without the batteries, with a size of 155mm in length and 22mm in bezel diameter.
This ThruNite light offers the following lighting modes:
Firefly: 0.2lumen(15days);
Low: 17lumen(51hrs);
Medium: 70lumen(11hours)
High: 500lumen – 280lumens (200secs – 120minutes);
Strobe: 400lumen(135minutes).
LED Lenser
Lenser is another great premium flashlight company that do their thing well. LED Lenser flashlights offer a quality build that's hard to be compared. They specialize in innovative lenses and future-oriented batteries which gives most of their products, which range from pocket and handheld torches to state of the art head torches. Their patented selection of technologies such as Flex Sealing, X-Lens, Multi-core Optics, Safety Ytrion Cell, Advanced Focus System, Smart Lighting, Floating Charge System, Rapid Charge System, Wide Beam, Optisense and Temperature Control make LED Lense flashlights your best choice for any and all indoor and outdoor use.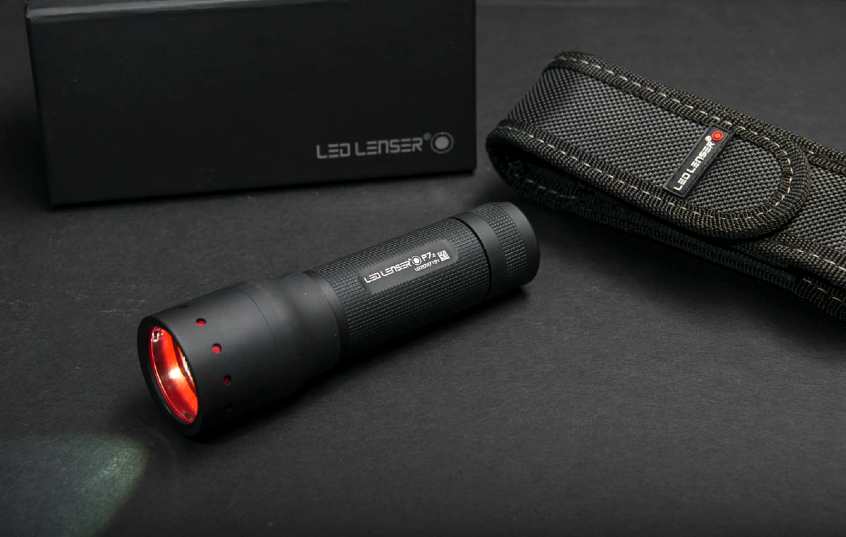 Best of the Bunch: Led Lenser P7
The P7 is the super-powerful mid-size offering from LED Lenser's P-series which is the everyday flashlight range. They are simple, functional, top performance and have all the essentials. The P7 is one of the world's best-selling flashlights. It boasts a number of new features alongside being 60% brighter than previous models. It hosts a new and larger switch, which makes for a better grip and for easier operation when wearing gloves. The P7s high grade matte black aluminium casing and lanyard attachment create a hard-wearing, yet easy to carry multipurpose torch.
The P7 is incredibly powerful for its size and is able to compete with larger LED torches. It's a focusable torch that has three different power settings. It's 130 millimetres in length and 175 grams in weight, with a huge 320-lumen output, that can go down to 40 lumens on low power with up to 25 hours of run time. It runs on 4 AAA batteries and has 3 base light functions: Power, mid-power and low power.
Lumens: Power – 450, Mid Power – 250, Low Power – 40
Beam Distance: Boost: 300m, Power: 220m, Low: 100m
Burn Time: Boost: 1h, Power: 2h, Low: 25h
Focus System: Advanced Focus System with speed focus
Olight
Olight is no stranger in the world of illumination. Though most often considered a tactical flashlight, this was not always the case. Olight have also made a huge contribution in the realm outdoor lights and other types of illumination tools, not to mention tactical flashlights primarily meant for military and law enforcement purposes. It's safe to say that an Olight torch flashlight carries some credibility.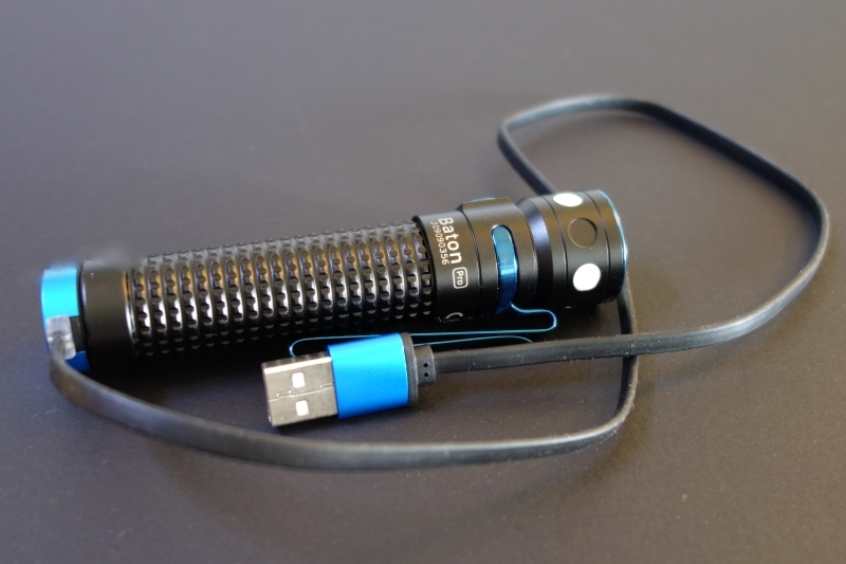 Best of the Bunch: Olight Baton Pro
Even though it's considered to be a high-end torch flashlight , the Olight Baton Pro is a premium rechargeable flashlight that's well worth the money for what it can do. A favourite brand of many enthusiasts the Olight blows the other baton-style lights out of the water when it came to high-level output and consistency. Over the course of an hour, its output barely budges, which is impressive considering that its base output level is higher than most flashlights in its category.
Its small body is lightweight and sturdy, with a weight and length of 107g and 108mm respectively, in which the designers creatively packed a whole bunch of features, operated by a single-button interface. The Olight runs on low, medium and high power settings, with additional features of a low-level firefly-type mode and a super-bright turbo mode. It also packs a strobe effect, several programmable timers and a lock to keep the light from accidentally turning.
It features High-Performance Cool White LED with a maximum output of 2000 lumens, run by a 3500mAh 18650 rechargeable lithium battery, which features an indicator of remaining battery power. The beam has a max throw of 132 meters and a beam intensity of 4350cd.
Level 1: 2000 lumens / 1 minute (then gradually steps down to 600 lumens for 160 minutes)
Level 2: 600 lumens / 210 minutes
Level 3: 120 lumens / 810 minutes
Level 4: 30 lumens / 55 hours
Level 5: 5 lumens / 9 days

Honourable Mention: JetBeam
Lastly, I'd be remised if I didn't mention JetBeam and what they have done for the world of portable tactical lights. Their best-selling model, The JETBeam TH20 is especially worth mentioning.