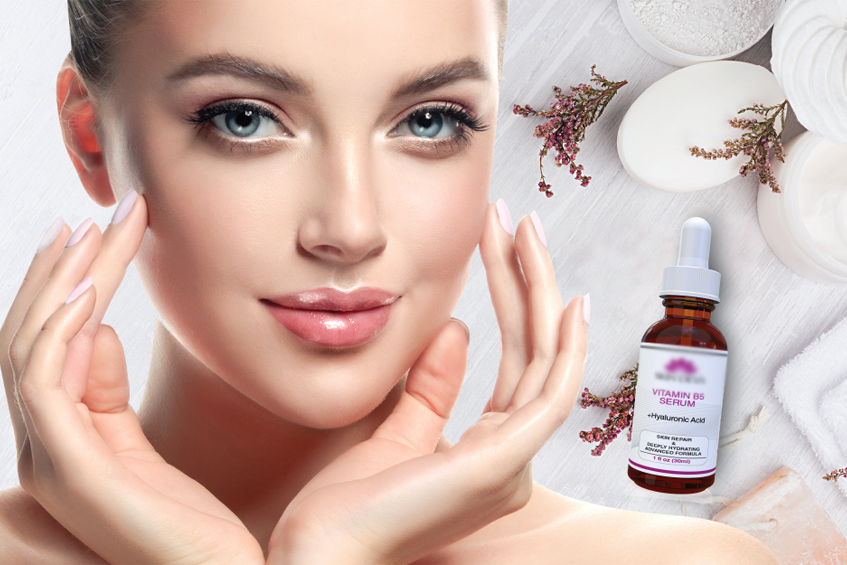 Holistic Skincare Solutions: Benefits of Using Vitamin B5 Products
It's no secret that stress impacts our bodies and overall health. While channelling and navigating stress for short periods can be sometimes useful, leading a stressful lifestyle, in the long run, can cause a lot of damage to our mental and physical health, including our skin. The skin is often the first to tell we are tired or distressed. It can get dry, red and rough with lots of acne breakouts and at some point in life, almost everyone has experienced the pain and the insecurity that come with having acne and inflamed skin. Many of us are still coping with acne, searching for a solution that will have a long-lasting effect and will help clear our skin entirely.
We've been trying things forever, hoping for the best, but most skincare products only make our skin worse. If this is you, struggling for healthy and acne-free skin, maybe it's time to try a more holistic skincare approach. One that combines the many natural and powerful ingredients, like the vitamin B5, in a knowledgeable way for healthy skin with zero side effects.
Here's everything you need to know about vitamin B5 and SkinB5's wide range of products including tablets, cleansing products and the highly-effective SkinB5 acne control moisturiser.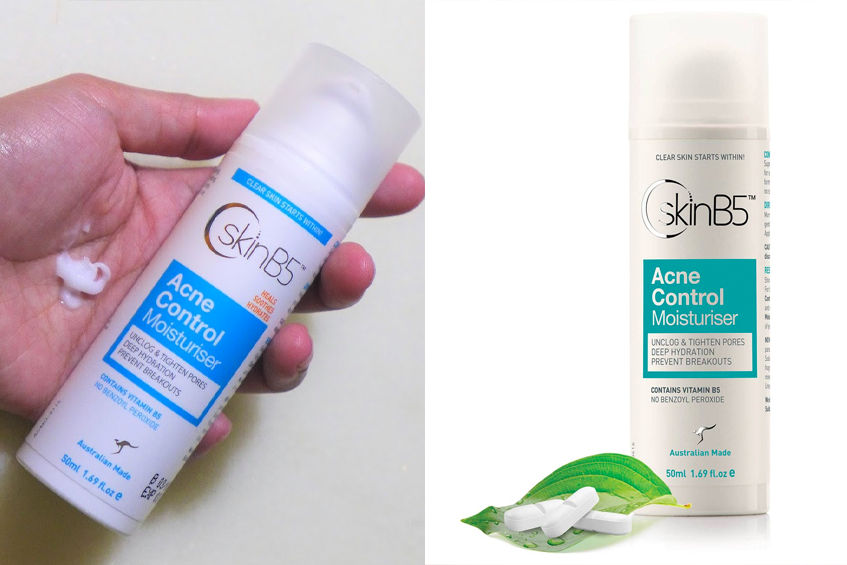 What Is Vitamin B5 and What Can It Do for Your Skin?
Vitamin B5, also known as Pantothenic Acid, is one of the B-complex vitamins. It's a water-soluble vitamin, mainly responsible to break down fats, protein and carbohydrates into energy, which helps our bodies to use them for energy and rebuilding tissues, muscles and organs. It's also responsible for forming sex and stress-related hormones, forming red blood cells and maintaining a healthy digestive system by assisting the body in using other vitamins.
So, what does B5 do for your skin? Vitamin B5 works as a moisturiser to the skin, improving skin elasticity, making the skin look fuller and hydrated. As the hydrated skin is more resilient, it's less acne-prone. B5 enhances the healing process on the skin wounds and blemishes, caused by acne or not and it makes aging signs less visible. All of this data is backed up by 2 larger studies, and while scientifically unproven, B5 is also believed to help in managing stress better, which also helps the skin better respond to daily stress. With proper supplementation, you can achieve the goal of having healthier skin.
Cleanse & Moisturise Your Skin with SkinB5 Acne Control Products
The importance of having a skincare routine isn't something new to people who have oily skin prone to acne and other problems that come with them. A basic routine for cleansing and moisturising the skin, using some of the essential beauty products is vital for healthy glowing skin. This is why people claim the skinB5 acne control system can do miracles.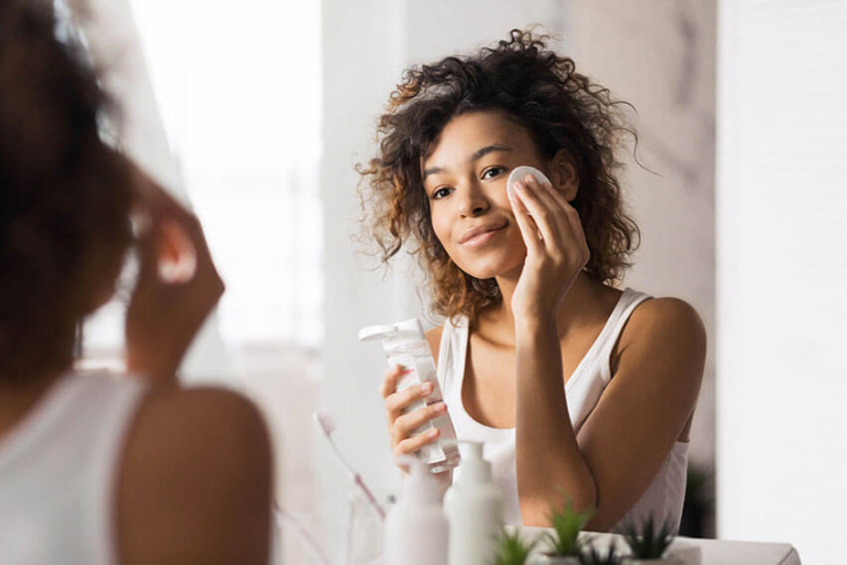 Cleansing should be the first step of every basic at-home skincare routine. As it works to remove dirt, excess oil, makeup and every kind of unwanted skin debris, using a facial cleanser serves to prepare our skin for any treatment that we put later on the skin. It's proven to reduce pores' size and encourage proper skin hydration. A facial cleanser is a must for radiant and healthy-looking skin. The skinB5 acne control cleansing mousse deeply cleanses and unclogs pores. Its gentle, non-drying scientific formula featuring vitamin B5, green tea & aloe vera makes it suitable for all skin types and ages, including teens.
Specially formulated to cleanse, soothe and repair this antioxidant formula is non-drying and non-bleaching, making it ideal for everyday use. The perfect balance of 0.5% Salicylic Acid gently removes excess skin oil, dead skin cells and bacteria, while the soothing benefits of Vitamin B5, Green Tea and Aloe Vera heals and refines skin texture and helps prevent breakouts. This makes it the best facial cleanser in a fighting acne daily routine.
The second step in a basic daily routine is moisturising. Just like our bodies, healthy skin requires daily hydration that is both soothing and regenerative. With acne making our skin look greasy and oily, the last thing we think of is using a moisturiser and that's the biggest mistake people with skin prone to acne make. Dry, inflamed skin is even more prone to breakouts. A moisturiser contains humectants that draw water inside our pores and also emollients that lock in moisture to keep the skin hydrated.
Oily, acne-prone skin needs a moisturiser that's oil-free and non-comedogenic. Specially formulated for blemish-prone skin featuring vitamin B5, jojoba, aloe vera and vitamin E, the SkinB5 acne control moisturiser is everything your skin needs to be hydrated, balanced and renewed. This light and non-greasy moisturiser provide deep hydration while healing & restoring a healthy skin barrier. Formulated with antioxidants, it's nourishing and ideal for skin prone to irritable breakouts by restoring your skin's natural defence.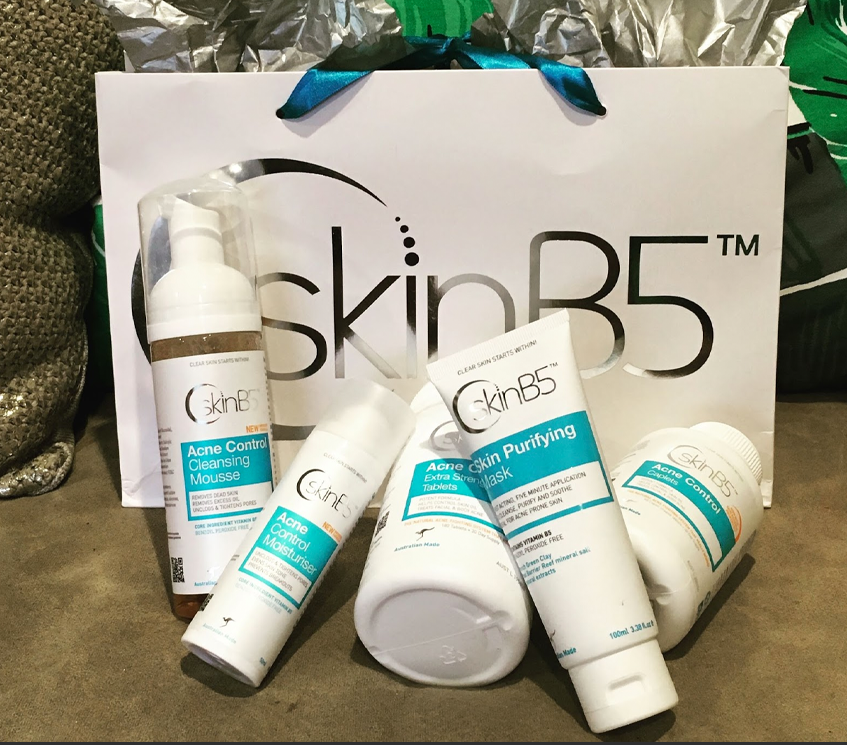 Deep cleanse is an additional step of the skincare routine that can make a difference. The SkinB5 purifying clay mask instantly refines enlarged pores through a fast-acting formula. Designed for easy use 5-minute application with ingredients including French green clay, great barrier reef mineral salt and therapeutic natural extracts, this gentle purifying mask actively soothes and heals troubled skin.
Care for Your Skin from the Inside with B5 Supplementation
While having acne seems to be only a problem we have on the surface, the reasons usually lie deeper in our bodies. Achieving clear skin is more than skin deep – it needs to go within! Taking a B5 supplement is proven to control skin sebum production. The skinB5 tablets, containing vitamin B5, A, zinc, folic acid & biotin, are specially formulated for people with acne problems. They provide an extra-strong treatment and 80% of the users claim they see results within the first 4 weeks of use. SkinB5 is scientifically formulated to target acne right at the source and this makes these potent tablets the most important step in your natural acne-healing process.