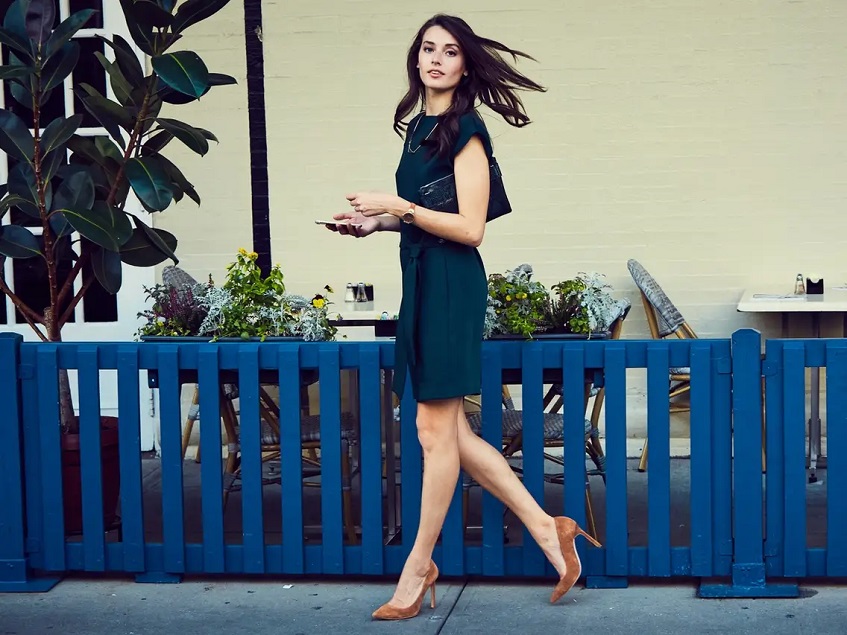 Ladies in Charge: How to Nail Business Attire
Fashion, choosing outfits and buying clothes is fun for many, but not for all. With so many options and so many rules, ladies don't have it easy at all. And while choosing the right outfit for a date or going out with your friends depends mainly on your personal taste, when it comes to dressing for the office, things can get a little bit more challenging. Whether you work in an office or are preparing for a serious interview, the one thing all different types of business outfits have in common is that they always have to represent a balanced mix of professionalism and style.
The so-called business attire or business wear for women comes in several "levels" – from casual business to business formal. These styles can include many different clothing items, and they include clothes ranging from dresses, skirts, pants and chic loose shirts all the way to corporate suits in neutral colours. While there are many different rules, depending on the place where you work, there is no reason to feel uncomfortable at work, wearing something unflattering, old fashioned or something you wouldn't want to wear in a million years.
Things have progressed a lot in the last decades when it comes to business attire for women. Nowadays, it isn't hard to find beautiful corporate wear ladies adore and enjoy wearing. As a matter of fact, looking professional, sophisticated and discreetly sexy all in a perfect balance, has become a trend on its own. And armed with the following knowledge, you can easily nail the ladies business wear trend!
Formal Business Attire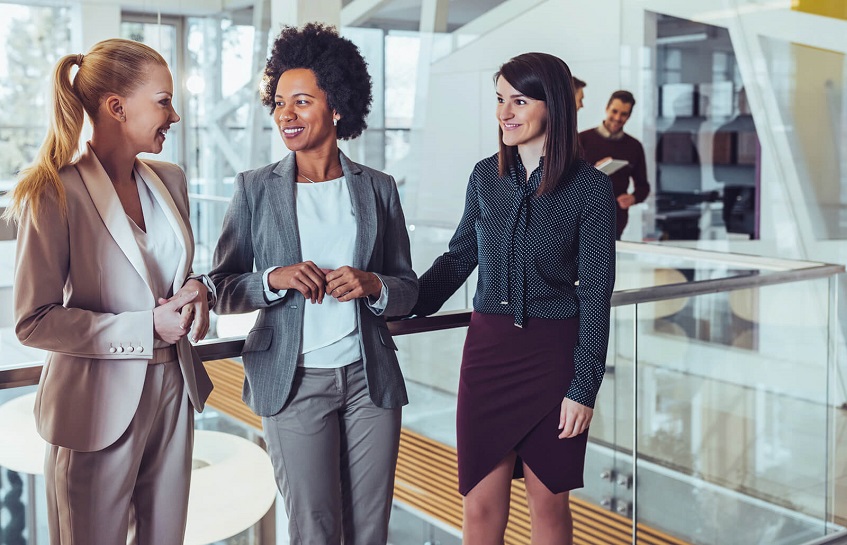 The most formal clothing style for women in business, also referred to as business professional dress code, includes suits, outfits combining skirts, slacks, blouses and shirts, as well as other combinations that are more formal. While this style may be considered as the more traditional and conservative amongst the different "levels", it doesn't mean that it can't be as flattering as any other dressing style. In fact, women in suits have become an image of ladies taking charge, and assuming important roles in a previously (and, unfortunately, in some cases even currently) male-dominated society.
Even though the idea is to avoid being overly showy or even stylish, so as to not attract too much attention, there is nothing more eye-catching and sexier than a woman dressed in a beautiful suit and feeling powerful. That being said, when you are dressing for an important corporate meeting, a professional interview or for an office that has a stricter business professional dress code, there are a few things you might want to avoid, such as flashy makeup, jewellery, shoes, bags and other accessories, revealing clothes, etc.
Choose a piece of more discreet jewellery that doesn't stand out too much. Go for women's slingbags in neutral colours, which complement your women's business clothes and shoes perfectly. When it comes to colours, white, earth tones and dark colours like black, grey and navy are considered to be the most suitable – in regards to clothes, accessories and shoes. Nevertheless, if you wish, in some cases you can add something in a bolder colour, like a scarf or a wallet, for a personal touch.
You can wear high heels or flats, whatever makes you feel more confident and professional, but when you are choosing shoes, always pay attention to comfort, because it can make all the difference not only in your looks but also in your state of mind and even your physical health.
Such outfits are suitable for many different professions, and some offices may have a strict dress code which you might be obligated to follow, and some companies may even offer womens corporate uniforms – which, even though may sound terrifying, is not as bad as you probably think it is and can be quite stylish, comfortable and flattering.
Business Casual Attire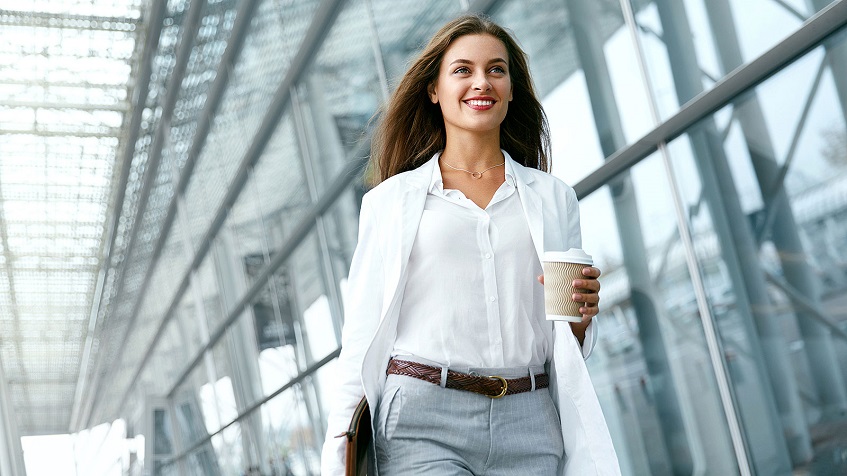 While corporate wear ladies really like exists and is becoming more and more trendy, many women prefer the more casual business outfits. Casual business attires are much more relaxed, but still follow a lot of the rules from the formal business dressing style. In fact, many women will combine formal women's corporate wear with something casual to add personality but still stay professional. Nevertheless, the rules against showy and overly revealing mostly still apply.
While many businesses are becoming relaxed when it comes to dressing codes, dressing professionally is also becoming more popular. Aside from suits, skirts, shirts, blouses and slacks, casual business outfits may also include jeans, dresses, blazers and jackets etc. One of the most popular business attires nowadays is the so-called smart casual, which is even more relaxed. Most women, whose jobs allow it, choose this style, and we can often see it outside the office, as well.
Smart casual builds upon business casual, adding pieces of clothing that are trendier, statement pieces, accessories, bold prints, leather sneakers etc. Nevertheless, when it comes to professional wear, it's always recommended that you wait to learn the office's dress code, before deciding to add a bold personal touch to your business outfits.