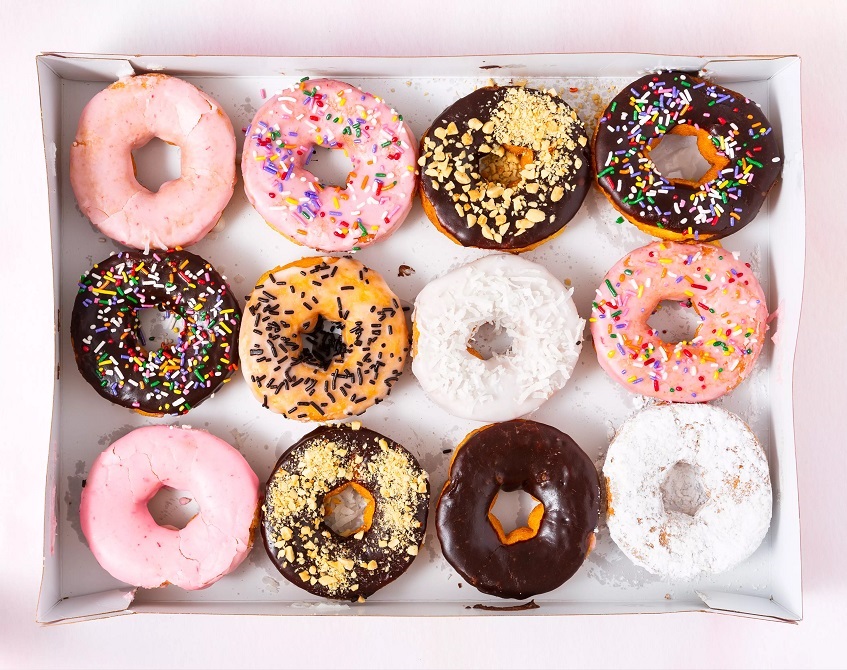 Perfect Gift Ideas for the Doughnut Lover in Your Life
Some people love doughnuts, and others adore them. They're so crazy about them that they doughnut know what they'd do without them. Their love for this tasty treat made them invent hundreds of fun puns like this one, and it's why there are so many doughnut-themed products on the market today.
Whether you want to surprise the doughnut lover in your life with a cool gift, or you intend to turn your home into a shrine to deep-fried sweetness, we've made a list of some awesome doughnut gift ideas for you. Anything from delicious doughnut boxes to stools and plush pillows, we have some pretty unique gift ideas. But first, here are some fun facts about doughnuts that you might not have known.
Fun Facts About Doughnuts
The Original Name Was Oily Cakes
Doughnuts first came to America back in the time when New York was known as New Amsterdam, and Dutch was the predominant language. It seems that frying the dough in oil had an important role in naming the sweet treat since early Americans started calling them olykoeks, which translates into oily cakes. People believe that soon after that, a woman put nuts in the dough before frying it, coining the word doughnut.
The name of round fried dough remains the biggest debate even today, only this time, it's about spelling. Is it spelled doughnuts or donuts? Which one is correct? While the official dictionary spelling is 'doughnut', it's been shortened to 'donut' and, thanks to large chains like Dunkin Donuts, it's been adopted as the most common way to refer to it. As doughnut lovers, we'll tell you that both are fine to use.
A Sailor Invented the Modern Shape
The woman responsible for the doughnuts' new name by putting nuts in the dough was also indirectly responsible for their shape. Namely, in the 19th century, Elizabeth Gregory prepared doughnuts for her son's sea voyage by putting nuts in dough and frying it. The young sailor was the one who put a hole in the centre, creating the classic doughnut shape we know. He probably put the doughnut through one of the spokes on the ship's wheel to hold the doughnut, so he could use both hands to steer the boat.
Celebrating Doughnuts Days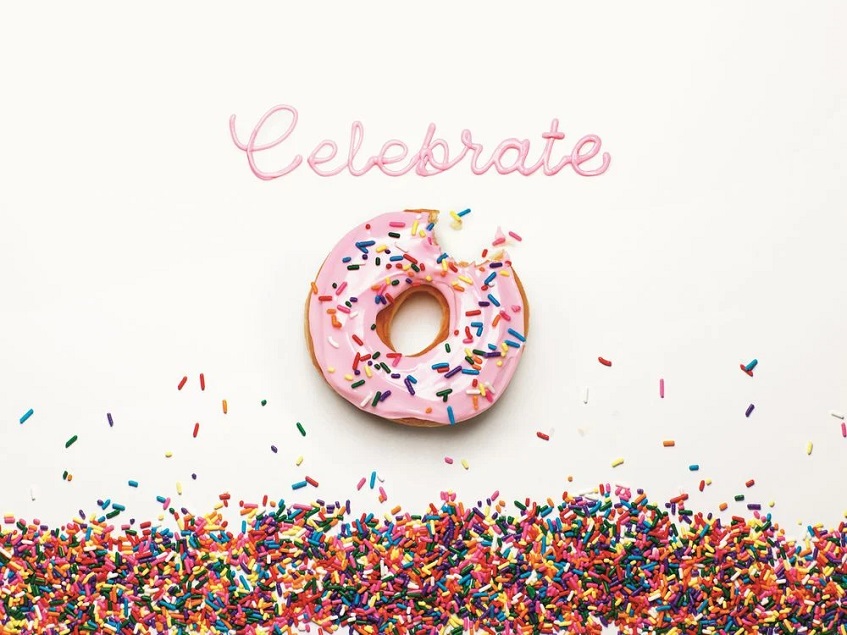 There are four doughnut days celebrated in America going global recently. Celebrating them can be a valid excuse to sink your tooth into this heavenly treat:
National Doughnut Day: celebrated on the first Friday of June, dates back to 1938. Salvation Army's doughnut girls kept spirits high during WW2, giving hundreds of doughnuts to cold and hungry immigrants. A tasty way to say a warm welcome! This celebration's in their honour.
International Jelly-Filled Doughnut Day, June 8
National Cream-Filled Doughnut Day, September 14
Buy a Doughnut Day, October 30
Interesting Numbers
Many people felt inspired to enter Guinness World Records using doughnuts. Check these impressive numbers:
The tallest stack of doughnuts was 110.5 cm, including 1764 doughnuts
The heaviest doughnut box weighed 135 kilos
The fastest time to eat a jam doughnut was 33 seconds
The longest line of doughnuts was 561.4 metres
Krispy Kreme made the most expensive doughnut in the world, selling it for more than $1000. The gold-dusted 23-carat doughnut had a Dom Perignon Champagne jelly filling and 24-carat gold and edible diamond sprinkles. Tell me about a decadent dessert.
Best Doughnut Gift Ideas
Doughnut Boxes
Is there a better gift for one with a sweet tooth than a doughnut? There is – a box full of doughnuts! Edible gift baskets create an unforgettable gifting experience. And when packed with treats of the favourite flavour of your giftee, then they'll surely be a delight.
Whether for birthdays, anniversaries or sleepovers, edible boxes are bound to delight the recipient. You can find doughnut boxes online available for delivery Australia-wide. Some online stores offer same-day delivery, which makes them the perfect last-minute gift.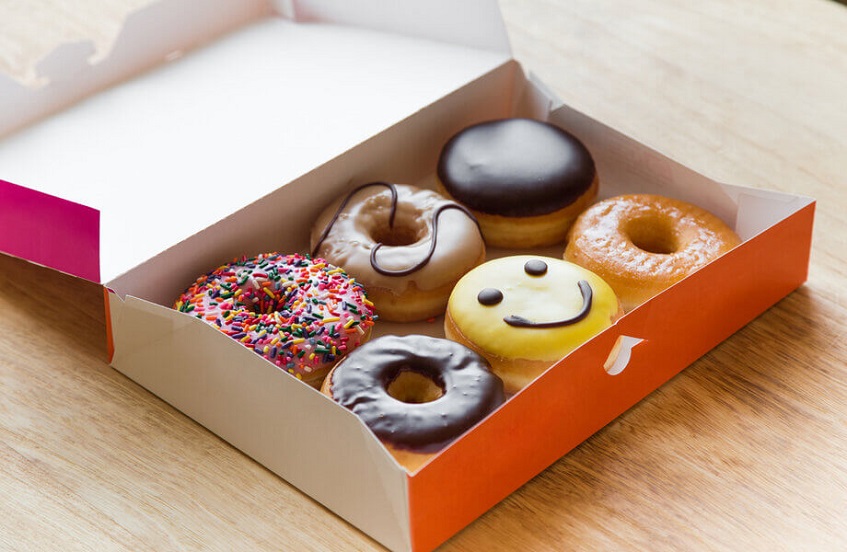 If you're looking for a way to add some fun to your gift, consider a doughnut confetti hamper. Adding a confetti bomb that explodes when opening the present will make the whole experience more exciting. And if you're getting the gift delivered to your recipient's address, don't forget to include a personalised note that reminds them not to forget to record their reaction.
Another option is a doughnut tower cake. You can order a stack of doughnuts instead of a cake to surprise someone for their birthday. If you're opting for a more sophisticated gift that includes doughnuts, you can choose a luxury hamper containing liquor, chocolates and other treats next to their round majesty.
Mini Doughnut Maker
Making doughnuts at home may sound daunting, but not if you have a mini doughnut maker. This device will have even baking newbies crank out fresh doughnuts like a pro. Plus, they bake the doughnuts instead of frying them, making them a healthier option than many of their store-bought companions. The way I see it: a reason plus for indulging in sweet doughnut pleasure. 
Doughnut Plush Pillow
A doughnut-shaped pillow with bite marks looks so delicious, and it's the best gag gift for your friends and family. You can use a smaller doughnut pillow for in-bed reading and TV-watching, or you can use it as a sofa cushion. A doughnut lover will love incorporating one in their interior. There are also more giant cushions you can use for lounging. Inflatable doughnut cushions make a great gift for those who want to spend their time lounging at the pool.
Doughnut Stool
Go beyond gifting a plush pillow by considering a different doughnut furniture item. Help a friend replace their boring ottoman, gifting them a lovely doughnut stool for the ultimate comfort.
Doughnut Neon Sign Light
Young people love neon sign lights. Gifting a teenager doughnut lover a neon doughnut sign will make you her favourite aunt (talking from experience) and help them find their way to the kitchen when she's craving doughnuts late at night.