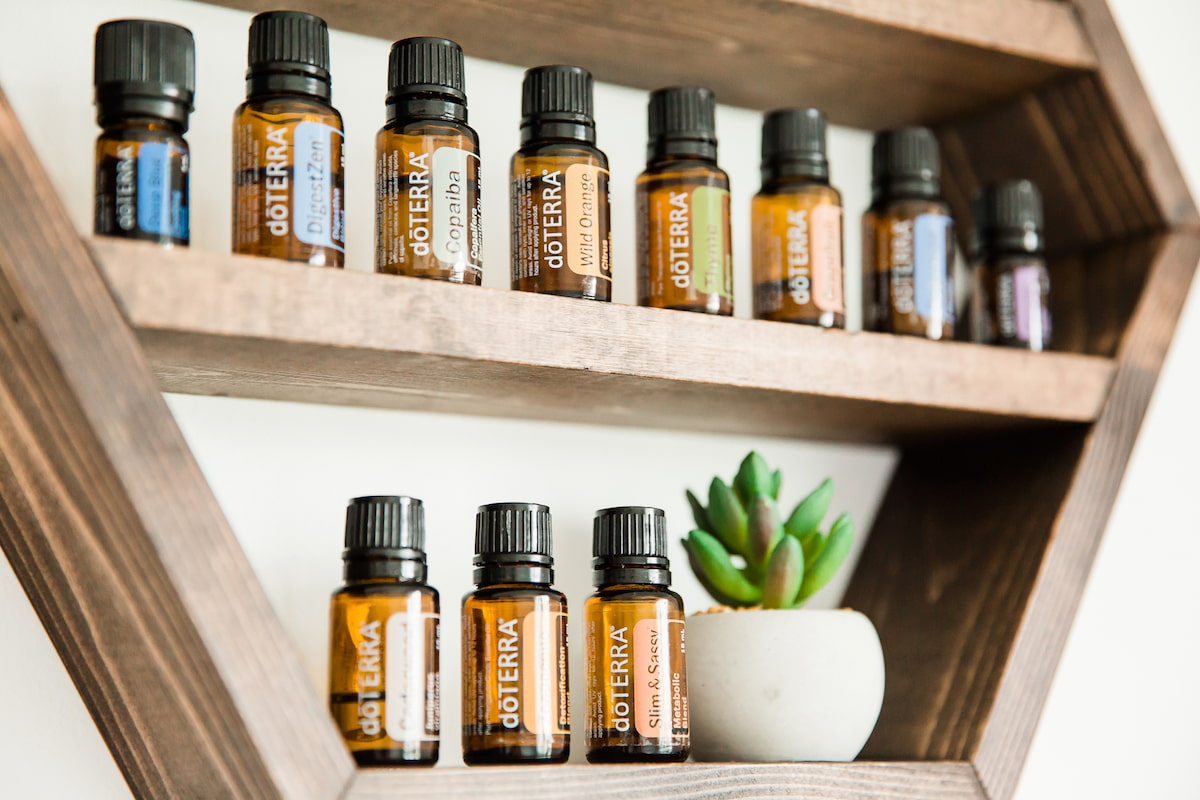 Essential Oil Storage and Care – Make the Most Out of Your Essential Oils
Anyone who has used essential oils for some time knows how quickly the collection extends once you start buying them. It's clear why – these goodies offer a plethora of benefits. Whether we use them for aromatherapy or we apply them in another way, they are real mood boosters. By reducing our stress levels and increasing our attentiveness, they help us improve our performance. They help reduce anxiety and pain and therefore help improve sleep. They have been known for the physical benefits too – they help fight bacteria and viruses and reduce inflammation in our bodies.
On the other hand, essential oils aren't cheap and it's understandable why. It takes a lot of plants to make just a little bit of oil. That's why we don't want them to go bad or make a waste of any kind. With proper care and storage, we can prevent or minimalize essential oil waste and increase its durability. That way, we can make the most out of the essential oils we own and make sure we reap the benefits of using them as long as possible.
Essential Oils Display and Storage Ideas
There are some basic rules when it comes to storing essential oils. Of course, you can use random boxes and cases, but these solutions are made specifically for essential oil bottles, setting a base for successful prolonged use.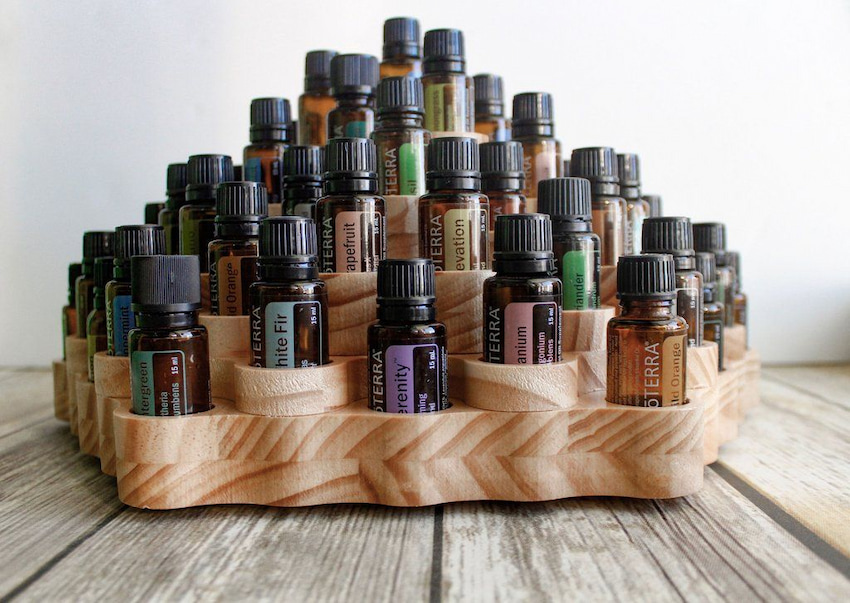 Essential Oil Stands
What is the best way to store essential oils? To make sure you use your essential oils regularly, it's important to keep them within sight. It's not likely that you will use something every day if it's put in the last drawer of a cabinet in your guest room. Being the perfect showcase storage solution, an essential oil stand is the best way to display your essential oils.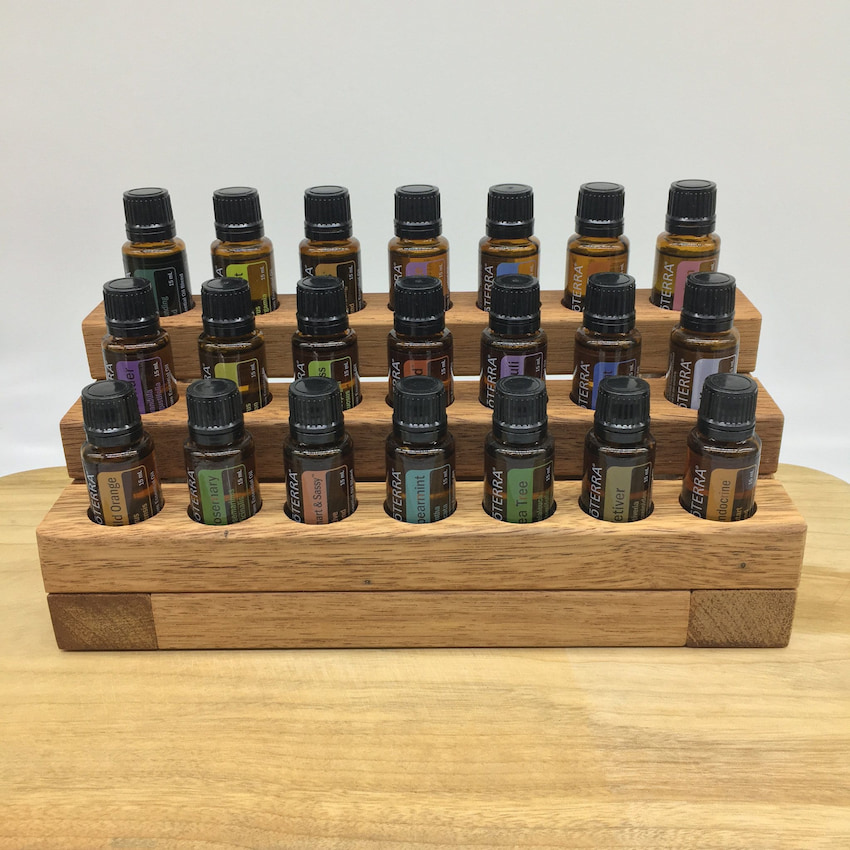 Available in different sizes and shapes, you can purchase different stands to make the best out of your oil use at different spots in your home. You can put your cooking oils on a stand on your kitchen countertop or a wall mount shelf above it. Just make sure it's not above the stove, so they can be heat-protected. You can put your calming oils on a stand in your bedroom next to your bed to make sure you use them every night before going to bed. Your everyday aromatherapy oils can be put on an aromatherapy stand in your living room next to your diffuser. You can make special aromatherapy floating shelf. This makes an easy conversation starter with your visitors so you can reap the many benefits of your essential oil use. And another stand can go to your laundry room, containing your cleaning oils, as well as in the bathroom for the aromatic dressing oils. An essential oil display holder is the best way for easy access to the essential oils you use daily.
Besides the crafty natural look, a wooden essential oil stand serves other purposes too. Often covered in an all-natural wax that has no harmful fumes, an essential oil stand made out of wood will make sure to absorb the essential oil residue that happens to be on the outside of the bottles and spread its smell, because every drop matters. There are stands with up to 30 bottle holes for different bottle sizes and these make a great open drawer storage solution.
Essential Oil Timber Boxes
Beautifully hand-crafted timber boxes are the perfect storage solution for essential oils you don't use often, for example from the ones you use once a week to the ones you use twice a year. Keeping your oils away from light, the timber boxes will make sure they last for years. The most used kinds of trees for making these timber boxes are mahogany, oak, pine and bamboo, making a stylish storage item for every taste. Big collection owners, timber boxes may be the most suitable solution for you, as there are boxes that can store up to 100 bottles.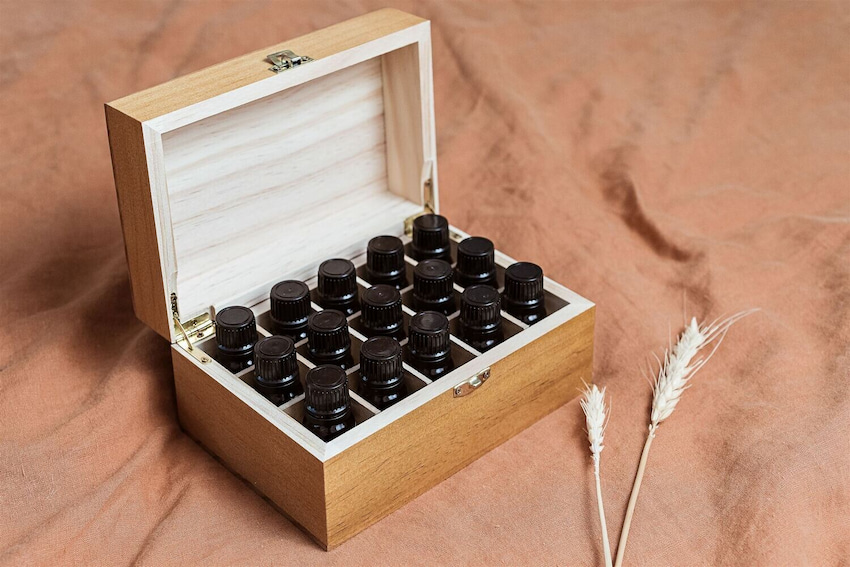 Essential Oil Bags and Cases
The essential oil bags and cases make gorgeous accessories for any oil lover. They are the perfect gift idea too. If you're sick of looking for your roller bottles every time at the bottom of your purse, you can use a soft cushy handbag for the 3 favourite ones to keep them easily accessible. You can also use these cute bags for storing your roll-ons at home, especially if you find yourself a cute design you can't resist buying. The same can be used for travelling, so you can use your oils on the go, or you can look for hard cases with zippers for optimum protection.
Proper Care to Make the Best Use Out of Your Essential Oils
Major factors that contribute to essential oil damage and accelerate oil degradation are light, heat, oxygen and moisture. That's why essential oils come in amber and cobalt glass ones, rather than in clear ones. If you have some oils in clear glasses, you should move them into amber ones to provide bigger light protection. They do well in daylight at room temperature but make sure to keep them away from extra sunny spots and direct heat sources to prevent pre-time ignition.
To protect your oils from oxidation, always keep the cap bottles on. And half full bottles can last longer if you transfer them into smaller ones – the less oxygen the better. However, if some of your oils have been overexposed to oxygen, you can still use them for cleaning, but not for diffusion or skin application. Cloudiness in the oil or water beading at the bottom of the bottle is a sign that the essential oil has been exposed to excessive moisture. Prevent that by always closing the bottles up and avoiding storing them at especially humid spots. However, storing them in a bathroom with decent ventilation should be fine.
Properly caring for and storing your essential oils is inevitable if you want to make your oils last longer. Follow the above-mentioned guidelines and make the best out of your essential oil use.